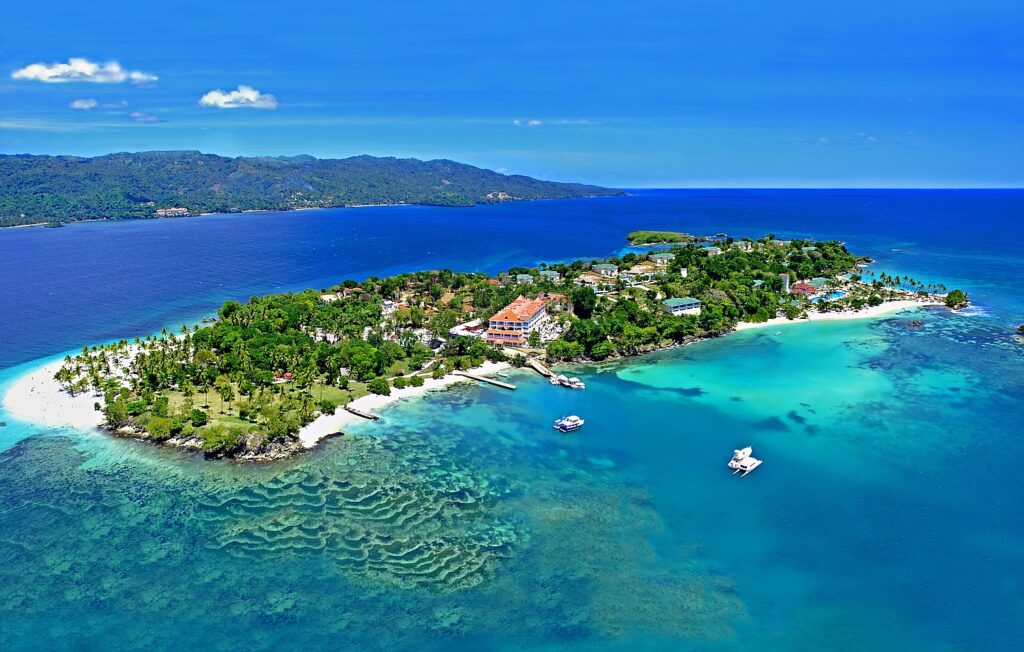 MIAMI, FL – Welcoming guests starting June 1, 2023, Cayo Levantado Resort is Dominican Republic's newest five-star oasis located on the island of Cayo Levantado, just a few miles away from Samaná Bay, combining elements of sustainability and innovation to have a positive ecological, cultural and economic impact.
The luxury resort is an exclusive and sophisticated product from Grupo Piñero, a Spanish multinational family-owned company founded in 1977. In addition to its Bahia Principe Hotels & Resorts portfolio, the company now launches Cayo Levantado Resort as a unique and differentiated brand, entering a new market- the luxury segment. This brand-new all-inclusive resort will feature premium standards in alignment with Forbes Travel Guide, the world's leading authority on excellence in hospitality.
"With a profound respect for the environment, we focus our expertise on protecting the delicate ecosystem and preserving its spectacular flora and fauna," said Pablo del Toro, Technical Environmental Advisor, Grupo Piñero. "In order to operate and power the hotel efficiently, gardening, waste management and renewable energy is required. Among the renewable energy sources, you'll find thermal energy, heat recovery and solar panels."
Other aspects of the project that are less concealed but equally important to their sustainability efforts, are the landscaping and gardening, which goes beyond regular gardening to include gardening with a conservation approach. The island has an extremely unique ecosystem where only certain species can be found. In terms of landscaping, the goal is to specifically support and preserve the inclusion of all these species, active on the island and northern part of Samaná, which holds a significant quantity of endemic types and biodiversity, to be reflected in the hotel's garden.
Under the concept A Rhythm All Its Own, Cayo Levantado invites guests to cultivate their inner rhythm, designed to promote the deepest personal wellness: mind, body and spirit through the island's four enchanting wellness paths – REFRESH, RESTORE, RELAX and RENEW.
Sustainability Pillars
Honoring the Natural Rhythm-
To stay at Cayo Levantado Resort is to be at one with nature. With a deep respect for the environment, Cayo Levantado focuses its expertise on ecological impact and sustainability, protecting its delicate ecosystem and preserving its spectacular fauna and flora.
Waste management is a very important component of Cayo Levantado given that islands require rubbish to be removed. Through a biodigester, the island's waste is transported and used for energy purposes. Naturally, there will be many elements at a sustainability level that are both visible and invisible; this is where the A Rhythm All Its Own notion comes to play. At Infrastructure-levels, there are elements that customers typically directly perceive and experience first-hand, but elements like waste management via a biodigester are intangible to visitors and help to convey the "hidden reality" of the project.
Celebrating the Cultural Rhythm-
An invitation to immerse yourself in the Dominican lifestyle awaits every visitor to Cayo Levantado Resort. After decades of creating experiences linked to local life, the resort has designed a delicate and authentic stay for their guests. By integrating the heartbeat of island life—its music, its dances, its traditional cuisine and, most importantly, its vibrant residents—the resort celebrates the cultural rhythm in each of its encounters.
One of the great strengths of Cayo Levantado Resort is the integration of the local culture by incorporating Dominican Republic talent in the refurbishment, operation and maintenance of the resort, thus contributing to the development and generation of employment in the area and showing the world the authentic heart of Samaná.
Cayo Levantado Resort has brought in a group of Dominican designers, interior designers and architects who will contribute to reflecting the Dominican culture through its different areas.
The entire concept of the local culture of the reform is headed by architect Ramón Emilio Jiménez and his studio Arquimilio. While all part of the culinary and cocktail development is under the responsibility of Dominican chefs Pedro Mota and Carlos Romero.
Cultivating Our Inner Rhythm-
The experience at Cayo Levantado Resort offers an intense and meaningful connection with the environment. The rhythm and feel of each activity are designed to promote the deepest personal wellness: mind, body, and spirit. Only through careful attention to detail, subtle listening and an intuitive and generous team can the resort offer the greatest of luxuries: facilitating self-discovery and connection with oneself, the most cherished and healing rhythm of all.
For more information and bookings, visit Cayo Levantado Resort, https://www.bahia-principe.com/en/resorts-in-dominican-republic/cayo-levantado-resort/
For more travel features, visit:
Going Places @ theisland360.com
goingplacesnearandfar.wordpress.com
www.huffingtonpost.com/author/karen-rubin
travelwritersmagazine.com/TravelFeaturesSyndicate/
goingplacesfarandnear.tumblr.com/
instagram.com/going_places_far_and_near/
instagram.com/bigbackpacktraveler/
'Like' us on facebook.com/KarenBRubin
Twitter: @TravelFeatures