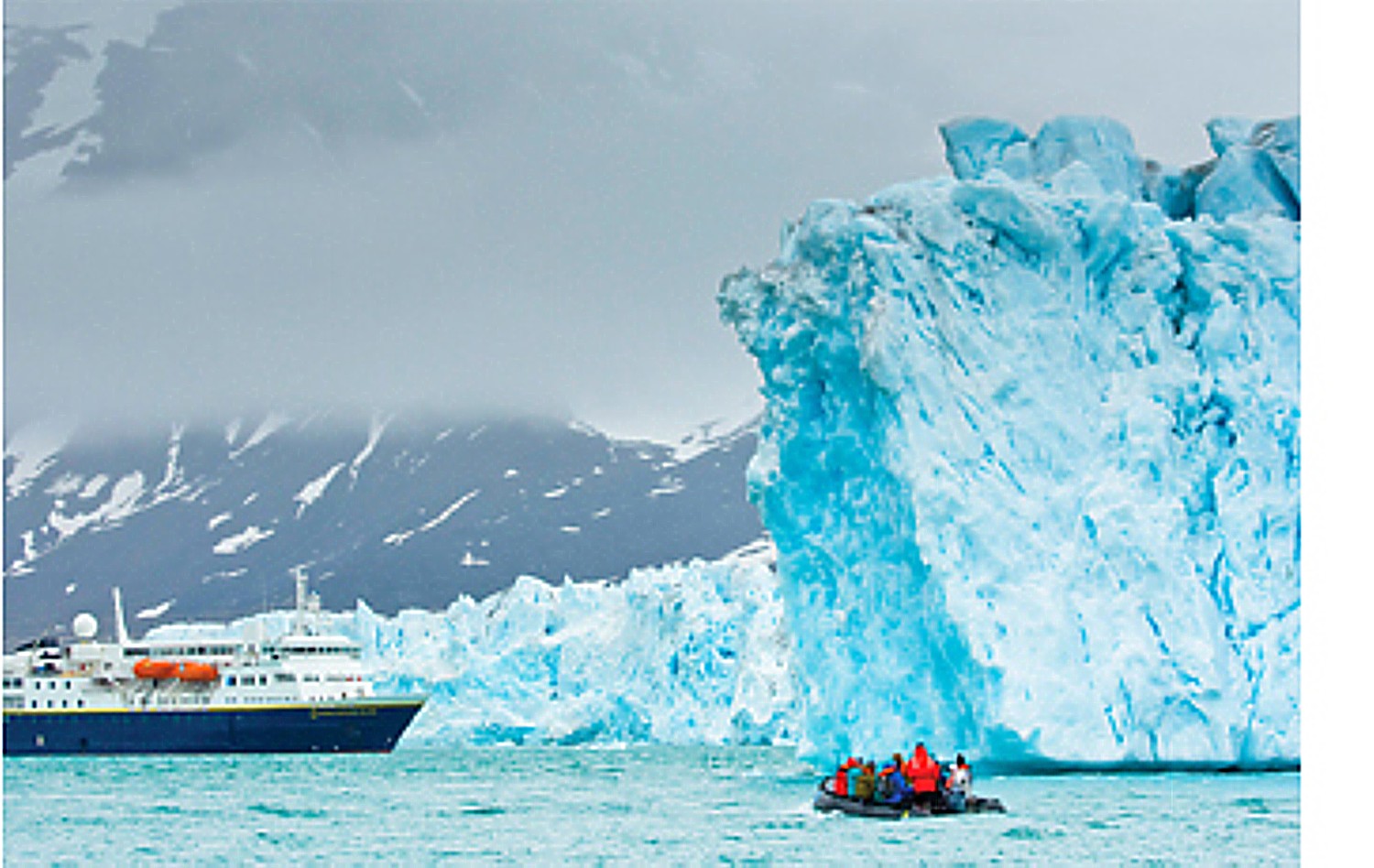 TRUCKEE, CA – Small cruise ships purpose-built to ply the planet's polar regions also transport guests on floating Arctic wildlife safaris.
AdventureSmith Explorations, the small ship cruising experts, invite guests on an increasing number of Arctic cruise options that observe, among other things, a variety of indigenous wildlife. Some, if not all, of the Big Arctic Eight, marine- and land-based creatures are often spotted on these expedition cruises.
"Just to know that these creatures are out there is part of the excitement of venturing north," says Todd Smith, AdventureSmith's Founder and President. "These are creatures straight out of children's fairytales. What's also amazing is to learn how they're so physically adapted to their frozen world."
He notes that demand is up to explore the Arctic among clients who have already cruised Antarctica, as well as travelers new to the polar regions. "The core of what AdventureSmith strives for is delivering the most incredible explorations of the natural world to our clients who are a special group of likeminded explorers. Alongside our observation of more cruise itineraries opening up in the Arctic, we've seen more purpose-built expedition ships being built with a focus to educate travelers on how to be ambassadors for the Arctic's wild places and animals. The trips we offer are designed to be small (under 200 guests) and focused on sustainable exploration."
The company has created a blog post with tips on spotting some of Earth's most interesting animals. Here is what AdventureSmith Explorations has named the Big Arctic Eight:
Polar Bear, the largest living land carnivore, can measure up to eight feet long and weigh 1,500 pounds. Some 26,000 Polar bears are estimated to be roaming the Arctic and regions of Canada, Alaska, Greenland, Russia and Norway.
Walrus live in the Arctic areas of the Pacific and Atlantic oceans. These creatures are often viewed lounging in large herds on shorelines or icebergs. Their powerful tusks that sometimes reach three feet are tools to lift their heavy bodies onto the ice.
Reindeer (caribou) live on the tundra and in boreal forests and are known to migrate up to 3,000 miles a year. Males grow antlers for sexual attraction and mating standoffs. Females grow antlers to defend their food from other females. Come spring, herds number in the thousands.
Arctic Foxes possess incredible hearing that allows them to locate prey under the snow. Their thick, long fur that sustains them at -58 degrees Fahrenheit is an example of camouflage – in winter white or blue-gray, in summer brown-gray.
Narwhals are some of Earth's most unusual creatures. The narwhal tusk is actually a spiral tooth that can grow as long as 10 feet. This is a specialized sensory organ that spots changes in the environment, aiding in locating food and mates.
Puffins, the cute white-and-black birds with orange beaks, can fly up to 55 mph. In spring and summer, they return to a land colony that numbers in the thousands to mate (usually with the same partner each year).
Beluga Whales, stark white creatures with a unique neck, can turn their heads almost completely sideways to create a right angle. This allows for special maneuverability for swimming backwards and for harvesting food. Their sonar skills echolocate their prey while working together to force fish into favorable situations. Highly vocal, they make a variety of sounds for communication in their social pods which can number up to 100 individuals.
Musk Ox are one of the few hooved animals, along with reindeer, that survived the Ice Age. Their long, shaggy hair can grow to two feet long and an undercoat provides insulation that is eight times warmer than sheep's wool. In winter herds numbering up to 24 forage for roots, moss and lichen, which they harvest with their hooves.
New state-of-the-art polar exploration vessels for fewer than 200 guests now can offer itineraries as compact as seven days. Debuting in the Arctic spring of 2019 is the 174-guest Hondius and in spring 2020 the 176-guest World Explorer and the 126-guest National Geographic Endurance. They cruise in the north for the boreal summer and position south in the autumn for the Antarctic sailing season.
AdventureSmith Explorations offers several itineraries exploring the "classic" destinations of Svalbard, Iceland and Greenland. For 2019, cabin availability can still be found on:
Realm of the Polar Bear
Around Spitsbergen
Intro to Spitsbergen
Three Arctic Islands
A Circumnavigation of Iceland
Classic Polar Bear Adventure
The company also offers trips to lesser-known areas such as the Russian High Arctic: Franz Josef Land, which yield excellent opportunities to view polar bears, marine mammals and seabird rookeries.
For details on all AdventureSmith's small ship cruises worldwide, day-to-day itineraries, availability and reservations, phone: 866-575-2875 toll-free or visit their company website.
AdventureSmith Explorations, founded in 2003, is a recognized leader in small ship cruising ("Think Outside the Boat!"). In 2012 owner Todd Smith joined the ranks of Condé Nast Traveler's prestigious world's Top Travel Specialists list as the leading expert on small ship expeditions.
For more travel features, visit:
goingplacesnearandfar.wordpress.com
www.huffingtonpost.com/author/karen-rubin
travelwritersmagazine.com/TravelFeaturesSyndicate/
goingplacesfarandnear.tumblr.com/
instagram.com/krubin0830/
instagram.com/famtravltr/
'Like' us on facebook.com/NewsPhotoFeatures
Twitter: @TravelFeatures