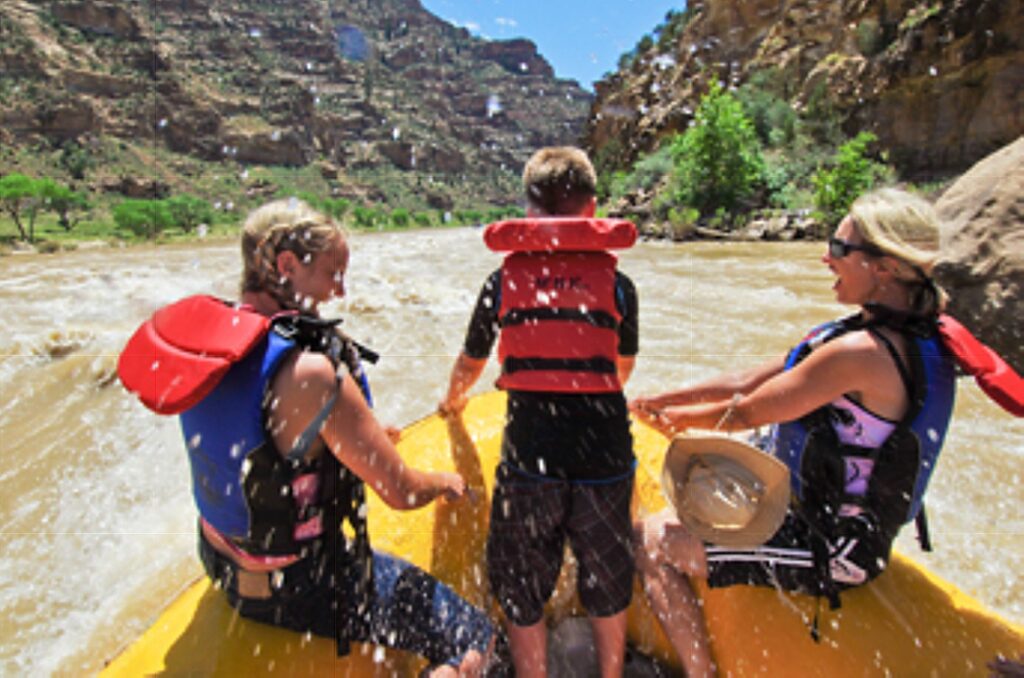 SALT LAKE CITY, UT– The scramble for seats on the world's most coveted river rafting vacations in the Grand Canyon begins on Tuesday, Nov. 28, at 6 p.m. Mountain Time (5 p.m. Pacific, 7 p.m. Central and 8 p.m. Eastern), Western River Expeditions announced.
 
This annual event attract adventure lovers from around the country and around the world, who yearn to bag a seat on a coveted river rafting expedition through Arizona's Grand Canyon.
 
"On Nov. 28 at 6 p.m. we'll be taking reservations online, and at 9 am on Nov. 29, Western River's reservations team will be available to take calls for river rafting itineraries that begin in 2025 as early as April and continue through the month of September," explains Brandon Lake, co-owner and company CMO. "We encourage anyone interested to visit https://www.westernriver.com/grand-canyon-raft-trips-2025 and join our email list for updates and reminders."
 
This is the widely anticipated opportunity to secure reservations now for what many rafting aficionados consider one of the world's ultimate river rafting experiences. These early bird booking dates are expected to secure reservations for up to 90 percent of Western River Expeditions' 2025 Grand Canyon vacations inventory. Historically demand outpaces supply, and within hours of the reservation window opening, many departures are sold out. For trip details, please see visit Western's Grand Canyon Rafting page.
 
"People ask us why we are taking reservations now for 2025; why not just focus on 2024?" says Lake. "Due to these high-demand trips, we must look two years ahead. Western's 6- and 7-Day Grand Canyon trips for 2024 are sold out, and space is very limited in the upcoming season for shorter departures of 3 and 4 days. Travelers interested in possibly rafting the canyon in 2024 are still urged to call Western's sales office. Because people book so far in advance, cancellations do happen. Getting your name on the waitlist is advised."
 
The river rafting season on the Colorado River through the Grand Canyon runs from April into September. The longer 6- and 7-day trips with the thrills of class III-V rapids are open to guests as young as 12. The minimum age is nine for 3- and 4-day trips that come with class II-III rapids. Western's exclusive J-Rig raft provides accessibility for all levels of rafters on even the largest whitewater rapids in the Grand Canyon. Rafting trips include plenty of hiking in side canyons that allow access to waterfalls, slot canyons, native ruins, rock art, and geologic wonders that the 5 million or so casual hikers from the rim will simply never see.
 
For details on the trips, Western River Expeditions offers complimentary Expedition Guides in PDF format (https://www.westernriver.com/expedition-guide). The comprehensive guides include river maps, overviews, full itineraries, camping and weather information, details on physical requirements, packing lists, and more.
 
Grand Canyon trips are always in high demand and fill quickly. To protect the Canyon and maximize one's enjoyment of nature, the National Park Service closely regulates the number of rafting participants traveling through the Grand Canyon each year, creating space limitations and a scramble for reservations. 
 
For those who are flexible and perhaps miss the boat on Grand Canyon reservations, two lesser-known options to rafting the Grand Canyon include a four-day trip through Cataract Canyon, often referred to as the "The Grand Canyon's Younger Sister".
 
"Utah's Cataract Canyon, located deep within Canyonlands National Park, is near enough in scale, appearance and proximity to the Grand Canyon that it works the same kind of magic one will find in the Grand herself. Just a short distance upstream on the Colorado River System, this is hands down the best alternative to a Grand Canyon rafting vacation," explains Lake.
 
"If you're planning to travel with kids, an option that families often enjoy even more than Grand Canyon is a spectacular five-day family-oriented journey down Desolation Canyon on the Green River in Utah. This is a mellower but equally breathtaking rafting experience. Like Cataract, it also departs from Moab, Utah, and because it is lesser known, it has good availability for 2024," he adds. 
Preview 2025 Grand Canyon dates & rates here
To access Grand Canyon reservations or obtain a copy of Western River Expeditions' annual catalog, call toll-free: 866-904-1160 (Local: 801-942-6669) or visit the website at: http://www.westernriver.com/.
Also, there is still limited availability on select departures in the Grand Canyon as well as some unforgettable experiences in Utah, Idaho, and Oregon. See them all at  www.westernriver.com.
 
Western River Expeditions is an adventure travel company headquartered in Salt Lake City, with operations and offices in Moab, Utah and Fredonia, Arizona. Annually from March through October it escorts more people down rivers on professionally guided rafting trips in Utah, Idaho and Arizona than any other company. It is the largest licensed outfitter in the Grand Canyon and the largest single tour provider in Moab, UT, through its division Moab Adventure Center (http://www.moabadventurecenter.com/).
 
Western River Expeditions was founded in 1961 by Colorado River rafting pioneer Jack Currey. In 2023 the operator was chosen by the readers of USA Today 10 Best as the #2 rafting company in the nation. The company is also the recipient of the "Best of State" award through Utah's Premier Recognition and Awards Program for the past 19 consecutive years (2004-2022).
For more travel features, visit:
Going Places @ theisland360.com
goingplacesnearandfar.wordpress.com
www.huffingtonpost.com/author/karen-rubin
travelwritersmagazine.com/TravelFeaturesSyndicate/
goingplacesfarandnear.tumblr.com/
instagram.com/going_places_far_and_near/
instagram.com/bigbackpacktraveler/
'Like' us on facebook.com/KarenBRubin
Twitter: @TravelFeatures