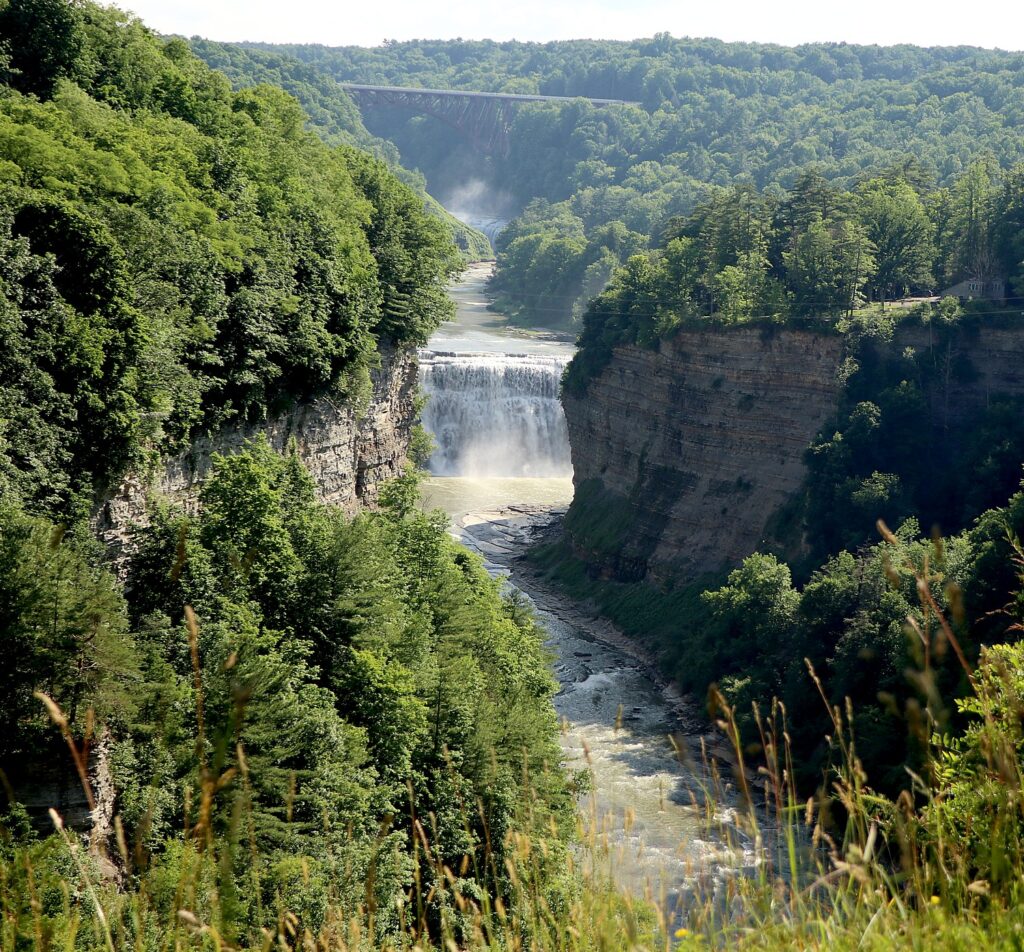 New York State has opened reservations at seven state park campgrounds for prime viewing of the rare total solar eclipse in April 2024 The early opening for reservations will help accommodate an expected influx of visitors heading to several regions of the state to witness the celestial event.
"Next year, New Yorkers and visitors alike will have the opportunity to witness an extraordinary, celestial show in our state as the solar eclipse passes over the heart of Western New York, the Finger Lakes, and the Adirondacks in 2024," Governor Kathy Hochul said. "Our State Parks will open campground accommodations early, prior to the traditional camping season, to ensure people can see this amazing display in one of New York's beautiful natural settings. I encourage all who are interested to reserve their spot beginning this week for this incredible event."
Starting the week of July 3, 2023, reservations will become available from State Parks at a total of 335 campsites, cottages and cabins stretching across eight counties in western, central, and northern New York. On April 8, 2024, a total solar eclipse will trace a narrow path of totality across 15 U.S. states, including much of western and upstate New York. For visitors with reservations for the night of April 8, check-out time is 11:00 a.m. the following morning, so visitors can avoid traffic and enjoy the attractions of the region after the eclipse.
"Visitors not only will get a chance to see this inspiring cosmic display – which won't happen again in the continental U.S. until 2044 – they will also be able to enjoy the beauty of early spring in some of our most beautiful State Parks and see how we are continuing to enhance our accommodations," New York State Parks Commissioner Erik Kulleseid said,
Reservations can be made nine months in advance for a minimum of two nights through ReserveAmerica.com.
Sites will be available April 4-8 at the following State Parks:
Allegany State Park, 2373 ASP, Rte 1, Salamanca, NY 14779 (Allegany County), for 165 sites, including campsites, cabins, cottages, and a group camp. New reservations open July 4.
Fair Haven Beach State Park, 14985 State Park Road, Fair Haven, NY 13064 (Cayuga County) for 29 cabins and one cottage. Reservations open July 5.
Letchworth State Park, 1 Letchworth State Park, Castile, NY 14427 (Livingston/Wyoming counties) for 19 cabins and cottages. Reservations open July 5.
Evangola State Park, 10191 Old Lake Shore Road, Irving, NY 14081 (Erie County) for 25 campsites. Reservations open July 5.
Four Mile Creek State Park, 1055 Lake Road, Youngstown, NY 14174 (Niagara County) for 50 campsites. Reservations open July 5.
Golden Hill State Park, 9691 Lower Lake Road, Barker, NY 14012 (Niagara County) for 25 campsites. Reservations open July 5.
Wellesley Island State Park, 44927 Cross Island Road, Fineview, NY 13640 (Jefferson County) for 21 cabins and cottages. New reservations open July 5.
In the U.S., the eclipse will pass northeast through Texas, Oklahoma, Arkansas, Missouri, Illinois, Kentucky, Indiana, Ohio, Pennsylvania, New York, Vermont, New Hampshire, and Maine. The eclipse will begin in western New York shortly after 2 p.m. Eastern Daylight Time. Full totality will begin in Chautauqua County at 3:17 p.m., moving through the state to Plattsburgh at 3:25 p.m.. Locations in the path of totality could experience total darkness for up to 4 minutes. The eclipse will then enter Canada in southern Ontario, and continue through Quebec, New Brunswick, Prince Edward Island, and Cape Breton.
The next total solar eclipse that will be visible from the contiguous U.S. will not be until August 2044.
A total solar eclipse happens when the moon passes between the sun and earth, completely blocking the face of the sun. People viewing the eclipse from locations where the moon's shadow completely covers the Sun – known as the path of totality – will experience a total solar eclipse. The sky will become dark, as if it were dawn or dusk. Weather permitting, people along the path of totality will see the sun's corona, or outer atmosphere, which is usually obscured by the bright face of the sun.
Except during the brief total phase of a total solar eclipse, when the moon completely blocks the sun's bright face, it is unsafe to look directly at the sun without specialized eye protection for solar viewing. According to NASA, viewing any part of the sun through a camera lens, binoculars, or a telescope without a special-purpose solar filter secured over the front of the optics will instantly cause severe eye injury. The partial phases of the solar eclipse can only be safely observed directly with specialized solar viewing glasses ("eclipse glasses") or a handheld solar viewer. Regular sunglasses, polarized or otherwise, are not a safe replacement for solar eclipse glasses.
For more information about the 2024 Total Eclipse in New York State, visit https://www.iloveny.com/events/eclipse-2024/.
The New York State Office of Parks, Recreation and Historic Preservation oversees more than 250 parks, historic sites, recreational trails, golf courses, boat launches and more, which in 2022 were visited by record 79.5 million people. For more information on any of these recreation areas, visit www.parks.ny.gov, download the free NY State Parks Explorer mobile app or call 518.474.0456. Also, connect on Facebook, Instagram and Twitter.
See: DRIVEABLE ADVENTURES: HIKING/CAMPING IN THE 'GRAND CANYON OF THE EAST' – NY'S LETCHWORTH STATE PARK
For more travel features, visit:
Going Places @ theisland360.com
goingplacesnearandfar.wordpress.com
www.huffingtonpost.com/author/karen-rubin
travelwritersmagazine.com/TravelFeaturesSyndicate/
goingplacesfarandnear.tumblr.com/
instagram.com/going_places_far_and_near/
instagram.com/bigbackpacktraveler/
'Like' us on facebook.com/KarenBRubin
Twitter: @TravelFeaturesFacebook Twitter LinkedIn