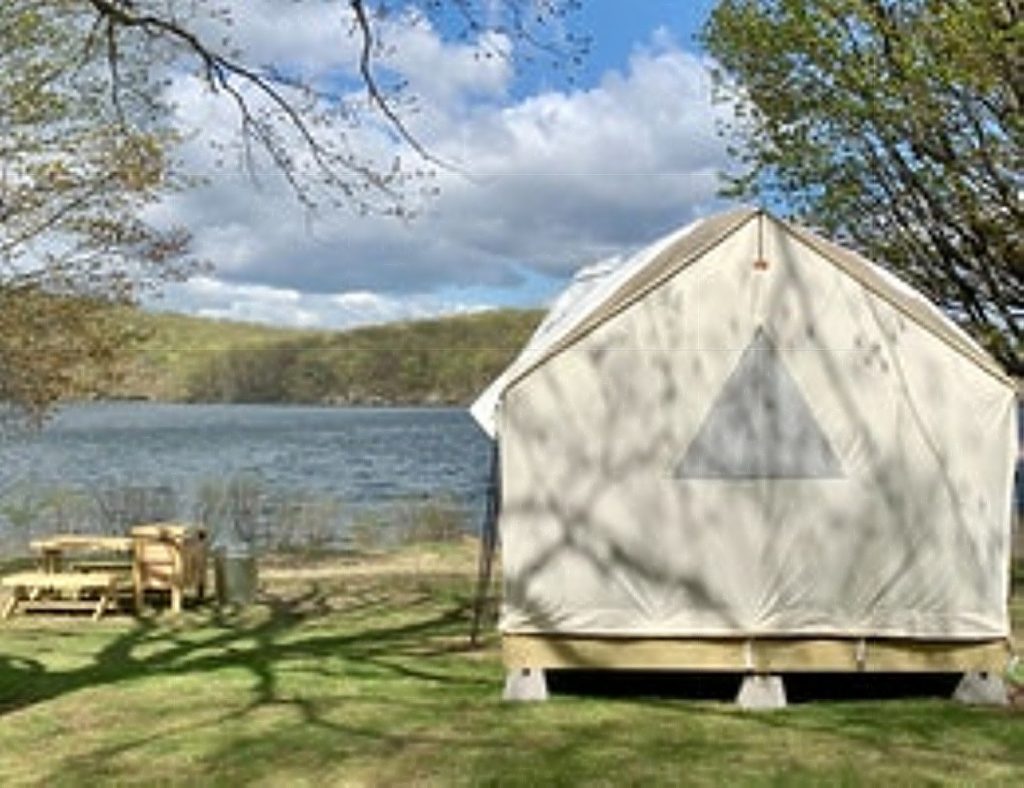 New York State is partnering with a tent camping service to provide 45 glamping sites at four State Parks in the Hudson Valley. Tentrr's fully outfitted campsites are available to reserve at the Sebago and Silver Mine areas of Harriman State Park in Orange and Rockland Counties; Taconic State Park and Lake Taghkanic State Park in Columbia County; and Mills-Norrie State Park in Dutchess County.
The service provides tents, sleeping accommodations and an array of equipment needed for camping at each site. All items are set up and ready to use upon arrival for added convenience and sites are maintained by Tentrr staff.
All locations include a 10-foot by 12-foot, canvas-walled tent atop a raised platform. Each site is outfitted with a queen-sized bed and memory foam mattress, a propane heating source, a solar-powered "sun" shower, a camp toilet, water container, Adirondack chairs, a fire pit, grill, and a picnic table with storage and benches.
Guests have the option of single, double, and triple sites. Singles sleep up to six (two occupants in the main tent and four occupants in a provided pop-up tent). Double sites – or buddy sites – sleep up to 12 (two occupants in each of the two main tents and four occupants in each of the two provided pop-up tents) and triples can accommodate group camping.
"Camping at a State Park is an ideal way to explore the great outdoors with friends and family," Governor Andrew Cuomo said. "This partnership continues our work to create diverse and exciting destinations to attract visitors to New York's great outdoors, enhance our tourism economy, and help people experience all that the State has to offer."
"The partnership with Tentrr is an opportunity to reach new visitors and encourage more New Yorkers to get outside and be active," State Parks Commissioner Erik Kulleseid said. "We look forward to kicking off this summer and connecting people with the Hudson Valley's many outdoor offerings. Not everyone has the equipment or the knowledge to enjoy camping in a state park, and this partnership is a great way to introduce this classic outdoor experience to more New Yorkers."
"As a New York City-based company, it is great to partner with our home state supporting its incredible park system across the region," said Todd King, Vice President of Marketing at Tentrr. "Through Tentrr, we hope New Yorkers and out-of-state visitors alike will explore the incredible natural resources and parks the state has to offer. Tentrr makes it easy to find an amazing site to enjoy the state's vast landscapes and inspiring scenery."
New York State Executive Director of Tourism Ross D. Levi said,"Camping is a terrific way to experience New York State's great outdoors, and this new service will make it easier than ever to enjoy New York's unparalleled State Parks. I LOVE NY looks forward to promoting the availability of these extensively outfitted sites as part of the wide variety of camping offerings available across the state to residents and visitors alike."
While Tentrr's sites are naturally socially distanced, Tentrr adheres to state guidelines for maintaining and sanitizing the sites. Tentrr will continue to keep sites clean and wiped down with high-grade sanitizers and encourages guests to follow recommended COVID requirements and protocols. For more details on Tentrr's COVID-19 protocols, visit here.
The Tentrr partnership complements Governor Cuomo's NY Parks 100 initiative, which renews the historic commitment to investing and expanding the State Park system by committing at least $440 million over the next four years. This critical period of revitalization will culminate in the 2024 celebration of the 100th anniversary of the State Park Act, which first created our nation-leading State Park system in 1924 under Governor Al Smith. NY Parks 100 will continue crucial investments in park infrastructure while enhancing opportunities to reach the full range of New York State's recreational and cultural offerings, including local parks and trails, regional flagship parks and historic sites, and vast wilderness parks. The initiative will focus on creating places to recreate locally, relieving overcrowded parks, welcoming new visitors, and protecting New York State's environmental and historic legacy. This new plan will ensure people from all communities and across all ages and abilities can fully experience our outdoors, our culture, and our heritage.
For more information, visit www.tentrr.com.
The New York State Office of Parks, Recreation and Historic Preservation oversees more than 250 parks, historic sites, recreational trails, golf courses, boat launches and more, which were visited by a record 78 million in 2020. For more information on any of these recreation areas, call 518-474-0456 or visit www.parks.ny.gov, connect with us on Facebook, or follow on Instagram , Twitter or on the State Parks blog.
For more travel features, visit:
goingplacesnearandfar.wordpress.com
www.huffingtonpost.com/author/karen-rubin
travelwritersmagazine.com/TravelFeaturesSyndicate/
goingplacesfarandnear.tumblr.com/
instagram.com/going_places_far_and_near/
'Like' us on facebook.com/NewsPhotoFeatures
Twitter: @TravelFeatures