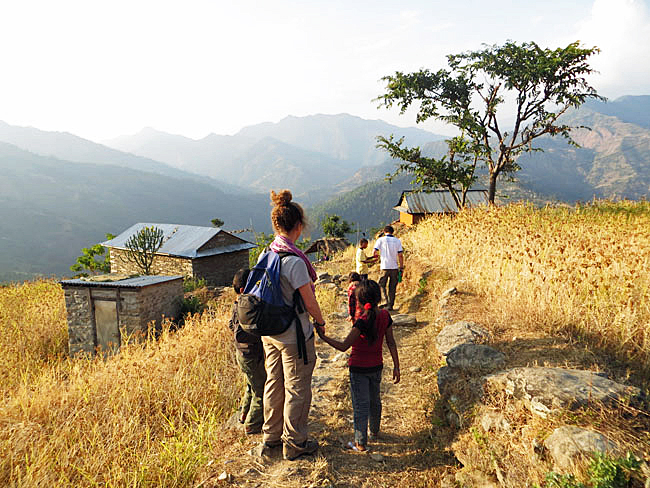 KATHMANDU, Nepal – Trekking, climbing and adventure company, Ace the Himalaya Pvt Ltd., is pioneering a 13-day "Home Stay Trek" that brings visitors into homes in remote areas of Nepal's Gorkha region where their hosts are often friends and families of Sherpas who dedicate their lives to the mountains (www.acethehimalaya.com/special-trips/home-stay-trek.html).
Time spent as special guest of each village along the route will allow visitors to experience the true Nepali spirit while enjoying and sharing in their daily activities and rituals such as visits to the local blacksmith and time spent with the village shaman. Daily, trekkers will journey to a different village staying with a local family in a shared room. Rooms in local houses are clean, warm and dry, with simple beds. Linen and quilts will be provided although it is recommended participants bring a sleeping bag.
"This Home Stay Trek is inexpensive in comparison to other trekking trips in Nepal, and the outcome is that the money really goes to villagers," said Prem K. Khatry, managing director of Ace the Himalaya. This region fosters more Sherpas than any other in the country. "While it takes extra care to introduce outsiders to culture and lifestyles that are unchanged for centuries, these efforts also assist local people socially and economically."
The package rate for a single individual is $1,210; for two to four, $660 per person, and for five and more $550 each.  Included are airport transfers, overnights at a Kathmandu hotel, accommodation in mountain homes, Nepali local food, guided city tour in Kathmandu by private tourist vehicle, local Ace the Himalaya-licensed English-speaking guide, the required number of local staff and porters to carry luggage during the trek (one porter for every two guests), food, accommodation, salary, insurance, equipment and medicine for all staff, ground transportation to and from Kathmandu in private vehicle, complimentary duffel/kit bag, sun hat and T-shirt, sightseeing/monument entrance fees in Kathmandu, government taxes, VAT, tourist service charges, official expenses and a farewell dinner in typical Nepali restaurant with cultural dance show before the trip ends.
The money visitors pay for this exclusive people-to-people experience is welcomed by host families and covers the cost of providing food and accommodation. Breathtaking views of Ganesh Himal, Manaslu and Annapurna are free for the gazing. Guests experience the hospitality of eight host families in as many villages, arriving at the conclusion of each day of trekking.
Typical Nepali foods are offered each evening and along the trek: dal, bhat, tarkari and achar (rice, curry, pickle), and possibly Gundrook- Dheedo, a sugar-free dish made of wheat, maize and dried green vegetable. The food is always high on nutrition levels and most outsiders find it quite tasty.
Most villages don't have a flushing toilet; a sewage system is non-existent. All toilets during the home-stay are squat toilets made of either a ceramic basin on the ground or few planks precariously positioned over a hole in the ground. There usually is a tap and bucket next to the toilet for flushing. Guests supply their own toilet paper. Baths and clothes washing take place at springs, rivers and communal outdoor showers.
Culture Shock
The lifestyle in these small villages is very different from that in Nepal's larger communities. Western culture has had little influence on these people and their traditions can foster a little cultural shock with clients. Here are some key differences:
Most villagers tend to speak loudly and somewhat aggressively. Hence one should be aware that this is just normal approach and not be offended.
Physical disciplining of children (such as hitting and using the strap) is common and an old practice in Government schools; although the Government is working on phasing this out, it will take some time.
Sacrifices of animals and birds occur in traditional Hindu rituals during festivals; a visit to a witch doctor is a normal cultural activity.
Tobacco is quite common and many villagers smoke cigarettes.
Hygiene levels are often much lower in the villages as the locals hold higher immune capacity. s visitors are advised to reduce the chance of getting sick by being aware when interacting with children, accepting food from villagers and drinking water.
For more information and reservations contact:
North America: Alexia Nestora, 303-898-3376, [email protected]
Head office in Nepal: E-mail: [email protected], 24-Hour Hot Line Phone: +977 98511 02225, website: www.acethehimalaya.com/.
For more travel features, visit:
www.examiner.com/eclectic-travel-in-national/karen-rubin
www.examiner.com/international-travel-in-national/karen-rubin
travelwritersmagazine.com/TravelFeaturesSyndicate
goingplacesnearandfar.wordpress.com
'Like' us on facebook.com/NewsPhotoFeatures
Twitter: @TravelFeatures
New: Moral Compass: Great Places to Go Where the Going Does Good
moralcompasstravel.info
Check out our newest travel site for special deals, insiders' tips at tidbitts.com: www.tidbitts.com/karen-rubin/where-in-the-world