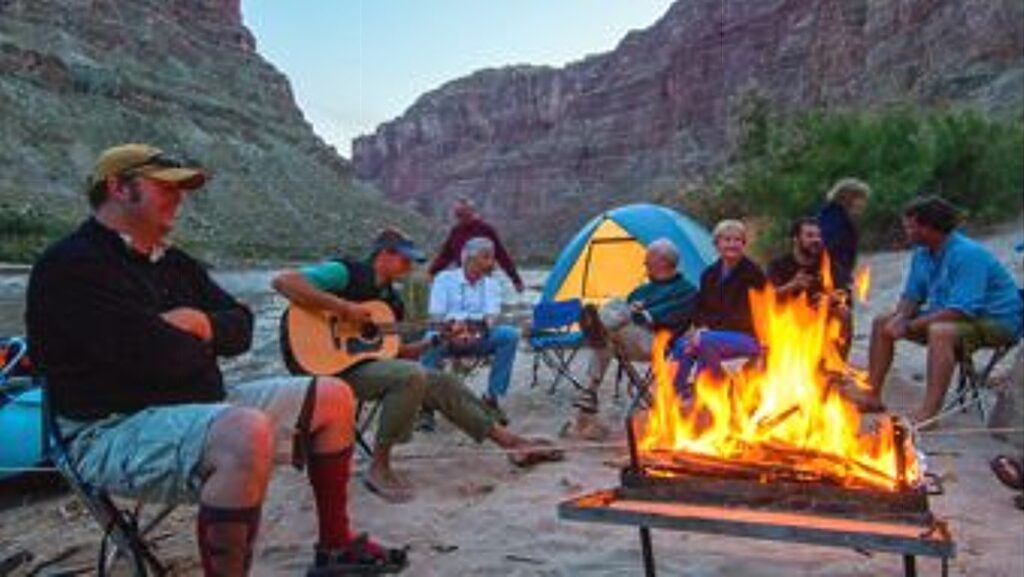 SALT LAKE CITY – You've had a bee in your bonnet for some time now. You want to go on an adventure. You heard this year will be the best year in decades for spring and summer runoff so a river rafting adventure is the choice. But the effort of organizing a trip with friends and/or family seems daunting.
 
"I think I'll just do this solo," you declare.
 
Leaning into Western River Expeditions' expertise when it comes to all things rafting and rivers, you find yourself on and off the water sharing laughs and thrills with assorted new friends. The gathering isn't a couple's night or a family play date; rather this is a "we're all in this together" camaraderie encouraged by Nature herself.
 
A plus side of traveling solo is being able to secure room on the raft when there's no space available left for couples and small pairings. Solo can be a bonus when trying to wiggle onto coveted trips through the Grand Canyon. Once slotted in, however, the sense of solo vanishes among new friends, including the guides, who are all sharing the awe of majestic scenery and star-filled skies.
 
Many solo guests report traveling single liberated them from the roles and expectations that may have subconsciously bound their natural curiosity back home. It also gave them the security of traveling with a group of like-minded people.
 
"After hearing tales of Lava and Hermit rapids and 'riding on the front,' I booked a Grand Canyon trip with Western River Expeditions. None of my friends were interested, so I just signed up solo. From the moment I arrived, I was never alone," said Sallie, a guest from California.
 
For stories from travelers who launched themselves solo on a Western River Expeditions adventure, please see: https://www.westernriver.com/best-solo-travel-experiences
 
Here are Western River Expeditions' most popular trips with solo travelers.
 
In Arizona, Grand Canyon 3-Day River Trip: Think two nights on the river, a helicopter ride into the canyon, whitewater rafting with ample class II – III rapids, incredible meals, a jet boat ride and easy access from Las Vegas. The Grand Canyon 3-day river trip is a popular introductory experience for solo travelers. Anticipate possible sightings of the elusive Blue Heron, rare California Condors, Big Horn sheep and soaring hawks and eagles. Departures are April through September. The rate is from $1,750.
 
In Arizona, Grand Canyon 6 or 7-Day Vacation: This extended river journey descends deeper into geologic time while exploring the first 188 miles of the Grand Canyon. Guests experience world-class whitewater including legendary Lava Falls, Hermit, Crystal, and more. More than 60 class III – V rapids provide thrills aplenty. Off the river are hikes to waterfalls and Native American sites through astounding side canyons. Departures are April through September. The rate is from $3,345.
 
South of Moab, Utah, Colorado River 4-Day Cataract Canyon: This adventure over four days and three nights explores Canyonlands National Park on the Colorado River that winds through stunning sandstone sculptures while encountering some of the best whitewater in North America. Think class III – V rapids where the Green and Colorado Rivers meet in a majestic setting called "The Confluence." This is where Cataract Canyon begins, a deep 100-mile-long chasm through the heart of the National Park. Departures are from May through September. The rate is from $1,825.
 
In Idaho, the Middle Fork of the Salmon River coursing through the remote and rugged mountains of central Idaho is a legend among river runners who appreciate boundless class III – V rapids. Designated as a National "Wild & Scenic River," this fast-paced trip has incredible hikes, hot springs, whitewater and scenery. This pure, clear, free-flowing river drops 3,000 feet over its 100-mile course through the remote and spectacular River of No Return Wilderness, the largest Wilderness in the lower 48 states. Departures are June through August. The rate is from $2,990.
 
Western River Expeditions is an adventure travel company headquartered in Salt Lake City, with operations and offices in Moab, Utah and Fredonia, Arizona. Annually from March through October it escorts more people down rivers on professionally guided rafting trips in Utah, Idaho and Arizona than any other company. It is the largest licensed outfitter in the Grand Canyon and the largest single tour provider in Moab, UT, through its division Moab Adventure Center (http://www.moabadventurecenter.com/).
 
Western River Expeditions, providing Grand Canyon rafting, Utah and Idaho rafting, and international multi-sport trips, was founded in 1961 by Colorado River rafting pioneer Jack Currey. It has been named one of the "Best Adventure Travel Companies on Earth" by the editors of National Geographic Adventure magazine. The company is the proud recipient of the "Best of State" award through Utah's Premier Recognition and Awards Program for the past nineteen consecutive years (2004-2022).
For a copy of Western River Expeditions' 2023 catalog, questions, availability and reservations call 866.904.1160 (Local: 801.942.6669) or visit the website at: http://www.westernriver.com/.


For more travel features, visit:
Going Places @ theisland360.com
goingplacesnearandfar.wordpress.com
www.huffingtonpost.com/author/karen-rubin
travelwritersmagazine.com/TravelFeaturesSyndicate/
goingplacesfarandnear.tumblr.com/
instagram.com/going_places_far_and_near/
instagram.com/bigbackpacktraveler/
'Like' us on facebook.com/KarenBRubin
Twitter: @TravelFeatures
Facebook Twitter LinkedIn