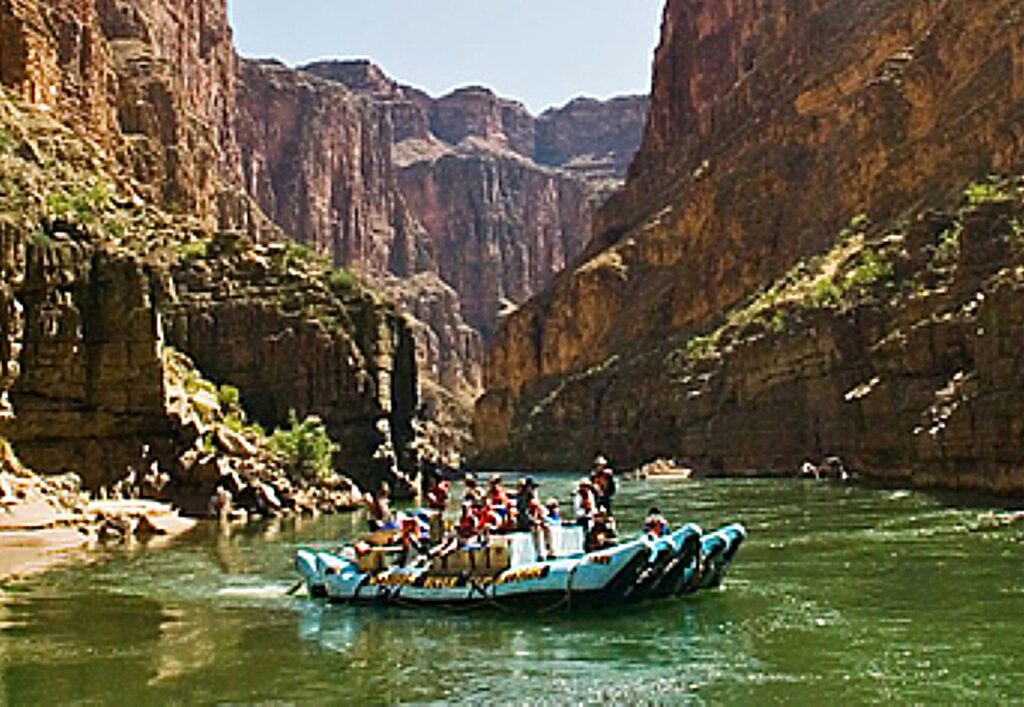 SALT LAKE CITY, UT, Nov. 12, 2021 – This month Western River Expeditions opens select booking dates for charter groups anticipating river rafting adventures in 2023 in the Grand Canyon.
 
Groups ranging from extended family to corporate to non-profit can benefit from the advantages of this advance booking window for up to 28 people on prime departure dates.
 
Advance bookings for charter groups are available for select, 3, 4 6, or 7-day Grand Canyon rafting expeditions throughout the 2023 season.
 
"As the popularity of doing an exclusive private trip with just the members of your group has grown over the years, we have found it works best to open up select dates in advance for just these groups. That way they can still find dates with wide-open availability. Doing it this way, we can give our charter guests time to advertise, market, promote and book," said Brandon Lake, co-owner and CMO. "We still leave several dates wide open for the general public so they have plenty of space to for individual bookings when the season opens for individual bookings on Nov. 30. Once this opens, many departures will sell out online within the first several hours."
 
Although Mother Nature provides more than enough photo ops on the descent through the Grand Canyon, for these upcoming bookings, Western River Expeditions plans to offer groups the option of custom group t-shirts, adding even more pizzazz to group photos.
 
Group charters are available on all of the rivers where Western River hosts programs: Cataract Canyon, Desolation Canyon and Westwater Canyon.  Western River's experience with charter groups is that people get hooked on river rafting and in the future segue into other river trips. For details please see – https://www.westernriver.com/group-rafting-trips.
 
If an epic river rafting adventure is in your future, Western River Expeditions says don't delay making reservations for trips down the Colorado River through the Grand Canyon and in Utah's Cataract Canyon and Desolation Canyon.
 
Here are a few good reasons why to act now.
 
Tight controls on inventory through commercial permits make these areas available only to a limited few every year. While Western River Expeditions escorts more people down the Colorado River and Green River on professionally guided rafting trips in Utah and Arizona than any other rafting operator in the country, Western River, as well as other commercial tour operators, has to abide by the limits set by government-issued permits. These coveted seats are being snapped up quicker than ever before by an unprecedented surge of demand following months of COVID lockdown, record-breaking heat waves that beg for water-based recreation, and an exploding demand to visit America's national parks.
 
As a result, Western River Expeditions filled all Grand Canyon slots for 2021 well in advance. Many departures for 2022 are sold out and others are very close to selling out. 2023 Grand Canyon dates will open for general bookings on Nov. 30 this year. Requests for 2023 group charters are being taken now.
 
For a copy of Western River Expeditions' 2022/2023 catalog, questions, availability and reservations call 866-904-1160 (Local: 801-942-6669) or visit the website at: http://www.westernriver.com/.
 
Western River Expeditions is an adventure travel company headquartered in Salt Lake City, with operations and offices in Moab, Utah and Fredonia, Arizona. Annually from March through October it escorts more people down rivers on professionally guided rafting trips in Utah, Idaho and Arizona than any other company. It is the largest licensed outfitter in the Grand Canyon and the largest single tour provider in Moab, UT through its division Moab Adventure Center (http://www.moabadventurecenter.com/).
 
Western River Expeditions, providing Grand Canyon rafting, Utah and Idaho rafting, and international multi-sport trips, was founded in 1961 by Colorado River rafting pioneer Jack Currey. It has been named one of the "Best Adventure Travel Companies on Earth" by the editors of National Geographic Adventure magazine. The company is the proud recipient of the "Best of State" award through Utah's Premier Recognition and Awards Program for the past seventeen consecutive years (2004-2020).
For more travel features, visit:
goingplacesnearandfar.wordpress.com
www.huffingtonpost.com/author/karen-rubin
travelwritersmagazine.com/TravelFeaturesSyndicate/
goingplacesfarandnear.tumblr.com/
instagram.com/going_places_far_and_near/
'Like' us on facebook.com/NewsPhotoFeatures
Twitter: @TravelFeatures