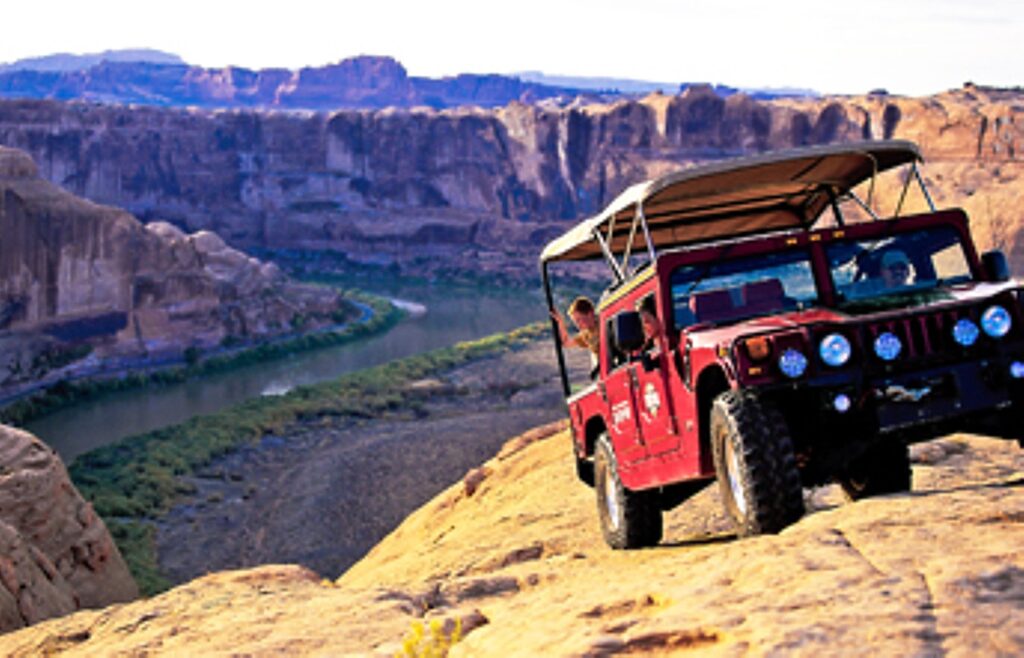 Moab Adventure Center, a division of Western River Expeditions, has a short list of how to enjoy autumn in the world's red rock playground of Moab, Utah. This region becomes an artist's dream world when fringed by the Colorado River's yellow cottonwoods along the Colorado River and the golden aspens of the LaSal Mountains.
 
After the summer rush, daytime temperatures in September and October cool down to around the mid-70s to mid-80s. Fewer people around means more elbow room to be had on every adventure in not just one but two National Parks – Arches and Canyonlands.
 
Here are seven suggested adventures that continue through the end of November, with the exception of rafting which concludes the end of October.
America's red rock playground, Moab, Utah, home of two national parks that are coveted icons to explore in post-pandemic lockdowns, has experienced an unprecedented surge in popularity this summer.

This influx means that visitors should "nail down your accommodations and your preferred guided excursions as soon as possible and certainly before you arrive in Moab," said Cort Wright, manager of the Moab Adventure Center. This is the go-to outfitter for securing pre-set backcountry and national park access and tours. Moab Adventure Center specializes in all there is to do in Moab and bundles assorted activities and lodging to maximize enjoyment of Arches National Park and Canyonlands National Park and the surrounding Colorado River country.
 
"Arrangements made in advance help deliver the peace and privacy you expect when surrounded by this natural playground," Wright said. In fact, for early bird planners, Moab Adventure Center is offering excursions in 2022 at 2021 rates when booked this season. (www.moabadventurecenter.com/moab-lodging)
 
The company has seen growing demand unleashed by the desire to return to nature and outdoor recreation. Compared to their record 2019 season, programs have seen phenomenal growth through the end of July 2021, including Moab Zipline Adventure, Arches National Park Sunset Discovery, The Ultimate Moab Canyoneering Adventure, Moab Hummer Tours, and Full-Day Colorado River Rafting Adventure.
"Making reservations well in advance of arrival helps assure that we can gear up to accommodate your specific adventure requests," Wright said. "Now is the perfect time to plan for a fall escape to Moab. Everyone loves autumn in Moab. Just about every trip operates right through the end of October and all land-based tours through mid-November."

Moab Adventure Center is a division of Western River Expeditions (http://www.westernriver.com/) an adventure travel company headquartered in Salt Lake City, with operations and offices in Moab and Fredonia, AZ. The company is the largest single tour provider in Moab, Utah. The Moab Adventure Center is located at 225 South Main St., Moab, UT 84532. For information and reservations please call (435) 259-7019 or (866) 904-1163. The center also has a 2,000-square-foot retail space selling adventure related gear, clothing, maps and souvenirs. Visit https://www.moabadventurecenter.com/.
For more travel features, visit:
goingplacesnearandfar.wordpress.com
www.huffingtonpost.com/author/karen-rubin
travelwritersmagazine.com/TravelFeaturesSyndicate/
goingplacesfarandnear.tumblr.com/
instagram.com/going_places_far_and_near/
'Like' us on facebook.com/NewsPhotoFeatures
Twitter: @TravelFeatures