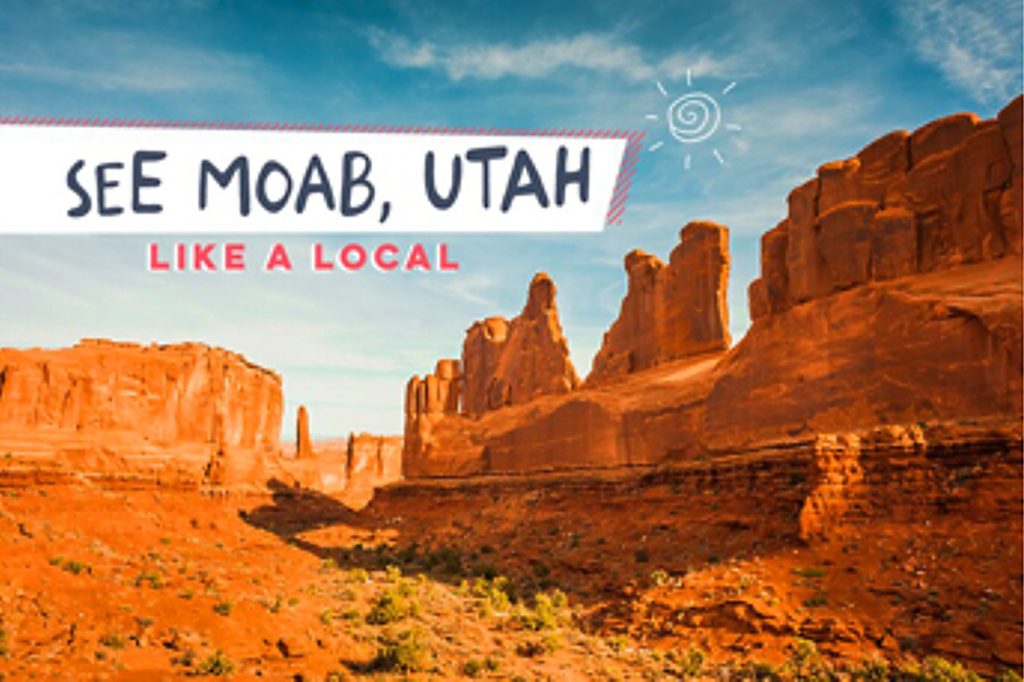 SALT LAKE CITY, UT– Taking ownership – and responsibility – for a pet, a cause or even a place comes after people feel vested in the pet, cause or place. Take a place called Moab, Utah, for example. Every year this region known as the red rock playground is a joyful discovery for thousands of first-time visitors. But as the word continues to spread about this breathtaking destination, a new set of challenges arises.

On one hand, it's a blessing to local businesses and economy that this remote region of Utah along the Colorado River is so popular. On the other hand, with every sound of an ATV and even with the quieter pace of a mountain bike or step of a hiking boot comes the potential to erode the playground's fragile infrastructure.

"When our guests depart the river after a rafting adventure, or hike out of a canyon after canyoneering or step off a horse after horseback riding, or float over all of this beauty in a hot air balloon, they're forever changed. And they 'get' why we ask them to become stewards of this landscape," says Brian Merrill, CEO of Western River Expeditions that guides guests through the rapids of the Colorado River. A sister company, Moab Adventure Center, arranges activities for people staying for a day or a week in or around Moab.

Merrill's team is taking a lead in inviting its guests to "Do It Like a Local." This is the Moab Area Travel Council's engaging video campaign showing guests how to vest themselves in Moab's future by being respectful visitors. See https://www.youtube.com/channel/UCiCq99E3e2EQkpbJIq0pnAw

"I don't think we have a problem of too many people, but we do have challenges on how to disperse them at certain times of day and in busy months," says Merrill. "Our challenge is to showcase the region in the spring, fall and winter. The beauty doesn't go away – but the crowds do."

The region is expanding infrastructure to keep up with visitor demand. In 2020 an additional 500 lodging rooms are scheduled to come on line. However, since this infrastructure was approved, both city and county have created moratoriums on new nightly rentals, including turning a spare bedroom into an Airbnb. To help disperse visitors, regional and state marketing efforts are trying to divert people to a myriad of iconic sites beyond the bucket list Arches National Park and Canyonlands National Park.

"Some long-time locals want the town to go to sleep again. Others value the fact that things are going well here. Fairly recent transplants bring along a not-in-my-backyard attitude and want to shut the door behind them. I understand all these sentiments," Merrill says. He notes that Western River Expeditions does have approval for occupancy in a building that will house up to 64 employees, helping the company retain valuable seasonal employees and reducing the demand on local housing.

Jason Taylor is operations manager for the company's Utah and Moab-specific programs. His messaging to Western River Expeditions and Moab Adventure Center guests echoes that of the Moab Area Travel Council. Additional sustainable practices include giving guests who are on multi-day outings steel vacuum water bottles they can take home with them, thus eliminating plastic. Recycling and using energy-efficient tools are imbedded into the protocol, as is the importance of hiring locally.

In addition, a major part of what Western River Expeditions and Moab Adventure Center are doing, according to Brandon Lake, VP and Co-Founder of Moab Adventure Center, is to help guests understand how to create a low impact during their guided exploration of the area. "Guides who can teach guests how and where to hike, ride and drive in our fragile landscapes can make a major difference in reducing impact over those who explore these same areas on their own without understanding the damage they may be doing." This is one of the many benefits to choosing a local tour company to help you experience Moab.

For a copy of Western River Expeditions' 2020 catalog, questions, availability and reservations call toll-free: 866.904.1160 (Local: 801.942.6669) or visit the website at: http://www.westernriver.com/.

Western River Expeditions is an adventure travel company headquartered in Salt Lake City, with operations and offices in Moab, Utah and Fredonia, Arizona. Annually from March through October it escorts more people down rivers on professionally guided rafting trips in Utah, Idaho and Arizona than any other company. It is the largest licensed outfitter in the Grand Canyon.

Moab Adventure Center (http://www.moabadventurecenter.com/) is a division of Western River Expeditions and the largest single tour provider in Moab, UT. Located at 225 South Main St., Moab, UT the center is a one-stop resource for a myriad of outdoor adventures. It also boasts a 2,000-square-foot retail space selling adventure related gear, clothing and souvenirs. For information and tour reservations call (435) 259-7019 or (866) 904-1163.
For more travel features, visit:
goingplacesnearandfar.wordpress.com
www.huffingtonpost.com/author/karen-rubin
travelwritersmagazine.com/TravelFeaturesSyndicate/
goingplacesfarandnear.tumblr.com/
instagram.com/going_places_far_and_near/
'Like' us on facebook.com/NewsPhotoFeatures
Twitter: @TravelFeatures