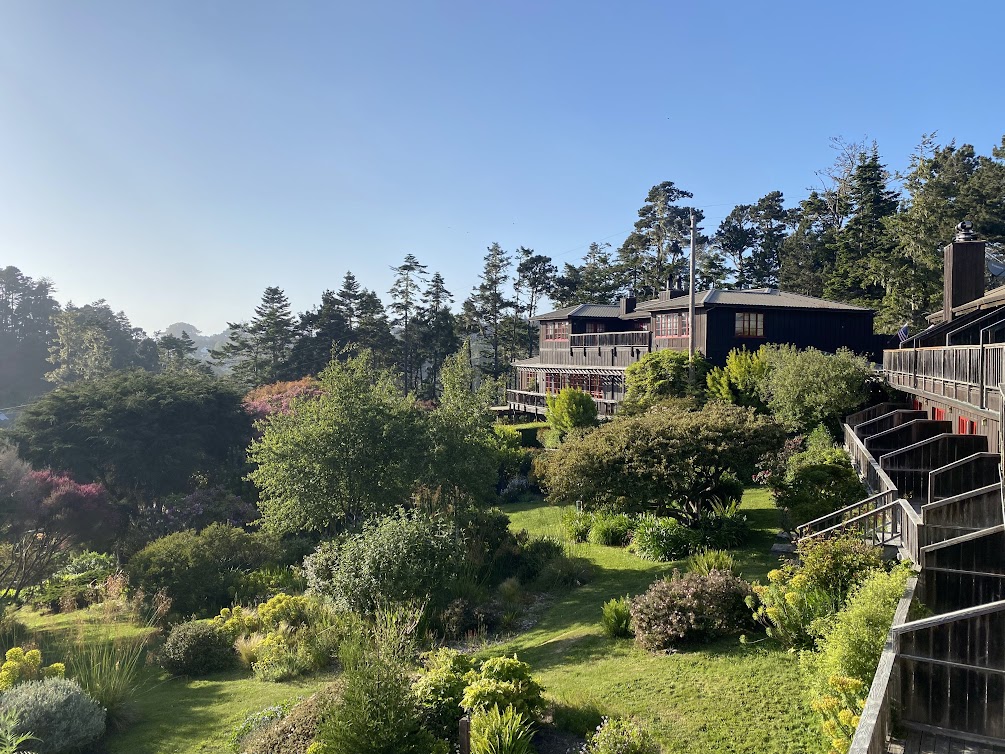 Set on a stunning hillside on the Mendocino, California, coast overlooking the ocean, the luxury, all-vegan Stanford Inn prides itself on being committed to the highest ideal of sustainability and eco-tourism, not only for its own operations, but in sharing its knowledge and passion and inculcating the mindset and the means in its guests.
"Eco-tourism isn't just choosing an exotic, threatened natural environment for your next vacation," the inn declares. "It also means traveling in a way that protects and respects your destination, and improves your own well-being as well as that of the local community and the whole planet."
Towards this end:
On-site certified organic gardens supplies the resort's whole plant-based Ravens Restaurant, nationally acclaimed for gourmet vegan cuisine that focuses on whole plants rather than ersatz meats, cheeses or processed substitutes.
The Inn offers cooking classes, from beginner up, as well as on-site classes in organic gardening and farming.
The Inn shares its knowledge, experience and passion through its Environmental Leadership Field School, where it promotes a sustainable mindset that begins with understanding soil, gardening, food production and preparation.
The Inn works to reduce its carbon footprint, has vigorous composting and recycling programs, bio-diesel fueled trucks and providing guests access to nine EV charging stations.
The Inn only uses sustainable lumber, paints, cleaning supplies and other materials for the frequent upgrades made to the property.
The Stanford Inn founders, Joan and Jeff Stanford, moved to Mendocino in 1980, say, "…we were changed by the creative and healing energies of the land which is situated between the vast Pacific Ocean and the vibrant Big River. Since then, we have worked to assure our guests have an opportunity to experience what we experience: a special place that enlivens and inspires. The energies we experience here nurtured us and we reciprocate by nurturing not only our guests, but the people who work here, the farm and gardens and the Mendocino community. We approach the inn as a small family farm. We treat our guests as we do our family."
The Stanford Inn, 44850 Comptche Ukiah Road, Mendocino, CA 95460, 707-937-5615, 800-331-8884, [email protected], https://stanfordinn.com.
See also: MiniMoon at The Stanford Inn – A Lush Eco-Conscious Retreat in Mendocino on California Coast
For more travel features, visit:
Going Places @ theisland360.com
goingplacesnearandfar.wordpress.com
www.huffingtonpost.com/author/karen-rubin
travelwritersmagazine.com/TravelFeaturesSyndicate/
goingplacesfarandnear.tumblr.com/
instagram.com/going_places_far_and_near/
instagram.com/bigbackpacktraveler/
'Like' us on facebook.com/KarenBRubin
Twitter: @TravelFeatures