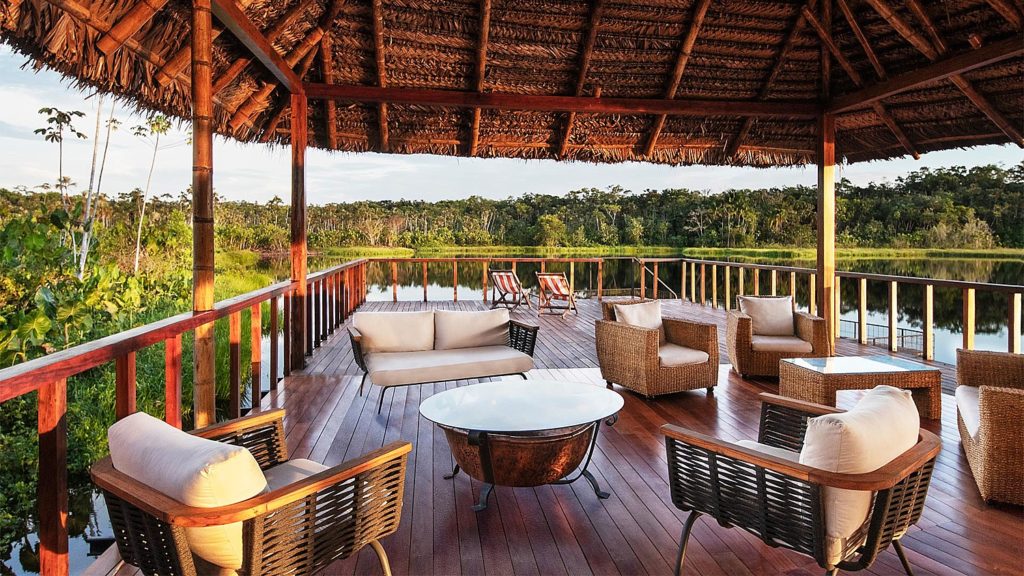 (Quito, Ecuador) — Sacha Lodge, a wildlife lodge on a 5,000-acre ecological reserve in the heart of Ecuador's Amazon Basin, is offering 25% off all 2021 tours booked by June 30, 2021. A haven for nature lovers, birdwatchers, scientists and adventure seekers, Sacha Lodge features luxurious accommodations, first-class meals, and expert native guides. A 4-day/3-night tour starts at $1,390 per person double before the discount is applied. Airfare is not included.
One of Sacha Lodge's many highlights is a wildlife observation tower suspended 135-feet in the air on the highest branches of a giant kapok tree. Another main attraction, and the only one like it in all of South America, is a 940-foot-long canopy walkway suspended 94 feet above the ground. Both offer an astounding opportunity to spot dozens of animals and epiphytes seldom seen from the ground. New for 2021, the exploration crane is a spectacular feat of engineering offering a unique perspective of the canopy treetops. A metal basket is suspended on a 135-foot boom which moves up, down, forwards, and backwards as well as rotating 360 degrees, which allows guests to get close to the monkeys, sloths, toucans, and macaws of the lush Amazon jungle. 

The variety of fauna around Sacha Lodge is astounding, with up to 60 species of mammals including monkeys, marmosets, anteaters, and sloths. A variety of lizards and snakes can also be found along the trails, including boas, vine snakes and even the giant anaconda. Birding at Sacha Lodge is something to behold too, with almost 600 species (that's a staggering 7% of the species found in the entire world). On a normal day, it is common to see parrots, toucans, hummingbirds, tanagers, hawks and oropendolas. 
 
Ideal for families, the new Lake Pool is the only one of its kind in the Amazon region. Protected by a mesh cage, the plunge pool allows guests to cool off and relax in the black shallows of Lake Pilchicocha, without the fear of encountering the unknown. It is not uncommon to spot caiman and giant otters swimming on the other side of the net.  Piranha fishing is another activity not to be missed.
 
Each of the 26 cabins, with high thatched roofs and private shaded terraces, is constructed with traditional materials and well concealed in the lush surroundings. From the private rooms, visitors may overlook the jungle from hammocks and often report seeing wild fauna such as anacondas or capybara (the largest rodents in the world) while resting between activities. Electricity is provided 24 hours a day and the private bathrooms provide hot showers. All cabins are screened against insects and have air conditioning. 
 
Guests may use free time to hang out at the main bar and lounge, which offers a scenic view of Pilchicocha Lake and excellent opportunities to bird watch. Meals are prepared to please the international traveler, and vegetarians are more than welcome.    

​Given the effects of COVID-19, Sacha Lodge will have a capacity reduced to 50%. That is a maximum capacity of 26 people during social distancing, on the recommendation of the Ecuadorian National Service for Risk and Emergency Management (COE). During social distancing protocols, private guides as well as private paddling canoes will be provided for all groups at no additional charge. Maximum of six people in each group. QR codes will be used to provide information on services and activities to reduce the use and delivery of printed material. Prior to opening, all employees will be tested for COVID-19 to increase the safety of staff and guests. All staff will receive protective equipment and ongoing safety and wellness training.
For more information, visit https://www.sachalodge.com/.   

For more travel features, visit:
goingplacesnearandfar.wordpress.com
www.huffingtonpost.com/author/karen-rubin
travelwritersmagazine.com/TravelFeaturesSyndicate/
goingplacesfarandnear.tumblr.com/
instagram.com/going_places_far_and_near/
'Like' us on facebook.com/NewsPhotoFeatures
Twitter: @TravelFeatures