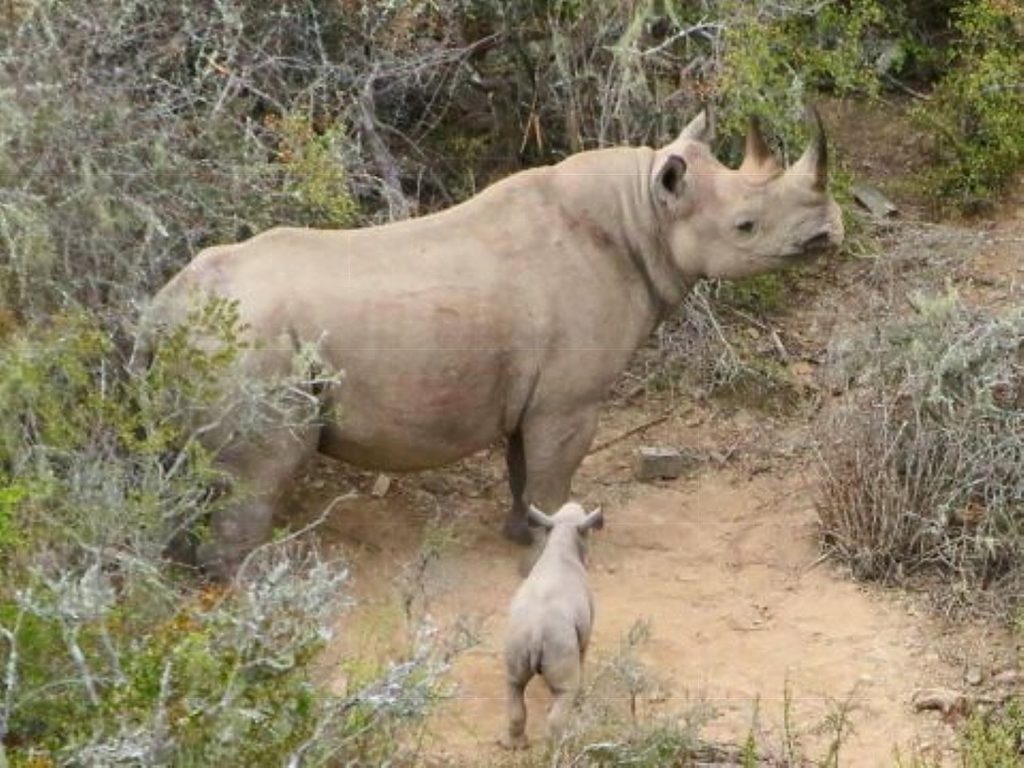 Cypress, Calif. – Lion World Travel and The TreadRight Foundation are calling on American travelers to help name a rare female baby rhino, discovered by their project partner, Wilderness Foundation Africa on a reserve in South Africa. Submissions will be accepted online from November 17, 2020 to December 1, 2020, and those who share their suggestions will be eligible to win 3 free nights at Shamwari Game Reserve, a luxury safari and game lodge destination in South Africa's ecologically and culturally significant Eastern Cape Province.
Included as part of the judging panel is Ami Vitale, TreadRight's 'Wildlife' Ambassador and award-winning National Geographic magazine photographer who captured the final moments of Sudan, the world's last male northern white rhino alive on the planet in Kenya.
The Eastern Cape Province in South Africa is home to the third largest endangered black rhino population in the world, and evidence shows it is currently a high-risk target for poachers.
Because rhinos prefer thick vegetation, aerial surveillance is necessary and plays a critical part in both wildlife security, and in tracking and improving the management of rhino populations. Lion World Travel is a founding partner of The TreadRight Foundation which is invested in protecting and rehabilitating the world's wildlife by partnering with leading wildlife organizations, through its Wildlife Pillar. Since 2017, TreadRight has partnered with Wilderness Foundation Africa to aid in rhino conservation efforts by funding the purchase and operations of a Bat Hawk – a light aircraft used to monitor and protect rhinos from poaching in provincial nature reserves and national parks in the Eastern Cape. The regular surveillance through monitoring flights by the Bat Hawk in the known rhino poaching hotspots is contributing to the safekeeping of this endangered population.
Since the start of 2020, 19 new rhino calves have been discovered and protected within the rhino population, 11 of which were first detected in the TreadRight-funded Bat Hawk. As a thank you, Wilderness Foundation Africa has given Lion World Travel and TreadRight the invaluable honor of naming one of these precious new rhino calves.
"The preservation of the rhino population is absolutely paramount to keeping a healthy balance alive within Africa's ecosystem," said Lucille Sive, CEO of The Travel Corporation's African Division."Through our work, safeguarding wildlife is a priority and we are absolutely humbled by this meaningful opportunity to play a part in the naming of a precious rhino as we continue to make travel matter."
Lion World Travel and TreadRight's support of Wilderness Foundation Africa work to advance the United Nations Global Goal 15, Life on Land, through its joint effort in combatting poaching and trafficking of rhinos that are vital to this ecosystem, as well as Global Goal 8, Decent Work and Economic Growth, through its employment of intelligence and police support for specialized wildlife crime units, contributing to a higher employment rate.
After the name submissions are received, Lucille Siva, CEO of Lion World Travel will select the shortlisted names and Ami Vitale will be making the final decision. The winning name will be chosen and announced on Friday, Dec. 4 and the winner will receive 3 free nights at Shamwari Game Reserve, a luxury safari and game lodge destination in South Africa's ecologically and culturally significant Eastern Cape Province.
For more information on TreadRight's conversation efforts, its work around the world and how you can help #MakeTravelMatter, visit TreadRight.org.
Terms and Conditions: Prize is non-transferable and awarded "as is", with no substitutions. One winner will be selected, based on the final Rhino name selection. If multiple people entered the same name, one winner will be randomly drawn from all of those entries. Only entries received through the official contest entry form are valid. Preference will be given to names that relate to Africa and/or reflect our Make Travel Matter ethos. Contest period runs from November 17-December 1, 2020. Prize must be booked by August 31, 2021, for travel by December 15, 2021 and is subject to availability and blackout dates. Winner will be contacted by email. Lion World Travel is not responsible for any technical difficulties experienced during the contest. Void where prohibited by law
Lion World Travel is a leading tour operator from North America specializing in group and individual tours to Southern and East Africa and is a member of TTC , which also includes: Trafalgar Tours, Contiki, Brendan Vacations, Insight Vacations, The Red Carnation Hotel Collection and Uniworld Boutique River Cruise Collection. Clients continue to benefit from Lion World Travels' destination knowledge, expertise, and emphasis on customer service. With their Africa Specialists all having first-hand knowledge of Africa, Lion World Travel confidently assists clients in creating an African adventure that fits their interests and budget. Extraordinary service, affordable luxury and value for money are what keep clients coming back to Lion World Travel.
The TreadRight Foundation is a joint not-for-profit initiative established by The Travel Corporation's (TTC) family of brands. TreadRight sets the direction on sustainability for 40 award-winning brands, in addition to overseeing our TreadRight Foundation. The organization's singular mission is to #MakeTravelMatter through brand operations, and by providing support to community-based projects worldwide that safeguard the planet, people and wildlife. To date, the foundation has supported 55+ sustainable tourism projects in 280+ communities worldwide, based on priorities set by the TreadRight Steering Committee. Past project partners include WWF, Conservation International, WildAid and The National Trust in the UK, while current initiatives include Manitobah Mukluks Storyboot School, Wilderness Foundation Africa and Wildlife SOS. TreadRight also works with inspiring ambassadors who have a passion for sustainable travel, to support its voice within the sustainable travel community. These ambassadors include Céline Cousteau ('Planet' Ambassador), Sarain Fox ('People' Ambassador), Ami Vitale ('Wildlife' Ambassador) and Costas Christ. To learn more about past and current work at TreadRight, visit TreadRight.org and follow TreadRight on Facebook, Instagram, and Twitter using the hashtag #MakeTravelMatter.
"We will make travel matter – for our planet, for people and for wildlife. We have taken the pledge, now we invite you to join us."  
Wilderness Foundation Africa works from its base in South Africa to protect and sustain wildlife and wilderness through integrated conservation and education programs. Whether it is direct action anti-poaching in the field, large landscape wilderness management, or developing rising young leaders from disadvantaged communities for a career in conservation, the Wilderness Foundation has over 45 years of results. For more information, visit WildernessFoundation.co.za and follow on Facebook, Instagram and Twitter.
For more travel features, visit:
goingplacesnearandfar.wordpress.com
www.huffingtonpost.com/author/karen-rubin
travelwritersmagazine.com/TravelFeaturesSyndicate/
goingplacesfarandnear.tumblr.com/
instagram.com/going_places_far_and_near/
'Like' us on facebook.com/NewsPhotoFeatures
Twitter: @TravelFeatures