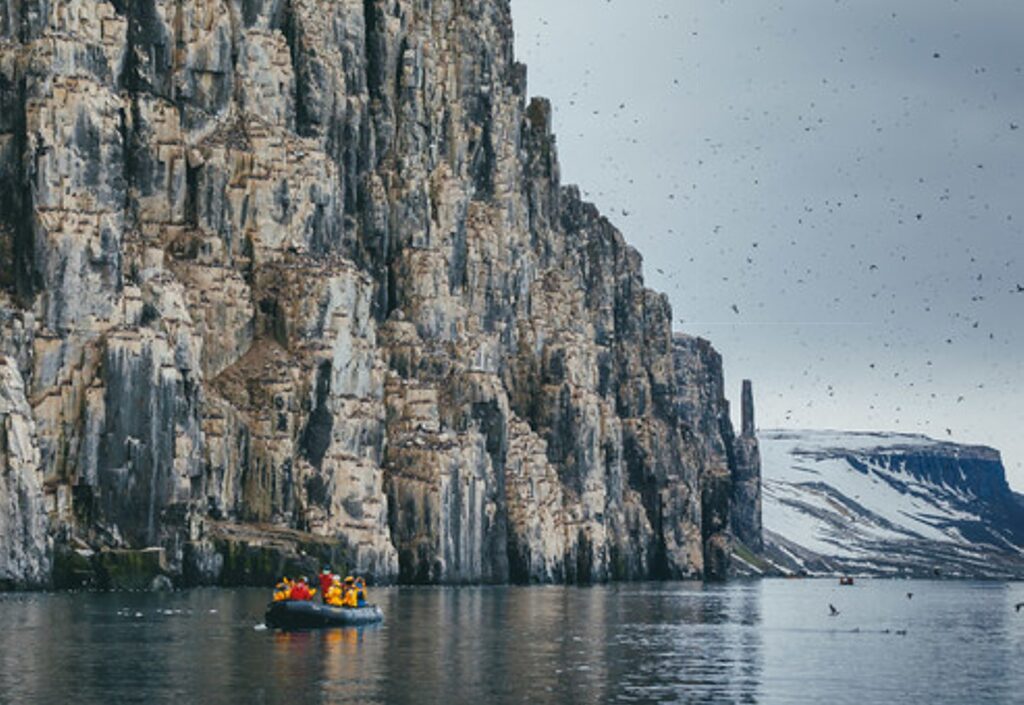 Quark Expeditions, a global leader in polar adventures, has kicked off the new year by launching a robust Escape Sale with polar voyages reduced by up to 45%—plus a variety of guest benefits. The sale is on through April 3, 2023.
"We're very excited about our recently-launched Escape Sale as it enables a cross-section of travelers to take advantage of deep savings that match their travel tastes," said Thomas Lennartz, Vice President of Sales for Quark Expeditions. "The special offers—and perks—in our Escape Sale appeal to solo travelers, couples and groups."
Lennartz emphasized that the itineraries featured in the Escape Sale include some of the more popular voyages within Quark Expeditions' portfolio, including some of the more active trips in the Arctic such as the Greenland Adventure: Explore by Land, Sea and Air itinerary, as well as shorter voyages such as Antarctic Express: Fly the Drake.
In addition, Quark is also waiving the single supplement on multiple voyages 2023 voyages.
"We know from past promotions that a large number of travelers will appreciate the free transfer package offered on select Arctic 2023 voyages. This includes charter flights, hotel and ground transportation (between airport and hotel), as well as hotel accommodation," said Lennartz.
"Polar travelers place high value on these extras. Factor in the additional 10% savings when guests pay in full, and our Escape Sale is even more appealing to travelers who've long wanted to explore the Arctic or Antarctic with the best expedition team in the Polar Regions."
Highlights of the Escape Sale (January 4 to April 3, 2023):
Savings up to 45%
No single supplement on multiple voyages
Free transportation between airport and hotel, as well as overnight hotel accommodation on select Arctic 2023 voyages
An additional 10% savings when guests pay in full at time of booking.
Departures featured in Quark Expeditions' Escape Sale include:
Three Arctic Islands: Spitsbergen, Greenland and Iceland (Southbound). Departure: August 26, 2023

Spitsbergen Explorer: Wildlife Capital of the Arctic. Departure: June 4 and 22, 2023

Canada and Greenland. Departure: September 11, 2023

Northwest Passage: In the Footsteps of Franklin. Departure: July 30, 2023
For a full list of eligible departures, visit Quark Expeditions' Escape Sale.
The technologically-advanced Ultramarine, the newest addition to the Quark Expeditions fleet, is a game-changer in polar exploration. Equipped with two twin-engine Airbus 145 helicopters, 20 quick-launching Zodiacs and the largest portfolio of off-ship adventure options in the industry, Ultramarine changes the way guests explore the Polar Regions. Other features include a spa, sauna with floor-to-ceiling windows, fitness centre, yoga space, spacious rooms and two restaurants plus a lounge and presentation theatre. Ultramarine has been designed with advanced sustainability systems that help preserve the pristine Polar Regions for the next generation of explorers. Ultramarine has an Ice Class rating of 1A+ and Polar Class rating of PC6, which contribute to the vessel's superior standards of safety standard. The ship's innovative sustainability features, which help reduce its environmental footprint, include a micro auto gasification system (MAGS), which is capable of converting onboard waste into energy, eliminating the need for the transportation of waste.
Specializing exclusively in expeditions to Antarctica and the Arctic, Quark Expeditions® has been the leading innovator of polar adventure since the company took the first group of consumer travelers to the North Pole in 1991. With a diverse fleet of specially-equipped small expedition vessels and icebreakers—some of them equipped with helicopters—Quark Expeditions is able to take guests deeper into the Polar Regions than most other operators. Led by passionate and seasoned expedition teams, including scientists, wildlife experts and researchers, Quark Expeditions offers an onboard program that enriches the passenger experience.
Quark Expeditions, 833 435 1900, www.quarkexpeditions.com
For more travel features, visit:
Going Places @ theisland360.com
goingplacesnearandfar.wordpress.com
www.huffingtonpost.com/author/karen-rubin
travelwritersmagazine.com/TravelFeaturesSyndicate/
goingplacesfarandnear.tumblr.com/
instagram.com/going_places_far_and_near/
instagram.com/bigbackpacktraveler/
'Like' us on facebook.com/NewsPhotoFeatures
Twitter: @TravelFeatures