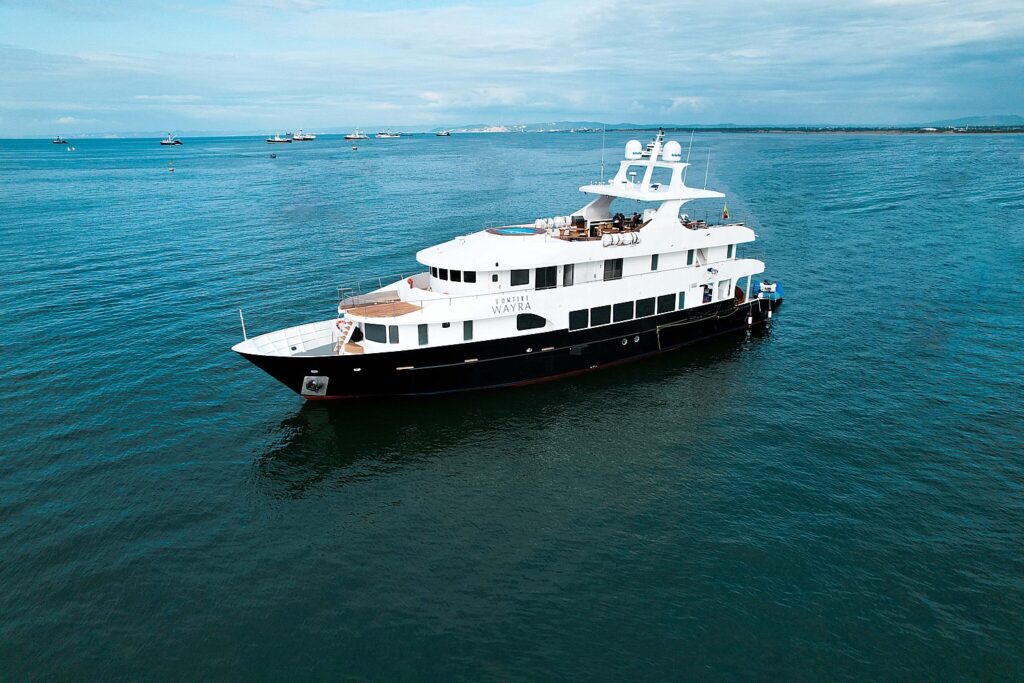 Manta, Ecuador – Beginning late March 2022, Kontiki Expeditions will offer an eight-day exploration of the seldom-visited Ecuadorian coast, allowing for a rich cultural adventure and an exclusive voyage. With only nine staterooms and excursions to sparsely populated coastal ports, social distancing on the 132-foot M/S Wayra is the norm rather than the exception. Kontiki Expeditions is the first water-based member of Small Luxury Hotels and a proponent of sustainable, "neo-luxury" travel.
Kontiki Expeditions is a new concept in luxury ocean cruises focusing on conscious travel and immersive water and land experiences. Carrying a maximum of 18 guests, Kontiki's 128-foot superyacht M/S Kontiki Wayra travels two routes along the Ecuadorian coast, immersing guests in the country's wealth of birds, animals, flora, fauna, indigenous foods and cultural traditions while adhering to a "neo luxury" philosophy of sustainability and giving back to the communities visited. The yacht's small size and routes allow access to smaller ports and villages starting from or ending in Manta or Guayaquil. Guests will visit small towns and nature reserves while experiencing the adventure of an expedition cruise.
Prior to each cruise, a Kontiki concierge will reach out to determine each guest's culinary and activity wishes, creating a bespoke experience that allows for activities to meet varying interests. Additionally, the yacht can be booked as a full charter tailored to the desires of a group.
"We have the luxury of delving deeply into the areas we visit," notes Carlos Nuñez, CEO and founder of Kontiki Expeditions. "Guests, more than ever, are looking for smaller environments on board and on land, with fewer people and less exposure to risk. We are proud to offer our luxurious yacht and crew to create an experience that is enriching, exciting and safe."
He adds, "Environmental protection is critical when it comes to cruising. We adhere to strict sustainability standards on board, at sea and on land. We are also committed to a variety of social programs including sponsorship of the Real Madrid Foundation to promote values to children through sports."
The Expeditions
The new Kontiki Expeditions yacht, M/Y Wayra offers two eight-day itineraries, The Toquilla Expedition and The Spondylus Expedition, in which Kontiki will transport guests to untouristed areas in Ecuador to explore and celebrate the indigenous cultures within a context of wellness.
Programs and excursions are led by 13 crew members and two local experts committed to sustainability and conscious travel. Onboard, wellness professionals, naturalist guides and a local chef who creates farm-to-table and sea-to-table cuisine add to the distinctive Kontiki expedition. Gastronomic experiences featuring local chocolate, seafood, and produce will be enjoyed both onboard and on land.
The superyacht is a testament to luxury with a sundeck, gourmet salon, two outdoor lounges, bar, hot tub, massage, yoga, and a gym and fitness area. Staterooms are stylishly appointed with an eye to comfort using local, sustainable materials, decorated with a sense of place. Automated lights, A/V and A/C plus unlimited WiFi add to the luxury. A nearly 1:1 crew to guest ratio allows for personalization and attention to guest needs and interests, from packing and unpacking luggage to creating a special meal or activity.
Guests can expect to see the country's beloved blue-footed boobies along with sea lions and howler monkeys… without the crowds. Mixing float time with the use of water toys and water activities including diving, snorkeling and SUP, Kontiki will visit small coastal ports where locals will join Kontiki staff in leading visits. Daily on-board schedules rotate with cooking classes, wellness activities, and chocolate and coffee tastings.
Excursions and Islands
Kontiki Expedition excursions include hands-on experiences and observations of lifestyles, handicrafts, cuisine and traditions:
· A visit to a cocoa farm to learn about chocolate making and enjoy a chocolate tasting
· A gastronomic experience with ancestral cuisine and a cooking demonstration
· Visit to a New Latitude vineyard for a special tasting
· Hiking with wildlife spotting in the Pacoche Humid Forest and nature reserve
· Visit to the artisan Toquilla straw hat weavers
· Visit to San Lorenzo lighthouse for amazing coastal views and visit to the turtle nesting site
· Sailing to Isla de la Plata for a day of marine activities and a wildlife hike
· Visit to ancient community of Agua Blanca with a wellness-oriented swimming experience in the sulphurous lagoon
· Visit to Los Frailes beach to the marine beach club for marine golf, kayaking, diving, paddle boarding and more
Islands and inland areas visited include Bahia de Caraquez, San Mateo, Pile, San Lorenzo, Isla de la Plata, Agua Blanca, and Puyango where local communities welcome Kontiki passengers and indigenous blue-footed boobies, howler monkeys, cuzumbos, silver rays and hummingbirds abound.
Guest and crew health and safety are priorities and sanitization and wellness protocols are summarized on Kontiki's website at https://kontikiexpeditions.com/en/health-policy/.
Pricing begins at $7245 USD per person per week, based on double occupancy, and includes all activities, meals, transfers to and from ports, park entrance fees, guided expeditions and more. Solo traveler rate and private charter rates are also available.
Expeditions for Environmentally Conscious Travelers
The first water-based member of Small Luxury Hotels, Kontiki Expeditions is a pioneer in conscious luxury travel, offering immersive and sustainable superyacht expeditions. Sailing the untouristed Ecuadorian coast, the nine-stateroom Kontiki Expeditions yachts introduce a maximum of 18 guests to the richness of the land and sea.
On-board crew include a local chef, naturalist and wellness experts. Multi-stop itineraries feature hiking, snorkeling, meetings with locals, in-depth cultural explorations, wellness activities and gastronomy. Kontiki Expeditions travelers experience the country's biodiversity – including its famous blue-footed boobies and howler monkeys — all in a protected environment where sustainability and uncrowded venues are paramount. Kontiki prides itself in giving back to the communities visited with resources and education.
Health protocols prior to boarding, on ship, on land, and prior to departure are strictly followed. The Safe Travels accreditation by WTTC (World Travel & Tourism Council) has been achieved for all sailings.
For more information, visit www.kontikiexpeditions.com/en, call +5933984364149; email [email protected] or join in the conversation on Facebook, Instagram, and YouTube. For a sample of where Kontiki Expeditions will voyage, visit https://vimeo.com/376273581/a70b344db1.
For more travel features, visit:
Going Places @ theisland360.com
goingplacesnearandfar.wordpress.com
www.huffingtonpost.com/author/karen-rubin
travelwritersmagazine.com/TravelFeaturesSyndicate/
goingplacesfarandnear.tumblr.com/
instagram.com/going_places_far_and_near/
'Like' us on facebook.com/NewsPhotoFeatures
Twitter: @TravelFeatures