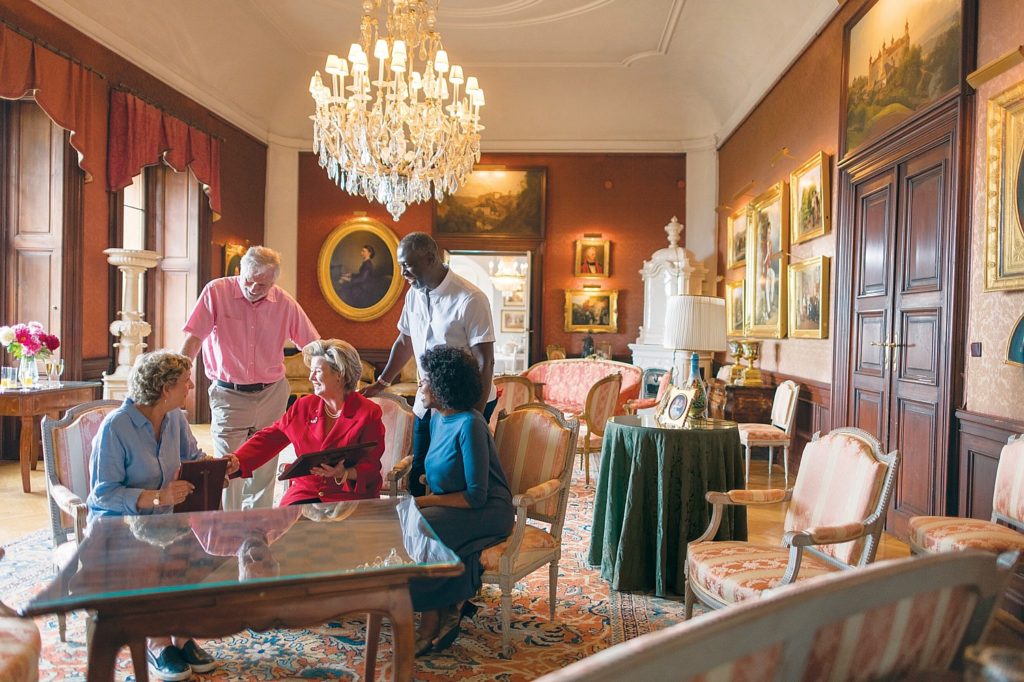 NEW YORK– Luxury Gold is recommending six top destinations in 2020 from the exclusive Chairman's Collection that offer unforgettable experiences.
The Chairman's Collection—created by Stanley Tollman—introduces guests to exceptional local characters with unique access to amazing places.Available only on select journeys and departures, privileged few will be whisked into an elite world of noble dinners, regal lunches and drinks with aristocracy.
While welcoming guests to the country's incomparable landmarks and landscapes, Luxury Gold provides a journey beyond the ordinary by connecting them with local people in personal, life-changing way. With these journeys, Luxury Gold provides guests a selection of exclusive VIP experiences, with luxury hotel accommodations and exquisite dining.
Below are the top recommended journeys for 2020, with only a handful of select departures offering opportunities to meet these Legendary Locals:
1. Italy: Learn the Art of Wine Making with Marchese Francesco Mazzei at his Centuries Old Tuscan Estate
Wine lovers and guests can join the 12-day Ultimate Italy journey on the to meet Count Francesco Mazzei whose family has perfected the art of winemaking for over 24 generations. For the past 600 years, the Mazzei family has been pioneers and champions of Chianti wines since the very beginning. Travelers will meet a member of the Mazzei family at their vineyard estate, Castello di Fonterutoli for a private tour, including a delicious Tuscan lunch using fresh seasonal ingredients and wine tasting.
2. Austria: Enjoy a Private Cocktail Reception with Princess Anita von Hohenberg at Artstetten Castle
History buffs and travelers can join the 13-day Harmony of Central Europe luxury journey to meet Princess Anita. She is a proud descendant of the Habsburgs which includes prominent historical figures such as Empress Maria Theresa and Archduke Franz Ferdinand. Guests will join the princess for a private sparkling wine reception and hear personal stories about her family heritage.
3. Great Britain: Join the Duchess of Northumberland for a private tour at Alnwick Castle
Gardening lovers and guests can book the 9 or 10-day British Royale escorted journey. The Duchess takes immense pride in her family home, the majestic 11th century Alnwick Castle which is considered one of Britain's most iconic castles and was featured in the Harry Potter film series. Thanks to her visionary planning, fundraising and care, the adjoining castle gardens have been meticulously restored beyond their former grandeur. While over 800,000 people visit each year, only Luxury Gold guests will join Lady Percy for a private tour of her award-winning gardens.
4. France: Indulge in a Memorable Dinner with Count Richard De Warren
On Luxury Gold's 10-day French Vogue journey, guests will have the opportunity to meet Count Richard de Warren who invites clients to his magnificent mansion for a traditional Parisian meal. Count Warren will recall personal stories about the history of his aristocratic family. He is a direct descendent of the Sommier family who are renowned for their entrepreneurial spirit and philanthropic legacy. The historical mansion's original interior decor has been beautifully transformed into a luxury boutique hotel, the five-star Hôtel Alfred Sommier, located in the chic 8th arrondissement. As an incredible VIP experience, guests will have exclusive access to the Château de Vaux-le-Vicomte–France's largest privately-owned chateau. Guests can choose to walk through the gardens guided by the estate's lead gardener or learn about the subtleties of high society during a dining etiquette class hosted by the owner's professional butler.
5. Canada: Sample Local Wines with Canadian Olympic athlete
Sports fans and guests can join an exclusive reception to meet Canadian Olympic athlete and legendary alpine skier, Rob Boyd, in the scenic mountain village of Whistler. While sampling local wine, Boyd will exchange insightful stories with guests, such as how he was the first Canadian to win a downhill world championship on Canadian soil on the 14-day Majesty of the Rockies journey. Later, guests will dine at the AAA rated four-diamond restaurant SIDECUT for a Highlight Dinner of featuring a modern take on traditional steakhouse fare.
6. Peru: Meet descendant of historic Peruvian family
While exploring Lima, guests will join Dr. Francisco Diez-Canseco Távara for an exclusive experience at his beautiful home on the 12-day Treasures of the Incas journey. Távara is the descendant of a Peruvian family whose first member arrived to the country at the end of the 17th Century. Since then, his family has acquired a large collection of paintings, sculptures and other works of art with great historical value—such as Venetian tables dating from the 19th Century and important paintings of the Cusco School.
For reservations, contact your travel advisor, call 1-888-862-5952, or visit www.luxurygold.com.
For more travel features, visit:
goingplacesnearandfar.wordpress.com
www.huffingtonpost.com/author/karen-rubin
travelwritersmagazine.com/TravelFeaturesSyndicate/
goingplacesfarandnear.tumblr.com/
instagram.com/going_places_far_and_near/
'Like' us on facebook.com/NewsPhotoFeatures
Twitter: @TravelFeatures