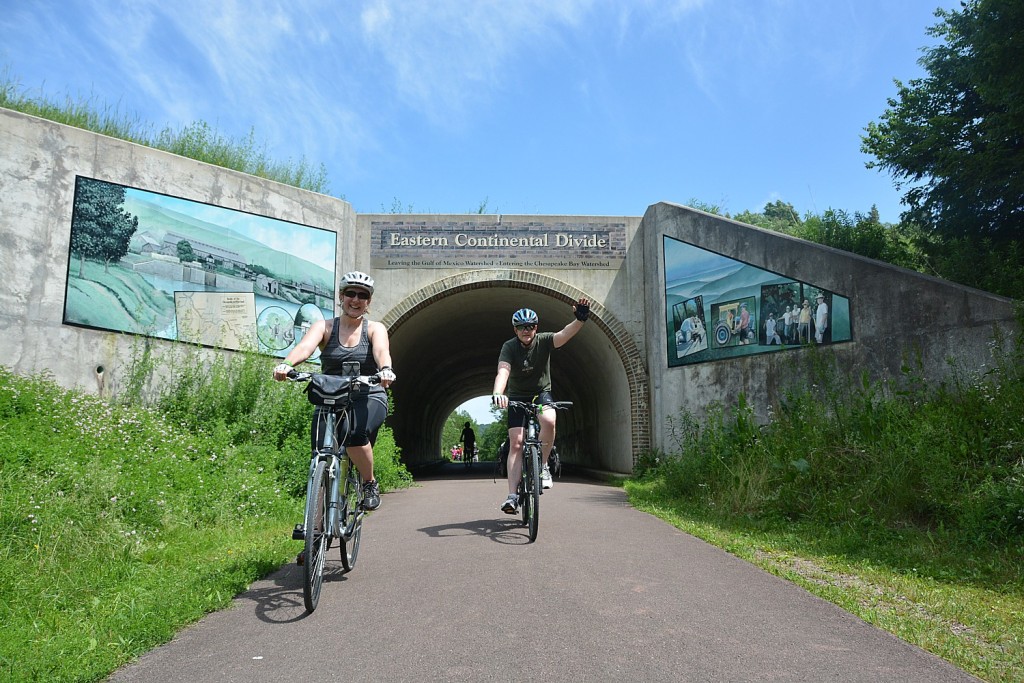 For the first time in the 14 years of hosting a Sojourn bike tour showcasing a rail-trail, the Rail-Trails Conservancy has expanded the series to four rides: the first, in Florida, was held in February. The next, on the popular Allegheny Passage in Pennsylvania, is scheduled May 6-8, the third is a four-day/three-night North Bend Rail Trail out of Parkersburg, West Virginia (June 19-22 and the last is four-days/three nights from Cleveland to Columbus on the Ohio-to-Erie Trail, Ohio in September (date to be announced). 
"The Sojourn Series is much more than just a bike ride. It's a trail building tool for Rails-to-Trails Conservancy, and allows us to pull advocacy into participants' trail use experience."
The sojourn rides are crafted to weave experiences that go beyond simply riding from point A to point B. Each sojourn aims to transform trail users into advocates and create the economic case for trail networks nationwide.
For example, the West Virginia Sojourn is being held on the North Bend Rail Trail out of Parkersburg WV. It is an incredible trail but does not yet connect to the two communities on either end, Parkersburg and Clarksburg. This ride serves to bring attention to those gaps and advocate for their completion. The corridor is also part of a much larger trail development effort being undertaken by the Industrial Heartland Trails Coalition.
"The West Virginia ride will allow you to get on a new trail and take part in some of the advocacy that our organization is known for."
The May ride is on a 120-mile section of the Great Allegheny Passage, to allow for a short, three-day excursion (a great way to celebrate Mother's Day weekend). from Meyersdale to Pittsburgh.
The ride features gorgeous mountain vistas and relaxing river scenes, historic bridges and tunnels that showcase the GAP's railway heritage. Highlights include Historic Pump House (Homestead), Salisbury Viaduct, Casselman River Valley, and Great Allegheny Passage Trail towns: Meyersdale, West Newton, Confluence and Ohiopyle
Repurposed from a rail line, the Great Allegheny Passage is one of the most popular trails, and was the first inductee in Rails-to-Trails Conservancy's Rail-Trail "Hall of Fame."
Since 2001, more than 3,000 riders have joined RTC's sojourns—many of them on the GAP. These rides not only highlight incredible trails, but they also help empower communities to complete trail networks that will benefit the entire region.
Equally importantly, they highlight the economic benefit to communities, particularly those who have seen older industries shut down, along with the rail lines.
RTC's 2015 Pennsylvania Rail-Trail Sojourn brought visitors from 35 states and had an economic impact of more than $245,000 – something significant for a town like Dunbar, Pennsylvania, which once depended upon mining.
The rail-trail could be an engine for a new economy fueled by lodging, restaurants and gear shops. In fact, RTC estimates that the trail would generate more than $40 million in direct spending from trail users annually.
"The Sojourn Series is a real-world example that show how trails can provide an economic boon to local economies," says Liz Thorstensen, vice president of trail development for RTC. "By providing these rides, we're creating more opportunities for people to experience and advocate for these trail networks."
For more information about the rides and to register, visit railstotrails.org/sojourn.
Rails-to-Trails Conservancy, a nonprofit organization with more than 160,000 members and supporters, is the nation's largest trails organization dedicated to connecting people and communities by creating a nationwide network of public trails, many from former rail lines. Founded in 1986, Rails-to-Trails Conservancy's national office is located in Washington, D.C., with regional offices in California, Florida, Ohio and Pennsylvania. For more information, visit www.railstotrails.org.
For more travel features, visit:
www.examiner.com/eclectic-travel-in-national/karen-rubin
www.examiner.com/international-travel-in-national/karen-rubin
goingplacesfarandnear.com
goingplacesnearandfar.wordpress.com
moralcompasstravel.info
travelwritersmagazine.com/TravelFeaturesSyndicate/
goingplacesfarandnear.tumblr.com/
'Like' us on facebook.com/NewsPhotoFeatures
Twitter: @TravelFeatures