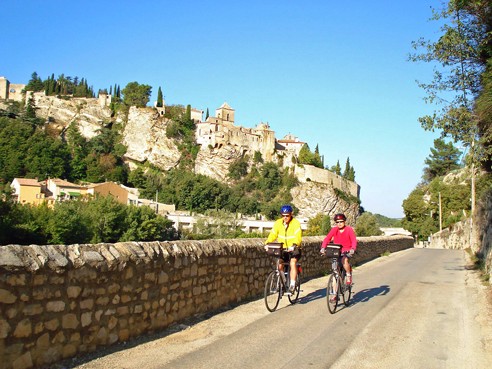 BILLINGS, MT –Taking a cautious but determined approach to recent tragic events in Brussels, one leading adventure travel tour operator is pro-actively addressing current and future Europe-bound clients' concerns about traveling during uncertain times.  Aware that travelers may be uneasy at this time to plan European travels, Austin Adventures  is relaxing its trip cancellation policy to allow for a "no questions asked" full refund up to 14 days prior to departure.
This new policy applies to the ground portion of all of Austin Adventures' multisport, cycling, hiking and cultural adventures for both adults and families in Europe. Countries visited by Austin Adventures include Austria, Croatia, France, Germany, Holland, Italy, Macedonia, Scotland, Slovenia and Spain. The standard policy is a 90 day cutoff for full refund (less a small handling fee) due to cancellation.
"Our guests' safety, enjoyment and wellbeing are our top priorities," explains Dan Austin, founder and president of Austin Adventures (http://www.austinadventures.com/). "That's why we have increased our vigilance and communications on the ground in Europe and have decided to address booking concerns with a relaxed cancellation policy. While we encourage travelers to consider Europe as a destination, we don't want to add any additional stress to the equation."
In Europe, program director Ron van Dijk is utilizing his lifetime of local connections and resources to monitor and stay on top of any safety concerns. "Our hearts go out to all those impacted by the terrorist events in Brussels. But if we stop traveling, change our day to day activities, or avoid Europe all together, in essence we've given them the victory they seek."
Austin and van Dijk point to a recent article by Katia Hetter for CNN entitled "Travel Advisories: What does 'exercise vigilance' mean?" as helpful in understanding the true risks and what can be done to stay informed and secure when abroad. See: http://www.cnn.com/2016/03/24/travel/travel-advisory-exercise-vigilance-feat/index.html.
Along with revised booking policies, the Austin Adventures team of trip planners and consultants also can help explain available travel insurance options, coverages and limitations. They also advise U.S. citizens to register with the U.S. State Department's Smart Traveler Enrollment Program (STEP), so they can be kept abreast of travel alerts and warnings. See: https://step.state.gov/step/
Based in Billings, MT, Austin Adventures (formerly Austin-Lehman Adventures) has spent more than 40 years building an international reputation as a provider of scheduled small group tours and customized trips to all seven continents. Recently, Austin Adventures joined the Xanterra Parks & Resorts® portfolio of experiential leisure offerings that includes operations in Grand Canyon, Yellowstone, Zion, Crater Lake, Glacier, Rocky Mountain and Petrified Forest National Parks; Mount Rushmore National Memorial; Furnace Creek Resort in Death Valley National Park; and five Ohio State Park Lodges as well as the Geneva Marina at Ohio's Geneva State Park. Xanterra Parks & Resorts also owns and operates Kingsmill Resort in Williamsburg, Va., the Grand Canyon Railway and Hotel in Williams, Ariz., the Grand Hotel in Tusayan, Ariz., Windstar Cruises, VBT Bicycling and Walking Vacations, Country Walkers and Austin Adventures.
For information, call 800-575-1540, email [email protected], or visit /www.austinadventures.com.
For more travel features, visit:
www.examiner.com/eclectic-travel-in-national/karen-rubin
www.examiner.com/international-travel-in-national/karen-rubin
goingplacesfarandnear.com
goingplacesnearandfar.wordpress.com
moralcompasstravel.info
travelwritersmagazine.com/TravelFeaturesSyndicate/
'Like' us on facebook.com/NewsPhotoFeatures
Twitter: @TravelFeatures