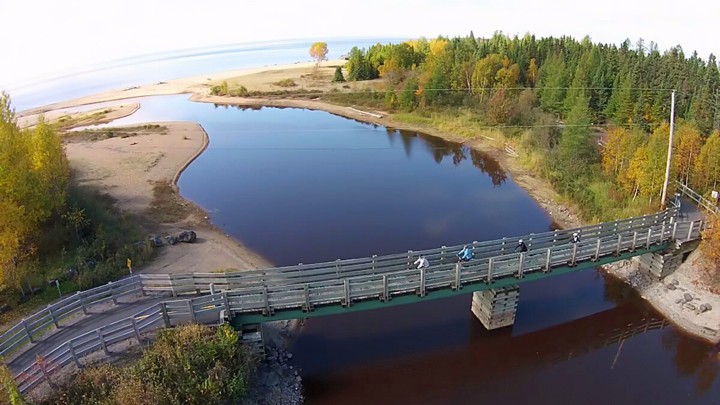 SCOTTSDALE, AZ–Pure Adventures announces that its self-guided bike vacations are now being offered in the Province of Quebec. Plus with a favorable exchange rate, a vacation in Canada is more affordable than ever for Americans.
While in the early 1600s the French created the fur trade on Canada's east coast, subsequent decades of war brought the Brits to power. But Francophiles today appreciate that the Province of Quebec retains a French imprimatur as regards language, food and hospitality. Plus the province offers one of the best organized networks of bicycle pathways and trails anywhere in North America.
Pure Adventures (http://pure-adventures.com/) has a special affinity for all things French and for bicycles. In fact the company pioneered self-guided bicycle tours in France before expanding across the globe. Now an itinerary on this side of the Pond recognizes this province's privileged French heritage as it allows guests to embrace the hospitality of Quebec at a personal pace, on two wheels.
"The good news for Americans is that the exchange rate for US dollars over Canadian dollars makes it more inexpensive than ever to visit our neighbors across the border," said Loren Siekman, founder and director of Pure Adventures. "This spring and summer the predicted exchange rate should hover at around $1 US dollar to $1.3 Canadian."
Explored over seven leisurely days and six nights is a swath of countryside called Saguenay Lac Saint-Jean. This region is accessed by riding east out of Montreal to Quebec City along the St. Lawrence River and then north to Lac St-Jean, Quebec's third largest lake that creates the Saquenay Fjord, one of the world's longest, that eventually flows into what becomes the Gulf of St Lawrence.
The rides average 50km daily through this historic playground that includes world-class bike trails that are among Quebec's most popular cycling routes: Route Verte (Green Route) is a network of dedicated bicycle trails on both sides of the Saint Lawrence River leading to Quebec, and the Véloroute des Bleuets (Blueberry) is another dedicated cycling route around Lac Saint-Jean. Guests also cycle along Chemin du Roy (King's Highway) enroute to Old Quebec City. (Pure Adventures suggests that guests arrive in Montreal a day before the tour begins so they can walk the cobblestones of Old Montreal.)
The well organized and marked network of 350 km of bike trails allows cyclists to admire the beauty of countless beaches, lakes, rivers and traditional Quebecois villages as they ride. Stops along the way are a must for tastings at microbreweries (Microbrasserie du Lac, La Chouape, Le Coureur des Bois), for samples at cheese-makers (fromagerie Perron and fromagerie Médard) and for smatterings of culture at historic sites. This self-guided tour is a road cycling trip that can also be accomplished by hybrid bike; the entire ride is on paved roads.
Guests enjoy a variety of accommodations ranging from white-washed cottages reminiscent of Brittany or Normandy to dwellings that might once have housed aristocrats. Sometimes guest rooms enjoy views of the lake and at one lodging breakfast is taken in an art gallery. All accommodations have been curated to provide comfort and off-bike access to shops and restaurants along the bicycle route.
This tour can be arranged for a minimum of two people from now through Oct. 15, 2016. The per person rate, double, is from US$1040 for seven days and six nights of immersion in French culture a la historic villages where the French language is pervasive. For more information please see http://pure-adventures.com/show-tour/181/Canada+Quebec+Bike+Tour
The trip rate includes personal orientations to review the route book and trip details; six nights lodging with breakfasts; luggage transfers; detailed road book with maps, cue sheets and suggestions for visitation and site information as well as restaurant suggestions; pre-travel documentation and information; pre and post travel assistance and travel planning; vehicle transfers to Saguenay and return to Quebec; emergency telephone support to local support staff during daytime office hours; Canadian taxes; bike rental with associated gear (hybrid bikes are included and there's an option to change to cross/road bikes at no added cost). Custom tours for groups can also be arranged.
For more information on all of Pure Adventures guided, self-guided and supported, self-directed tours, call: 800-960-2221 or 480-905-1235, Email: [email protected], or visit online: http://pure-adventures.com.
Pure Adventures was created to meet North America's growing demand for high-quality, self-guided cycling tours. Pure Adventures leverages and utilizes local expertise for route development, sites to see, people to meet, where to eat, and shop and experience life as a local would. Pure Adventures award-winning tours are competitively priced and meticulously planned with substantial behind-the-scene support creating a unique combination that makes a bicycle adventure more easily accessible to today's active traveler.
This company pioneered self-guided tours in Europe in 1994. Tours span Austria, Belgium, Croatia, Czech Republic, England, France, Germany, Hungary, Ireland, Italy, Portugal, Scotland, Slovenia, Spain, and Switzerland. Twenty programs are available in the American West. Pure Adventures was recently recognized with a Best of Travel 2015 award by OUTSIDE Magazine for their California tours that elevated that state to the top destination in the category of Best Road Biking.
For more travel features, visit:
goingplacesnearandfar.wordpress.com
travelwritersmagazine.com/TravelFeaturesSyndicate/
goingplacesfarandnear.tumblr.com/
instagram.com/krubin0830/
'Like' us on facebook.com/NewsPhotoFeatures
Twitter: @TravelFeatures