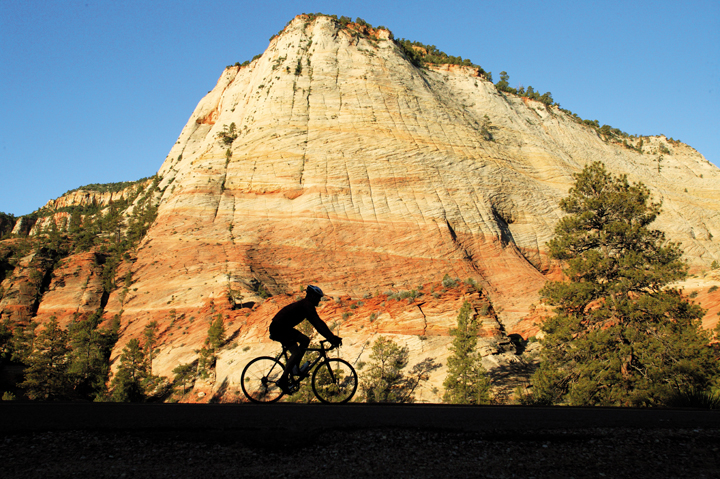 Bicycle vacation specialist Pure Adventures has just introduced 'Supported, Self-Directed' adventures, a new concept in cycling vacations that lets guests enjoy the freedom of a self-guided/independent trip with the sag wagon service and trip leader support of a fully guided tour.
"This supported self-directed concept allows independent cyclists to ride and explore remote destinations where roadside assistance or local services may not exist, essentially creating their own ride complete with all the support needed," says Loren Siekman, Pure Adventures founder/owner. "The support van and trip leader assigned to transfer guest luggage from one overnight stop to the next also assist with 'sag' stops along the route (every 20-25 miles), provide a lift for shorter ride options, help with mechanical matters, and handle any on-road emergencies or questions.
Supported self-directed itineraries require that a minimum of six people sign up for the same fixed departure date and program. However if six friends or family members sign up, then they can choose their own exclusive departure date.
"Even though six or more clients are traveling more or less on the same route, they are under no obligation to fraternize and for all intents and purposes may remain as independent of one another as they like. The only common denominators are that their luggage is in the same van and they're most probably staying at the same inns," Siekman said.
Pure Adventure manages all logistics, makes all reservations, and provides all vehicles, trip support leaders, as well as high end bike rentals.
"It's a perfect middle ground between fully guided and independent/self-guided at a price point more closely resembling a self-guided trip."
The advantages of supported self-directed travel include lower trip rates, no appointed meal and departure times and the freedom to sightsee at leisure. Riders can tap into the expertise of the company's leader who knows bike mechanics, supplies fresh water and healthy snacks, advises on caution stops, suggests things to see and do and provides transport to guest-selected restaurants.
"In this format, we may suggest but are not organizing group activities such as museum visits or wine tastings often included in a fully guided trip. And though trip distances on these programs tend to be longer than most of the self-guided trips we offer, shorter ride options exist thanks to this Sag support. It is the perfect option for couples of different abilities," said Siekman.
New for 2015, Pure Adventures' Supported Self Directed itineraries include: Death Valley, Bryce & Zion National Parks, Epic Climbs of Arizona, Yosemite to San Francisco and several more County Kerry & Cork in Ireland. Coming later in 2015 will be new and challenging trans-Pyrenees and trans-Alps trips plus other long distance rides with less mountain climbing demands.
For more information see http://pure-adventures.com/ssdtours/
For more travel features, visit:
www.examiner.com/eclectic-travel-in-national/karen-rubin
www.examiner.com/international-travel-in-national/karen-rubin
travelwritersmagazine.com/TravelFeaturesSyndicate
goingplacesnearandfar.wordpress.com
'Like' us on facebook.com/NewsPhotoFeatures
Twitter: @TravelFeatures
New: Moral Compass: Great Places to Go Where the Going Does Good
moralcompasstravel.info
Check out our newest travel site for special deals, insiders' tips at tidbitts.com: www.tidbitts.com/karen-rubin/where-in-the-world