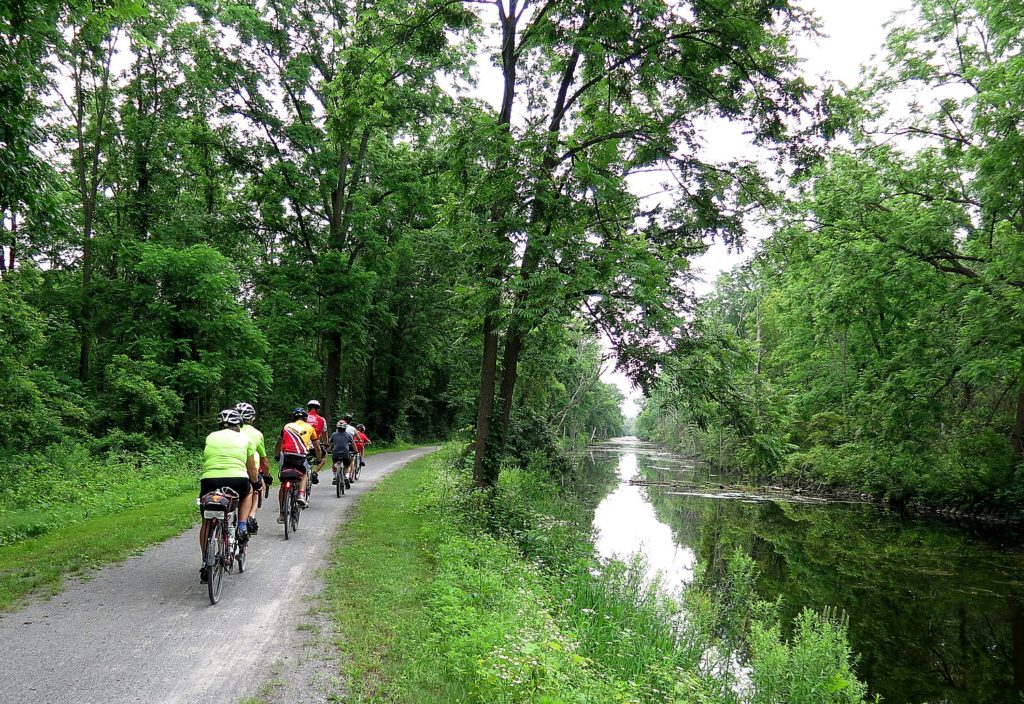 Registration for Parks & Trails NY's Cycle the Erie Canal 2021 opens today, April 1, at noon. The traditional eight-day, 400-mile biking adventure is returning for a 23rd year in 2021. Riders will leave Buffalo July 11 and reach Albany on July 18.
With the ongoing COVID-19 pandemic, the safety of riders, volunteers, staff, vendors, and local community members is at the forefront of  planning. With this in mind, the PTNY coordinators have made the following changes:
The tour is limited to 350 participants and volunteers. Be sure to register early to reserve your spot!
All registrations will be for the full eight-day option.
Non-rider drivers will not be allowed to accompany the tour this year.
To keep everyone safe and meet state and local COVID-19 regulations, registration fees have increased this year.
To register, visit ptny.org/ctec2021. Registration opens today, Thursday, April 1, at noon.
The route follows the legendary Erie Canal passing locks and aqueducts and winding through historic villages and rural farmlands.
The 400-mile journey along the legendary Erie Canal ends in Albany eight days later. Along the way, cyclists enjoy some of the finest scenery, most interesting history, and unparalleled cycling in the United States. Covering between 40 and 60 miles per day, cyclists travel along the Erie Canalway Trail, which is now more than 85 percent complete and the east-west axis of the statewide 750-mile Empire State Trail.
Designed as a camping trip, accommodations are provided with showers, toilet facilities, some with pools or lakes for swimming; eight breakfasts and six dinners; two daily refreshment stops along the route; evening entertainment including music and historical presentations; guided tours of the Canal, historic sites, museums and other attractions including the Women's Rights National Historic Park, Erie Canal Museum and Village, Fort Stanwix National Monument and a boat tour through the Lockport locks; kick-off reception and end-of-tour celebration; Cycle the Erie Canal t-shirt; baggage transport; SAG wagon and mobile mechanical support; daily maps and cue sheets; painted and arrowed routes; pre-departure info packet including training trips. Other amenities available (at additional fee) include fresh daily towels, gourmet morning coffee, tent and air mattress rental and set up (for those who don't want to pitch their own tent).
The price up until June 7 is $1200/adult, $650 youth (6-17); $290 child (5 and under); shuttle is $100.
The PTNY coordinators are following the guidance from New York State, and will be prepared to follow all regulations in place in July. Registrants will be notifiedof any updates or changes. Visit New York State's COVID-19 Travel Advisory to stay abreast of restrictions that might impact your travel plans.

Find answers to questions riders may have on the Cycle the Erie Canal FAQ page. If there are questions that aren't covered, email  [email protected].
See also:
Cycle the Erie: 400 Miles & 400 Years of History Flow By on Canalway Bike Tour Across New York State
Cycle the Erie, Day 1: In Lockport, See Erie Canal Engineering Marvel, 'Flight of Five', Cruise Thru Double Locks, and Go Underground to Fathom Rise of Industrial Revolution
Cycle the Erie, Day 2-3: A Sequence of Charming Canaltowns, Pastoral Landscapes, Punctuated by City Birthed by 'Mother of Cities'
Cycle the Erie, Day 4: Seneca Falls to Syracuse, Crossing Halfway Mark of 400-Mile Biketour
Cycle the Erie, Day 5: Deep Dive into The Erie Canal: 'Mother of Cities', Empire Builder, Wonder of the World
Cycle the Erie: At Fort Stanwix, Rome, Time Travel Back to America's Colonial, Native American Past
Cycle the Erie, Days 6-7: Erie Canal Spurs Rise of America as Global Industrial Power
Cycle the Erie, Days 7-8: Schoharie Crossing, Mabee Farm, Cohoes Falls to Finish Line in Albany of 400-Mile BikeTour
For more travel features, visit:
goingplacesnearandfar.wordpress.com
www.huffingtonpost.com/author/karen-rubin
travelwritersmagazine.com/TravelFeaturesSyndicate/
goingplacesfarandnear.tumblr.com/
instagram.com/going_places_far_and_near/
'Like' us on facebook.com/NewsPhotoFeatures
Twitter: @TravelFeatures