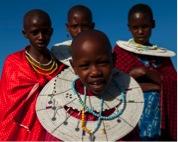 Four Seasons Safari Lodge Serengeti has introduced a new "Walk in the Wild Serengeti" experience with Masai guides, park rangers and the Lodge's resident naturalists leading the way through the bush in this UNESCO World Heritage Site.
Stop by the Discovery Centre for a viewing of the new Serengeti Lion Project Wildlife Photography Exhibition, August 1-31 by Serengeti Lion Project researcher Daniel Rosengren.
Proceeds from sales of photos will support the Serengeti Lion Project Research, the world's most extensive daily mammal monitoring project, which has gathered detailed data on more than 5,000 lions since the 1960s. Rosengren, a Swedish biologist and senior field researcher who is passionate about travel and nature, traded in his globe-roaming bike for a Land Rover in 2010 to study the daily habits of the Serengeti's lions. The exhibition will feature 40 or more of his most stunning images.
Inspired to follow in Rosengren's photographic footprints? Visit The Lodge now and be among the first to experience its new Walk in the Wild Serengeti, a transformative 90-minute guided walk where you'll help install a "camera trap" that digitally records the Serengeti's majestic animals on the move. Elephants, cheetahs, lions and even notoriously hard-to-spot leopards are known for their cameos.
This guided walk shines a light on the wildlife sanctuary's most subtle and unusual characteristics. Led by the Resident Naturalist at Four Seasons Safari Lodge Serengeti, Masai guides and national park rangers, you'll explore the beautiful landscape of Serengeti National Park as your guides point out animal tracks, interesting insects and useful plants.
Guests can also help The Serengeti Lion Project classify the different animals found in images caught by over 200 remote camera traps that have been set up in the Serengeti by visiting the Snapshot Serengeti website.
The Walk in the Wild and the Serengeti Lion Project Photo Exhibition are among the many innovative experiences undertaken by Four Seasons Safari Lodge and its pioneering Discovery Centre.  Part museum exhibit, part lecture theatre, it's the first lodge-based conservation research and education platform in Serengeti. Chat with Lodge experts and explore a series of displays, exhibition boards and interactive presentations, or attend periodic talks by guest speakers. Participate in special research projects with local experts closely involved with Serengeti's wildlife research and conservation projects.
Make your base camp in The Lodge's two-story great house, with guest rooms and suites that all offer stunning views of the Serengeti landscape.
A more private escape can be had in one of the five freestanding villas. Ideal for couples and families, The Lodge is one of the first on the continent to welcome children ages 8+, a significant milestone for families with young ones and teens. The entire property is accessible via raised wooden walkways making short excursions into the bush not a far venture from the Lodge.
In addition to taking your exploration to an intimate new level during the Wild Walk in the Serengeti, The Kijana Klub offers children their own opportunity to learn about local culture and wildlife through a series of planned activities including short walks in the bush with a Maasai guide and learning basic wildlife research skills such as radio tracking and camera traps.
Other memorable guest experiences include sundowners at the infinity pool while elephants gather at the watering hole below, private romantic dinners in the bush, the Lodge's celebrated Boma Grill and signature spa treatments featuring Africology spa products at purpose-built Spa.
For more information, visit www.fourseasons.com/serengeti.
___________________________
© 2014 Travel Features Syndicate, a division of Workstyles, Inc. All rights reserved. Visit www.examiner.com/eclectic-travel-in-national/karen-rubin, www.examiner.com/eclectic-traveler-in-long-island/karen-rubin, www.examiner.com/international-travel-in-national/karen-rubin and travelwritersmagazine.com/TravelFeaturesSyndicate. Blogging at goingplacesnearandfar.wordpress.com. Send comments or questions to [email protected]. Tweet @TravelFeatures. 'Like' us at facebook.com/NewsPhotoFeatures.