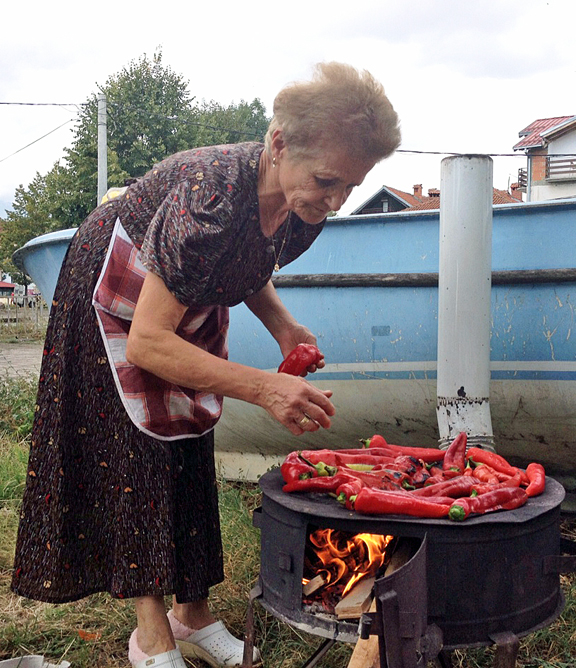 SKOPJE, REPUBLIC OF MACEDONIA – Sitting due north of Greece and near Turkey is Macedonia, a yet-to-be-discovered country just beginning to pop up on the culinary radar thanks to cheese, wine and wild game.
Macedonia Experience (www.macedoniaexperience.com) introduces "Culinary Experience," a 10 day/9 night sampler with hands-on demonstrations of traditional Macedonian cuisine combining Balkan and Mediterranean characteristics of fresh fruits and veggies, mountain-grown herbs and local wines. Toss in Turkish tastes that prevailed during long centuries of Ottoman rule, a few wild game dishes and gustatory senses will be overjoyed.
This pepper-spiked adventure includes accommodations (guests select the class of hotel they desire); all transfers, tours and activities; ingredients for the preparation of dishes; guidance and tutorials for preparation of the dishes in a traditional setting; and the services of a tour guide. This tour is offered year-round for a minimum of two people or a maximum of 12. An average tour cost for guests booking medium-priced hotels throughout the journey starts at €2000 per person, double based on four participants.
macedoniaexperience.com/specials/culinary-experience-trip-around-macedonia
Guests transfer from Skopje Airport to their hotel in the historic town of Skopje, inhabited since 4000 BC. Here the culinary games begin. Lunch is in a restaurant built in a traditional style with live Macedonian music surrounded by the mystery of the Old Bazaar where wines and spirits (mainly rakija, a typical Macedonian spirit made by distillation of fermented fruits) and cheese are served in bars and eateries. The next day a pre-breakfast visit to a pazar (typical market) introduces foods and spices before a traditional breakfast of pastry with chorba (a minestrone-type soup). Guests learn how to prepare makalo (gravy), pot cheese and proja (preparation of cornmeal into a type of bread). Later comes a wine and cheese tasting before dinner at a winery near Skopje.
Days 3, 4 and 5 bring guests to Mavrovo National Park to sample wild game specialties, an exploration of Ohrid, a UNESCO World Heritage site, and a market tour to purchase ingredients to prepare selsko meso (Macedonian and Balkan pork and mushroom dish) and pastrmajlija (Macedonian bread pie made from dough and meat). Embroideries, musical instruments and objects made of clay are also available in the markets. A visit to a handmade paper workshop (one of only seven in the world where the paper is made in the original Chinese way from the 2nd century BC.) shows how this paper was used on Gutenberg's original printing press from the 15th century. The equipment and clothing here are 100% authentic.
Days 6 and 7 continue with tours and tastings in Bitola and Krusevo, distinguished as the highest town in the Balkans. Guests learn how to make lokum (traditional sweets) before sampling region-wide famous Krusevo sausage and kebab. Next come Krusevo pies filled with cheese, leeks, cabbage and spinach. An enologist meets the tour in the Tikvesh wine region before visiting the ancient ruins of Stobi and passing on to Berovo, a small town near the Maleševo Mountains where nature combines with the history of the Ottoman Empire. Guests prepare their own dinner here. At Berovo Lake guests mingle with locals who share their customs through handicrafts, musical instruments, songs and dances preserved for centuries. Guests dine in a traditional sheepfold on ingredients sourced locally before departing the next day.
For more information and reservations contact the North America representative office: 866-748-8867, or by email: [email protected].
For more travel features, visit:
www.examiner.com/eclectic-travel-in-national/karen-rubin
www.examiner.com/international-travel-in-national/karen-rubin
travelwritersmagazine.com/TravelFeaturesSyndicate
goingplacesnearandfar.wordpress.com
'Like' us on facebook.com/NewsPhotoFeatures
Twitter: @TravelFeatures
New: Moral Compass: Great Places to Go Where the Going Does Good
moralcompasstravel.info
Check out our newest travel site for special deals, insiders' tips at tidbitts.com: www.tidbitts.com/karen-rubin/where-in-the-world