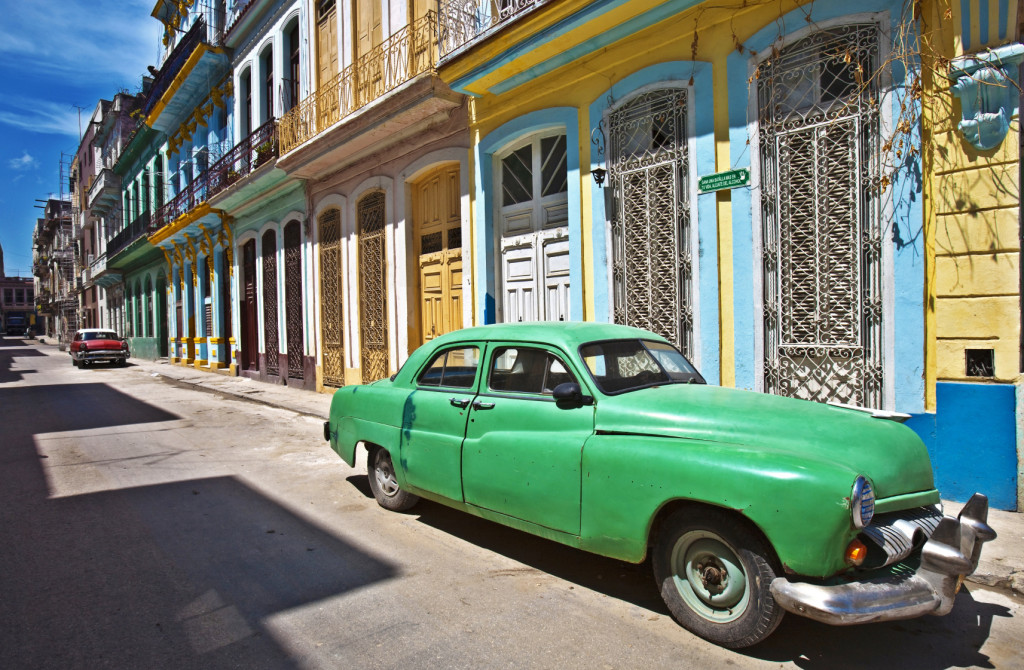 Natural Habitat Adventures, a premier ecotourism company, has unveiled a new "Undiscovered Cuba" 12-day itinerary that explores Cuba's intriguing culture and stunning tropical ecosystems on an educational exchange that promotes people-to-people contacts designed to provide a human perspective of this captivating Caribbean island nation that has long been inaccessible to American travelers.
Travelers will experience the vibrant cultural centers of Havana and Trinidad as well as virtually unknown national parks, rare botanical gardens, lush tropical ecosystems and fabulous birdlife, and have opportunities to interact with Cuban scientists, naturalists, park managers, academics, organic farmers, community activists, artists, business owners and others eager to share their stories.
"This is a rare opportunity to embrace the daily lives of citizens here. Cuba has been off-limits to American tourists for decades. We are among a select few companies to secure a special U.S. government permit through the newly established People-to-People program, allowing us to offer this exclusive travel opportunity to our privileged guests," said Ben Bressler, Natural Habitat's founder and president.
2015 departures, each for a maximum of 15 guests, are: Feb. 10, Feb. 27, and Apr. 18. The per-person double occupancy rate is $7,695, based on a group size of 10 or more. Both international and internal flight costs are in addition to the trip fee. Internal air is $550 (subject to change). Nat Hab books the international flight from Miami to Cienfuegos, Cuba, and the return from Havana to Miami. These flights are organized through a licensed charter company authorized to provide direct flights to Cuba. (See http://www.nathab.com/central-america/undiscovered-cuba)
In addition to Cuban culture and history, the trip also showcases Cuba's natural resources and diversity. Highlights include World Heritage Sites and UNESCO Biosphere Reserves and hosted visits to organic farms and community-run ecotourism projects, such as:
Zapata National Park. Situated on Cuba's southern coast, this UNESCO Biosphere Reserve covers 1.5 million acres harboring some 1,000 plant species, of which 130 are endemic to Cuba, and showcasing a great diversity of habitats such as grasslands, mangroves, varied types of forest, coastal lagoons and coral reefs. "As far as we know, we are the only current People-to-People tour operator including it in their itinerary," said Bressler.
Viñales National Park & the Viñales Valley embrace dramatic 250-million-year-old loaf-shaped limestone mountains laced with caves. These karst formations have been worn away by hundreds of years of erosion, becoming small islands that are self-contained ecosystems. The trip visits Cuevo del Indio (Cave of the Indians), the largest system of underground caves in Latin America.
Las Terrazas is an ecotourism center in which a sustainable rural economy has been developed based on the use of local natural resources and a strong focus on public environmental education.
"Accommodations are always the best available and extend an understanding of culture and history through their locations."
The Grand Hotel Trinidad transports guests to the elegance of 16th-century Cuba under Spanish influence, with gracious archways and wrought-iron balconies. The colonial-style Hotel La Ermita offers magnificent views of the Viñales Valley, and in the heart of Havana the luxurious Parque Central is a mix of colonial and modern elements. Sunswept Playa Larga Beach on the southern coast along the Bay of Pigs is home to the Hotel Playa Larga, which offers basic accommodations with easy access to Zapata National Park.
Participants meet in Miami for an orientation and an overnight at Sofitel Miami Hotel. A chartered flight the next day makes the short hop to Cienfuegos where the group is joined by its local Cuban guide. The program includes a myriad of planned yet unscripted people-to-people exchanges enhanced by an exclusive immersion into Cuba's rarely visited natural world.  Spend the first afternoon in Cienfuegos, which is recognized as an outstanding early example of urban planning in Latin America. At the Cienfuegos Botanical Garden, enjoy identifying tropical flora and fauna accompanied by botanist Roger Pazos.
Driving on to Trinidad, there will be opportunities to meet the local people through music and the arts, including dining at one the city's best private restaurants where guests chat with owner Lazaro Orellana who talks about operating a small private business in Cuba. There's a visit to a community library where the director discusses how books are selected and the role of government censorship, a invitation to a traditional pig roast, and a visit to a late 18th-century plantation house, the Trinidadian residence of Julio and Rosa Munoz (Julio is a photographer, business owner and esteemed horse trainer).
On ensuing days the route moves west to the Zapata Peninsula where there will be ample opportunities to discover the rich endemic plant and bird life – look for the Fernandina's flicker, one of the rarest woodpeckers in the world. Cruise down the Rio Hatiguanico hoping to sight rarely seen crocodiles.
En route to Viñales, the group stops at Las Terrazas and lunches with restaurant owner Tito Ramos who explains the business opportunities of private restaurants called paladares.

Explore Viñales National Park accompanied by Emma Palacios Lemagne, who has worked in the park for 25+ years. She is the leading gastropoda biologist and conservationist in Cuba.
Four full days in Cuba's vibrant capital of Havana conclude the journey, with highlights including a traditional Cuban lunch at the Hotel Nacional, a stroll through Old Havana with a prominent architectural historian and an invitation to the National Theater to watch a dance class at the Danza Contemporánea de Cuba.
For the complete itinerary see: http://www.nathab.com/central-america/undiscovered-cuba/itinerary/
Natural Habitat Adventures has been a world leader in responsible adventure travel and nature-based ecotourism since 1985. Inspired and created from years of scouring the planet for the singular and extraordinary, Nat Hab's trips appeal to travelers who seek more than the standard, done-before tour commonly found in today's marketplace.  Itineraries are artfully crafted, one-of-a-kind experiences that are far from "typical." Natural Habitat Adventures enjoys the reputation for employing some of the finest naturalist expedition leaders. Conservation is at the forefront of everything the company does, and its philosophy about environmentally responsible travel is simple: tourism must work with and benefit local communities, which will in turn find value in protecting precious natural resources. NHA is the travel partner of the World Wildlife Fund, sharing a commitment to travel as a means of helping to protect the planet's wondrous natural places.
For trip information, descriptive itineraries, date availability and reservations call 800-543-8917 or visit www.nathab.com.
For more travel features, visit:
www.examiner.com/eclectic-travel-in-national/karen-rubin
www.examiner.com/international-travel-in-national/karen-rubin
travelwritersmagazine.com/TravelFeaturesSyndicate
goingplacesnearandfar.wordpress.com
'Like' us on facebook.com/NewsPhotoFeatures
Twitter: @TravelFeatures
New: Moral Compass: Great Places to Go Where the Going Does Good
moralcompasstravel.info
Check out our newest travel site for special deals, insiders' tips at tidbitts.com: www.tidbitts.com/karen-rubin/where-in-the-world