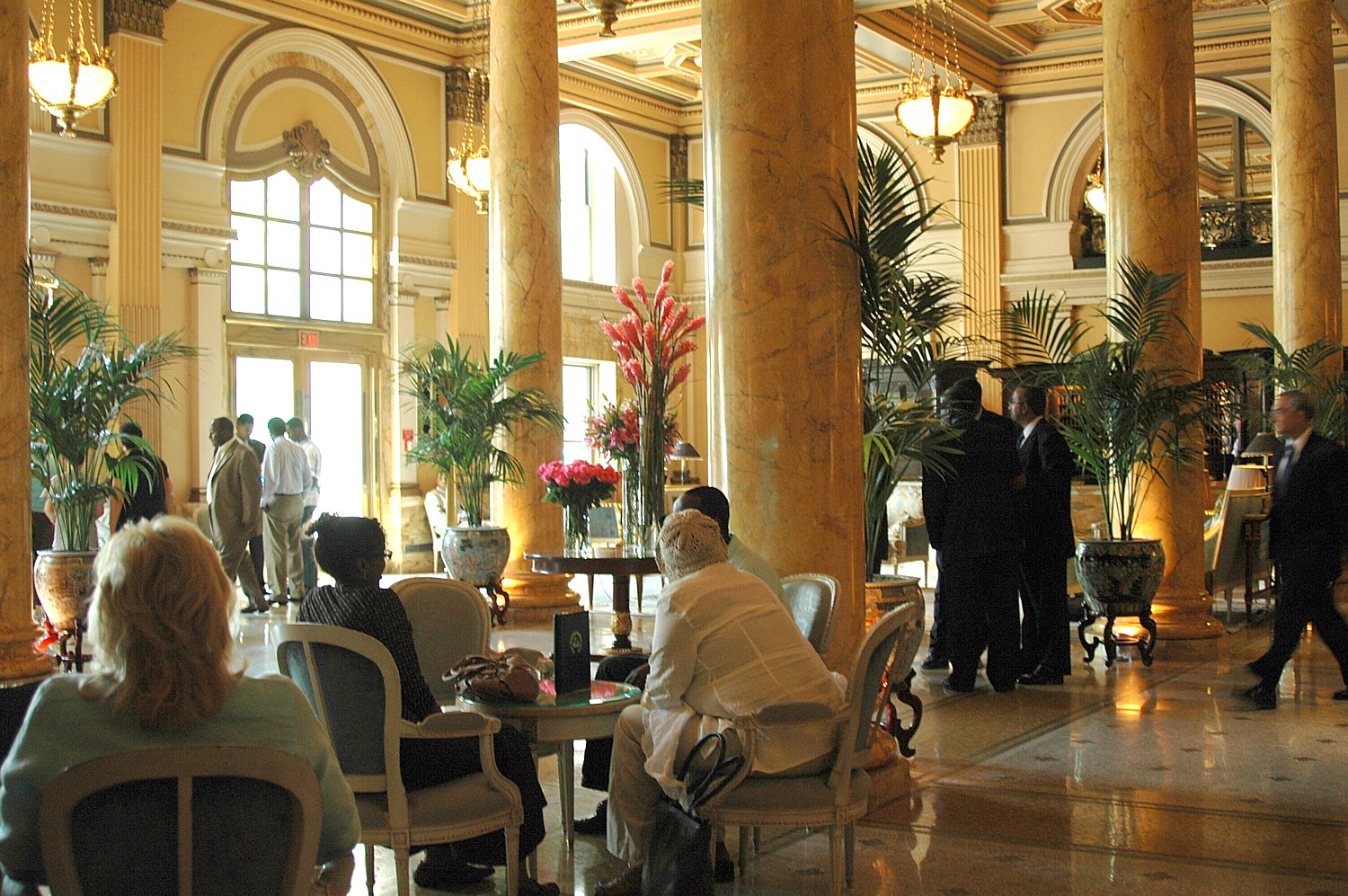 Washington, DC– For 200 years, one Washington DC hotel has remained an anchor in a town that has undergone countless transformations and been called home by US Presidents. In 2018, the Willard InterContinental celebrates its bicentennial, bringing two centuries of colorful anecdotes, architectural evolution and historical preeminence. The long-standing venue is currently receiving a substantial room refurbishment, refreshing guest rooms while maintaining the essence and charm of a bygone era.
With its inception as a row house on the corner of 14th Street and Pennsylvania Avenue in 1818, The Willard spent the first 30 years under a series of different names, managed by a slew of different operators. It wasn't until 1847 that Henry Willard was named manager, spearheading a complete makeover, tearing down the original façade and replacing it with a new brick exterior and larger interior. It was around this time that the property was named the Willard's City Hotel and would remain this way until 1901 when it was torn down to make way for the magnificent, Beaux-Arts style structure that exists today, hosting a number of monumental events that have made the history books.
Given its close proximity to The White House and many other government buildings, The Willard has attracted a great number of U.S. presidents, foreign dignitaries and celebrities over the years, beginning with Martin van Buren in 1841. The Willard has since welcomed almost every U.S. president, giving rise to the hotel's nickname, the "Residence of Presidents."
It was also in the mid 1800s when Kentucky Statesman Henry Clay first introduced Mint Julep to Washington  in The Willard's Round Robin Bar. The southern favorite beverage would later become the hotel's signature drink, serving 20,000 of them each year.
The walls of The Willard have witnessed some of the nation's most notable happenings, from the inauguration of Abraham Lincoln in 1861, where the President-elect took up residence in the days leading up to his Presidency, to welcoming Dr. Martin Luther King in the hotel's lobby in 1963, as he sat with his closest advisers making final edits to his famous "I Have a Dream" speech. After closing its doors in 1968 for 18 years, The Willard was saved from demolition and reopened in 1986 with a complete renovation, paving the way for more historical moments, including a visit from the Dalai Lama in 2016.
After such an illustrious track record, The Willard is taking some time in 2018, as it commemorates its 200th anniversary, to give all 335 rooms and suites a well-deserved makeover. To be completed by April, the final design is still being kept under wraps but the property has disclosed that it involves 355 new Nespresso machines, 355 new Cubie alarm clocks, 5,000 slippers, 25,101 yards of carpet, 49,900 yards of wall covering, 300 pieces of reupholstered furniture and 1,350 pieces of refinished wood furniture. With the room revamp, also comes a reimagining of The Willard's highly-praised authentic French brasserie, Café du Parc where hotel patrons and locals alike will be able to enjoy the addition of a new private dining room and reinvented menu. Of course, The Willard's old standby's and foodie favorites will still be available for guests to enjoy whether it be a traditional spot of afternoon tea in the hotel's famous Peacock Alley, which serves the likes of 30,000 scones a year, or a perfectly brewed cup of coffee at Le Bar, one of 23,725 served yearly.
Throughout the years, The Willard has developed a number of unique programs including the Kids Concierge, which offers a selection of amenities and activities, including a children's library and a treasure chest of board games and toys to ensure that even the youngest of guests have a luxury experience to remember. This popular offering gives out 1,500 "Millie" bucks per year, a coveted reward which earns little ones a sweet treat from Le Bar. In 2018, both newcomers and longtime patrons can enjoy the hotel's newest program, History Happy Hour. Held monthly, the two-hour event distills American history through cocktails, while providing attendees a hands-on mixology class, perfect for both cocktail aficionados and history buffs. This educational yet entertaining event is led by the legendary bartender, Jim Hewes, who has been serving up cocktails for over 30 years at the iconic Round Robin Bar.
The Willard, which is a member of Historic Hotels of America (historichotels.org), has stood the test of time and the 200th year anniversary will reflect on its expansive and vivid history. A pioneer in hospitality, The Willard has created and maintained traditions that will be remembered for years to come, whether it be the labor of love involved in the 255 ornaments hung on the beloved Christmas tree that graces the lobby each year or the 600 hours spent each year building the acclaimed gingerbread display. Many have walked through The Willard's halls, from renowned politicians and celebrities, to tourists visiting the Nation's Capital for the first time, or blushing brides celebrating their special day inside the hotel's exquisite Crystal Ballroom, aptly named for the crystals on display and welcoming an astounding 7,000 wedding guests each year.
Want to experience the historic luxurious Willard InterContinental? Celebrate its 200th birthday by bringing the family on the next trip to Washington, D.C. with the Family Package. This offer includes priority access to The Willard's Kids Concierge, a $75 food and beverage credit, a sweet or savory amenity upon arrival, complimentary internet and complimentary parking daily for one vehicle. Starting at $349 a night.
For The Willard Intercontinental, 2018 is both a year to reminisce and reinvent. For more information, visit www.washington.intercontinental.com for details or call (202) 628-9100.
For more travel features, visit:
www.huffingtonpost.com/author/karen-rubin
goingplacesnearandfar.wordpress.com
travelwritersmagazine.com/TravelFeaturesSyndicate/
goingplacesfarandnear.tumblr.com/
instagram.com/krubin0830/
instagram.com/famtravltr/
'Like' us on facebook.com/NewsPhotoFeatures
Twitter: @TravelFeatures