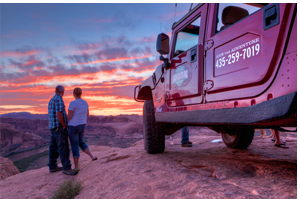 MOAB, UT– The red rock playground better known as Moab, UT, has scaled the heights to become one of the country's most sought-after destinations for active vacations.
When first-time visitors to the region choose to experience all that Moab has to offer, more bang for the buck comes with advance planning and using local guides who know the territory best, suggests Jamie Pearce, Manager of the award-winning Moab Adventure Center (http://www.moabadventurecenter.com/).
Pearce and her staff highly recommend choosing one of their three time-driven, guide-assisted adventure packages to fully enjoy this small town surrounded by two national parks, Arches and Canyonlands, and the mystique of the Colorado River.
Moab Signature Multisport Package is a short escape offering the most popular Moab adventures over two days: a Colorado River rafting trip, a two-hour Hummer Safari into the adjacent backcountry plus an exploration of Arches National Park on a professionally guided hike. The rate is $212 for adults and $154 for ages 5-15. Moab lodging (on your own) is available at a variety of motels, campgrounds and lodges.  See: http://www.moabadventurecenter.com/trips/packages/hummer-raft-hike.php. This package can be upgraded to include a full-day rafting trip with lunch and a special sunset Hummer safari for just $35 more per person. Offered Mar. 15 through Oct. 21.
Southwest Sampler spans four days and three nights. Guests spend two nights at Moab's quirky and stylish Gonzo Inn near shopping and restaurants, just a short walk from the Moab Adventure Center while hiking and touring Arches National Park capped by an off-road sunset Hummer Safari.  Two days of rafting the Colorado River follow, including one night of star gazing while camping riverside. The rate (including all-inclusive camping) is $625 for adults and $525 for ages 5-15. Offered May-September.
See: http://www.moabadventurecenter.com/trips/packages/southwest.php
Westwater Multi-Sport Moab Package engages guests over four days and three nights as they raft legendary Westwater Canyon on the Colorado River that National Geographic named "The West's Best Short Whitewater Trip." On this Utah rafting and multi-sport adventure guests experience different thrills every day with all the comforts of home each night. Included is Moab's breathtaking backcountry on an exhilarating Hummer Safari; an optional horseback ride in Utah's famous Castle Valley brings to life scenes from countless movies and commercials filmed in the Moab area. The overnight host is Red Cliffs Lodge on the banks of the Colorado. Offered May-September the rate is $685 for adults and $635 for youth ages 12-15. See: http://www.moabadventurecenter.com/trips/packages/westwater.php
Recognized nationally as a mecca for outdoor recreation and spectacular scenery, National Geographic named Moab #1 among America's 10 Best Mountain Bike Towns. http://www.nationalgeographic.com/adventure/trips/best-mountain-biking-towns/. Moab was included in Matador Network's Top 10 in a 2016 ranking of "America's 20 Coolest Outdoor Towns for Adventure." https://matadornetwork.com/trips/americas-20-coolest-towns-outdoor-adventure/. Smarter Travel's 2016 ranking of the "10 Best Outdoor Towns in America" slotted Moab in its honored Top 10.
https://www.smartertravel.com/2016/05/10/10-best-outdoor-towns-in-america/
To speed things up so people can slow themselves down, the region now has scheduled daily air service from Denver, CO, and Salt Lake City, UT.
The Moab Adventure Center website suggests other activities and info on lodging and where to eat in Moab. The Center recommends, due to its popularity over spring and summer weekends, to have lodging reservations in hand before coming to the region. Pocket Guide Moab: Last Minute Itineraries for the Undecided Traveler is also a good resource to the area.
For more details see:
What to See: http://www.moabadventurecenter.com/sightseeing/
What to Do: http://www.moabadventurecenter.com/activities/
Where to Stay: http://www.moabadventurecenter.com/lodging/
Moab Adventure Center is a division of Western River Expeditions (www.westernriver.com) an adventure travel company headquartered in Salt Lake City, with operations and offices in Moab and Fredonia, AZ. The company is the largest single tour provider in Moab. The Moab Adventure Center is located at 225 South Main St., Moab, UT 84532. For information and reservations call (435) 259-7019 or (866) 904-1163 or send an email from http://www.moabadventurecenter.com/contact/. The center also has a 2,000-square-foot retail space selling adventure related gear, clothing and souvenirs.
For more travel features, visit:
goingplacesnearandfar.wordpress.com
travelwritersmagazine.com/TravelFeaturesSyndicate/
goingplacesfarandnear.tumblr.com/
instagram.com/krubin0830/
'Like' us on facebook.com/NewsPhotoFeatures
Twitter: @TravelFeatures