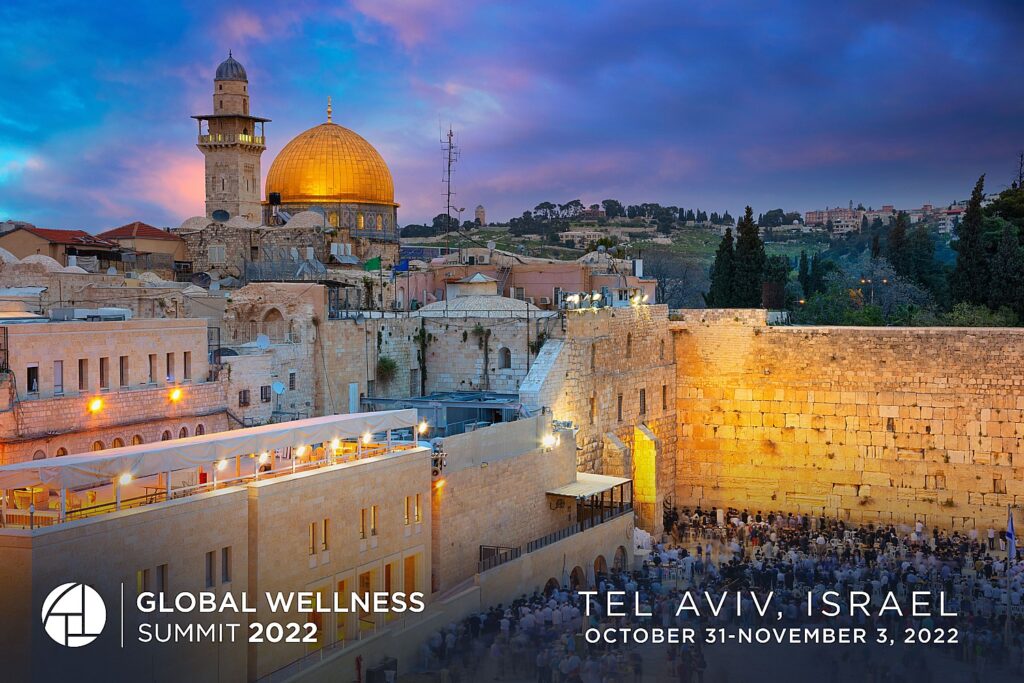 Global experts will tackle what's ahead in medical-wellness innovation, longevity science, and health and wellness technology; how wellness will continue to transform travel and hospitality, real estate and beauty; and the future of everything from food and faith to wellness policy and wellness investment
Miami, FL – The Global Wellness Summit (GWS), one of the most prestigious conferences on the $4.4 trillion business of wellness, today unveiled the full, three-day agenda–and 30-plus new keynotes and panels–for its conference being held in Tel Aviv from October 31 to November 3.
This year's Summit will bring together a historic number of luminaries from the wellness, medical, scientific, tech, academic and investment worlds to explore the dramatically different and bright future for wellness and preventative health that lies ahead after the shocks of the pandemic. The agenda clearly illustrates a wellness industry with unprecedented momentum, and with a future that is more serious and science-backed, as well as more innovative and authentic. 350-plus high-level entrepreneurs and leaders in wellness from 50 nations have already registered.
VIEW THE FULL AGENDA HERE.
REGISTER HERE.
"Third time's the charm! This journey to bring the GWS to Tel Aviv began in 2020 but the world had other ideas. It took chutzpah to bring this Summit to life, and the caliber and variety of speakers, the soulfulness and creativity, and the sheer breadth of content, confirm that we have delivered a powerful agenda," said Nancy Davis, GWS chief creative officer and executive director. "Getting to know the country, the people and the palpable energy that courses through Tel Aviv is something I want every delegate to feel. Producing a global gathering centered around wellness, at a time in the world when that's needed more than ever, is an honor and a responsibility."
Topics and Speakers Announced Today:
Future of Longevity:
Longevity science is the buzzed-about topic in both medicine and wellness, and keynotes include: Tzipora Strauss, MD, Sheba Medical Center-Israel, on the medical science for longevity; Shai Efrati, MD, associate professor, Sackler Faculty of Medicine, Tel Aviv University, and co-founder of Aviv Clinics, on how unique protocols for hyperbaric oxygen therapy can actually reverse the biology of aging: Blue Zones discoverer, Dan Buettner, on how the world's longest lived eat; Richard Carmona, MD, 17th US Surgeon General, on the epigenetics of wellness; Naveen Jain, CEO, Viome, on making illness irrelevant; Anna Bjurstam, wellness pioneer, Six Senses, on curiosity's role in longevity; and a panel on the future of functional medicine, including Bill Kapp, MD, CEO of Fountain Life, and Michael Roizen, MD, Emeritus Chief Wellness Officer at the Cleveland Clinic.
Future of Travel, Hospitality & Spa:
With wellness travel the big tourism gainer post-pandemic, travel leaders will predict the future, including: Neil Jacobs, CEO, Six Senses, on the future of hospitality; Tal Danai, founder of Artlink, on how to disrupt hospitality; Sue Harmsworth, MBE, founder of ESPA, on "Spa and Wellness Under Threat;" and Ömer Isvan, president, Servotel, on what customers want and what we're not delivering. A panel with top execs from Accor, Six Senses and Chiva-Som will explore the future of wellness travel, while another panel on the booming business of thermal parks features leaders from Peninsula Hot Springs, Danubius Hotel Group, Therme Group and Castle Hot Springs. Cathy Feliciano-Chon, founder of CatchOn – A Finn Partners Company, will present critical new research from the Mabrian Institute: the first big data study that identifies the wellness travel activities most in demand today, the wellness destinations with the most future potential, and emerging trends.
Future of health and wellness technology:
With Israel the global hotbed for health and wellness tech innovation, the conference has the biggest focus on digital health in its history, with Israeli disruptors on full display. Keynotes include: Noam Gabison, industry manager for digital health at Meta, on how the future of wellbeing is in the metaverse; Mickey Beyer-Clausen, co-founder, Timeshifter, on the future of circadian solutions; Ilan Samish, founder and CEO, Amai Proteins, on how they cracked the sugar code; Sharon Handelman-Gotlib of Sompo Digital Lab on how multi-national insurance giants are using tech to innovate wellness; Aradhana Khowala, founder, Aptamind Partners, and chair of the advisory board for Saudi Arabia's Red Sea Project, on the future of femtech and wellness; and Varda Shalev, MD, co-founder of Alike.Health, on how crowdsourcing is the future of health and wellness. Amir Alroy, co-founder of Welltech Ventures, will present "From Start-Up to Scale-up: A Lightning Round of Israeli Innovation," a panel of of high-profile founders of Israeli health and wellness startups, including Ben Enosh, co-founder of Antidote Health; Avishai Ben-Tovim, CEO and co-founder of MDI Health; Ziv Pereman, CEO of X-trodes; and Racheli Vizman, founder of Savor Eat. A Welltech Ventures-sponsored Tech Pavilion will immerse delegates in innovations from around the world.
Future of wellness real estate and communities:
Keynotes and panels include: Marian Herman, CEO of the global real estate developer HB Reavis Group, on "Wellness Real Estate: In Pursuit of Office Wellbeing;" Robbie Hammond, president of Therme Group US and co-founder of New York City's High Line, on the future of public spaces in urban settings; and a high-powered panel on the evolving, explosive wellness real estate market, including Ricky Burdett, CBE, director, LSE Cities and Professor of Urban Studies, London School of Economics and Political Science, and John Fitzgerald, CEO and founder of Australia's JLF Group.
Future of beauty and wellness:
Talks include: Zarina Kanji, TMall Business Development, Alibaba Group, on "Beauty and Wellness: Unpacking the Young Chinese Consumer's Quest" and an expert-packed panel exploring why beauty doesn't get the respect it deserves in the wellness industry, featuring Rupert Schmid, co-president and co-chairman, Biologique Recherche; Anna Bjurstam, Six Senses; Sarah Camilleri, editorial director, European Spa magazine; Chunxia Gao, Minor Hotel Group; and Jessica Smith, senior analyst at The Future Laboratory.
Future of wellness, governments and policy:
The Global Wellness Institute will release the first study to define wellness policy and argue for why it it's so desperately needed at the government level–and how it can complement public health policy and happiness/well-being policy efforts. Using quantitative analysis, it's the first research to provide answers to these questions: Does spending on wellness actually lead to better health and happiness outcomes and greater longevity?
Future of faith:
An extraordinary panel on how faith increasingly impacts business, moderated by Jean Sung, head of Philanthropy Centre, Asia, J.P. Morgan Private Bank, includes Brian Grim, founding president of the Religious Freedom & Business Foundation in the US; Judith Richter, MD, founder of Medinol Ltd. and The NIR School of the Heart in Israel; and Isaac (Yitz) Applbaum, chair of The Western Wall (Kotel). Sadhvi Bhagawati Saraswatiji, president of the India's Divine Shakti Foundation, will keynote on "From I to We: The Power of Spirituality in Moving from Illness to Wellness."
Future of Sustainability:
Planetary wellness is a key topic, and keynotes include Itay Zetelny, groups leader of Innovation, Global Incentives & Cleantech at Ernst & Young, on the future of sustainability and Oded Rahav, Business & Strategy, Dead Sea Guardians, on their incredible sustainability project to save the Dead Sea.
Future of investment and the wellness economy:
With the wellness market estimated to grow from $4.4 trillion to $7 trillion by 2025, the conference will explore where investment and the wellness economy are headed. Thierry Malleret, global economist and founder of the Monthly Barometer, will analyze the triumphs and future challenges for the wellness economy. To provide a window into what global wellness investors are seeking today, the "Reverse Pitch" will have major investors–including Nichol Bradford, executive director and co-founder of Transformative Technology; Nimrod Cohen, managing partner of TAU Ventures of Tel Aviv University; Dr. Modi, founder and chairman of India's Modi Holdings; Rick Stollmeyer, founder of Mindbody and CEO of Inspired Flight Technologies, Inc., David Stoup, chairman and CEO of Healthy Lifestyle Brands; Yoriko Soma, CEO, Conceptasia, Inc.; Amir Alroy, co-founder, Welltech Ventures; and Alejandro Weinstein, co-founder, WM Partners–pitching delegates on what they're looking to invest in in wellness and why. A new feature, "What's Bubbling Up in the Wellness Economy?", will have delegates contributing the new ideas and trends they see emerging across every wellness sector.
Amazing networking and parties–and musical, cinematic and wellness experiences–every day:
The Summit is renowned not only for its future-focused content but for its networking opportunities, social events, and creative wellness experiences. Each day, delegates will be immersed in incredible music, film, art and wellness experiences. Myndstream is bringing stunning musical performances; Louie Schwartzberg, director of the blockbuster film Fantastic Fungi, will debut healing films, and BBC StoryWorks will premiere its groundbreaking, awe-inspiring new series, "In Pursuit of Wellness: The Art & Science of Living Well." One night, delegates will dine at authentic restaurants in historic Jaffa, another evening they will dance the night away at the Gala.
About the Global Wellness Summit —The Global Wellness Summit is a premier organization that brings together leaders and visionaries to positively shape the future of the $4.4 trillion global wellness economy. Its future-focused conference is held at a different global location each year and has traveled to the United States, Switzerland, Turkey, Bali, India, Morocco, Mexico, Austria, Italy and Singapore. GWS also hosts other virtual and in-person gatherings, including Wellness Master Classes, Wellness Sector Spotlights, Investor "Reverse Pitch" events and Global Wellness Symposiums. The organization's annual Global Wellness Trends Report offers expert-based predictions on the future of wellness. The 2022 Summit will be held in Tel Aviv, Israel from October 31 to November 3.
For more travel features, visit:
Going Places @ theisland360.com
goingplacesnearandfar.wordpress.com
www.huffingtonpost.com/author/karen-rubin
travelwritersmagazine.com/TravelFeaturesSyndicate/
goingplacesfarandnear.tumblr.com/
instagram.com/going_places_far_and_near/
instagram.com/bigbackpacktraveler/
'Like' us on facebook.com/NewsPhotoFeatures
Twitter: @TravelFeatures