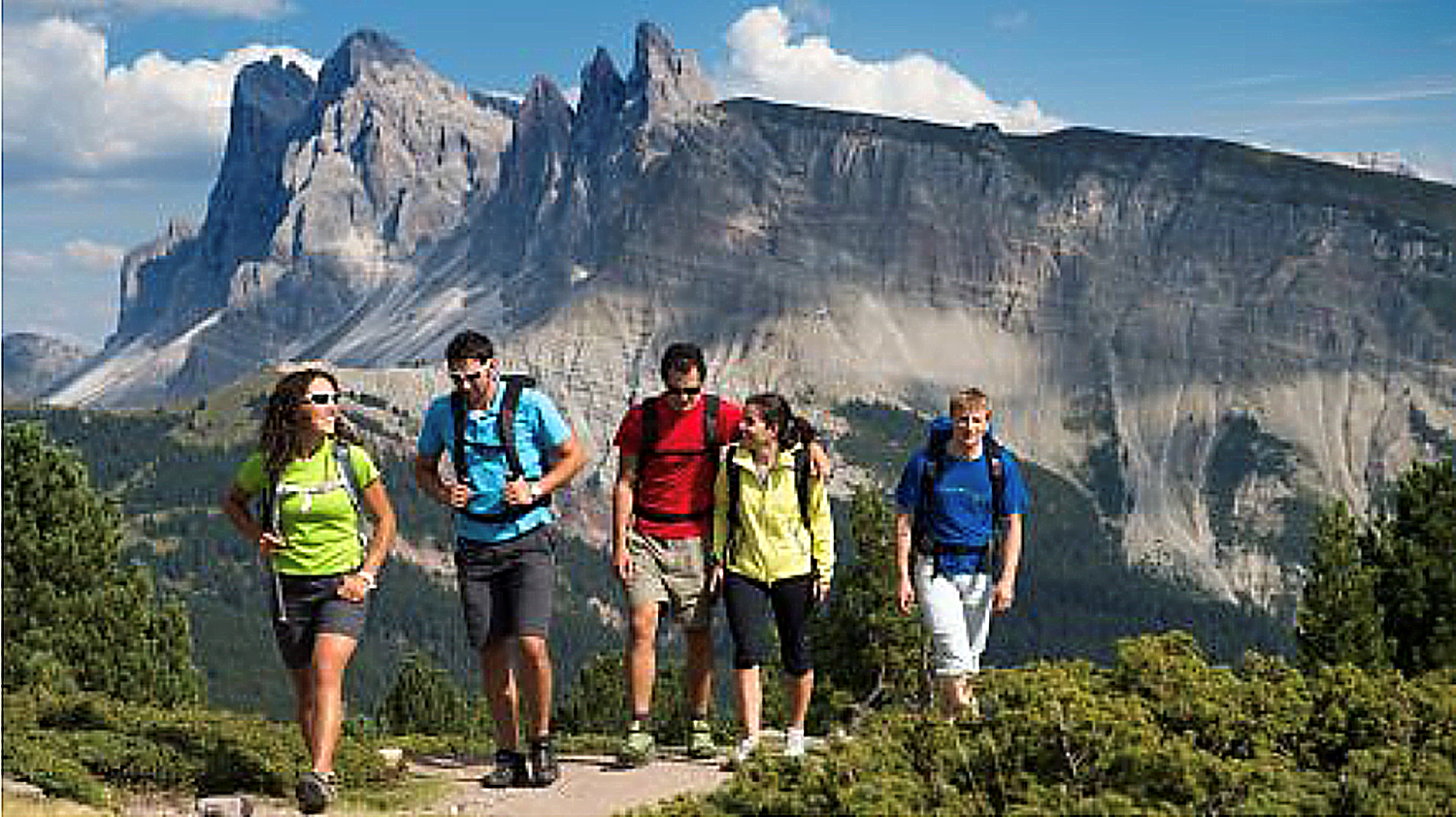 Bagno Vignoni, Italy – It would be easy for a guest at ADLER Thermae Resort & Spa, the groundbreaking five-star hotel fed by the Bagno Vignoni's thermal waters, to be tempted to check in for several days and never leave the property. After all, the baths, saunas and pools cover 1,000 square feet of the property, and the spa menu has more than 120 treatments, including carefully customized facials performed with signature ADLER products and massages using techniques such as craniosacral and Ayurveda.
But they would be missing out on one of the most distinctive things about the hotel: Its breathtaking location in the Val d'Orcia, a UNESCO World Heritage site. Adler Thermae offers the perfect home base for exploring the area through half-day excursions led by local guides—which still leave plenty of time to luxuriate at the spa.
Guests who want to immerse themselves in eating, drinking, walking and relaxing—activities that have arguably been perfected in Italy—should look at two packages: "Enjoy Tuscany" and "Explore Tuscany."
Visitors who've booked "Enjoy Tuscany" will have the chance to take a morning cooking class taught by a local home cook (or "mamma") at Tenuta Sanoner, the hotel's hilltop winery. After working in the kitchen, they'll savor their creations during lunch on the terrace overlooking the valley. They'll also experience a tasting in the wine cellar featuring local varietals, cheeses and meats. Not only will they return home relaxed and full of fabulous food, they'll have new recipes in their cooking repertoire and everlasting memories of Tuscany.
Another highlight of the package is the Adler Luxury Aetos Ritual treatment, which is designed for couples. A detoxifying peel is followed by a soothing massage using grapeseed oil. Next comes a regenerating bath in mix of the hotel's thermal mineral waters and local red wine, which is rich in antioxidants. To further engage the senses, the treatment concludes with a glass of sparkling Aetos Rosé and a taste of wine-aged pecorino cheese.
"Enjoy Tuscany"
4 to 7 nights; from €1,021.00 per person
Through 10/31/19
Included:
1 cooking class in the enchanting Tenuta Sanoner, followed by lunch
1 ADLER Luxury Aetos ritual for two: a luxurious wine therapy ritual with a cleansing dermatological peel, relaxing massage, a regenerating bath in thermal water and final tasting of Aetos wine and pecorino cheese.
1 Tasting of wine and typical products in the ADLER cellar
The "Explore Tuscany" offer gives guests the chance to be active with local hikes and walks, which are especially pleasant during spring and autumn. Led by local guides, visitors will climb the rolling Tuscan hills and have the chance to see some of the area's most famous sites, including the Abbey of Sant'Antimo, the Abbey of Monte Oliveto Maggiore, and the Vitaleta Chapel. Should they prefer to cycle, they'll have complimentary access to the hotel's fleet of mountain bikes and electric bikes.
Other excursions might include the classic Renaissance towns of Pienza, with its famous cathedral and Papal residence, and Montepulciano and Montalcino, known for their namesake wines. Finally, gourmands will appreciate the chance to meet some of Tuscany's renowned artisanal producers, and they'll be able to taste wine, olive oil, cured meat, saffron, pasta and cheese. Depending on the season, they also will be able to see ingredients like herbs, fruit, vegetables and truffles growing in their natural environment. The perfect partner to a week spent hiking and biking? A €100 spa voucher for each guest, so they can decide which treatment will best soothe their sore muscles.
"Explore Tuscany"
4 to 14 nights; from €854.00 per person (excluding local tastings, which cost approximately €15 to 35 each)
Through 12/20/19
Included:
Up to 5 hiking tours or excursions per week
1 €100 spa voucher per person
Free use of mountain bikes and e-bikes
Adler Thermae Spa and Resort in Tuscany, set between the vineyards of Montepulciano and Montalcino, has redefined the idea of wellness. Its peaceful surroundings in the UNESCO Tuscan site, warm thermal waters and the staff's fierce dedication have proven to be a magical combination. The spa menu is always improving, capitalizing on the highest quality natural products and state-of-the-art equipment. Treatments address both inner harmony and outer beauty while encouraging deep relaxation. A team of more than 40 staff members and physicians provide individual counseling and treatments for body and soul.
The five-star hotel spa offers not only relaxation and beauty treatments, but also modern western medicine and alternative healing methods. The ADLER MED medical competence center has its own team of doctors from disciplines like general medicine, laboratory medicine, aesthetic medicine, modern Mayr medicine, homeopathy, herbal medicine and nutrition.
The hotel has a total of 90 luxury rooms and suites: The Superior is for two people, while Junior Suites accommodate three to four. The spacious rooms offer a sitting area with tea table, sofa, writing desk and armchair. The decor features rich wood furnishings with warm-toned draperies. Rooms and suites have "Bio air-conditioning" (room temperature and humidity individually adjustable) and private terraces or balconies overlooking the splendid Orcia Valley. The marble bathroom features a separate glass-enclosed shower, toilet and bidet. Hypoallergenic and handicapped-accessible rooms are also available.
For more information:  https://www.adler-resorts.com/en/
For more travel features, visit:
goingplacesnearandfar.wordpress.com
www.huffingtonpost.com/author/karen-rubin
travelwritersmagazine.com/TravelFeaturesSyndicate/
goingplacesfarandnear.tumblr.com/
instagram.com/krubin0830/
instagram.com/famtravltr/
'Like' us on facebook.com/NewsPhotoFeatures
Twitter: @TravelFeatures