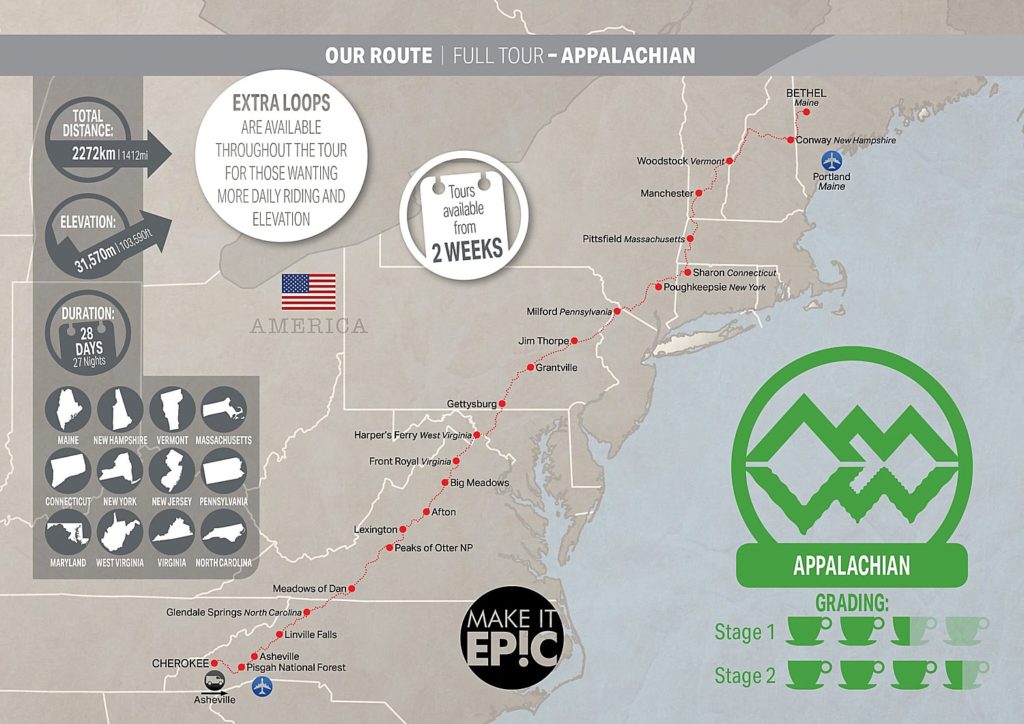 (Provence, France) — Ride & Seek is bringing its epic, historically-themed cycling adventures to North America with a new 28-day, 1,377-mile cycling tour from Maine to North Carolina. Split over two distinct stages, the route takes riders through 12 US states from Bethel, Maine to Cherokee, North Carolina, with the Appalachian Trail providing the thematic backdrop.
Starting with the rural and rustic splendor of Maine, cyclists will search out the road less travelled, exploring the states of New England and skirting around New York City before completing the first stage in the historic town of Gettysburg, PA. The scenery of the ride is enhanced by numerous National Parks and the second stage includes two of the best bike routes in the USA – Skyline Drive and the Blue Ridge Parkway.
Slated for May 30 – June 26, 2021, prices range from $5,590 to $11,200 USD per person double. The tour is a collaboration with Cycle of Life Adventures.
"This Appalachian tour is the combination of some of the finest cycling in the USA with a historical and gastronomical focus that provides for a wonderfully immersive travel experience," said Ride & Seek Founder Dylan Reynolds
Tour Highlights:
Ride through 12 States alongside the Appalachian Trail
Cycle the longest linear park in the US on the extraordinary Blue Ridge Parkway
Explore the wilderness of northern Maine
Visit the illustrious Norman Rockwell and Robert Frost museums
Roll through the orchards of western Pennsylvania & Maryland
Cross the mighty Hudson River
Explore the historic Civil War towns of Gettysburg and Harpers Ferry
Discover the great Skyline Drive ridge ride in the Shenandoah National Park
Delight in the quiet roads and rustic scenery of New Hampshire and Vermont
"Reading through Lincoln's Gettysburg Address, the pertinence of his words is particularly apt at this time," said Reynolds "As with all our tours, we embrace the history of the places we travel to give us a better sense of today. Our interactive cycling tour through the battlefields of Gettysburg is just one way in which we give you a chance to embrace the history along the route we ride."
For more info, visit https://www.rideandseek.com/tour/appalachian-usa/.
Ride & Seek is a worldwide adventure cycling company offering unique historical itineraries with quality lodging, fine gastronomy, and cultural immersion. The tours are designed so cyclists not only see and ride some of the greatest roads in Europe but also visit some of the most spectacular sites as well. Providing a cultural insight into the areas visited both historically and gastronomically is central to the company's mission. Historical journeys and cultural adventures are specialties. https://rideandseek.com
For more travel features, visit:
goingplacesnearandfar.wordpress.com
www.huffingtonpost.com/author/karen-rubin
travelwritersmagazine.com/TravelFeaturesSyndicate/
goingplacesfarandnear.tumblr.com/
instagram.com/going_places_far_and_near/
'Like' us on facebook.com/NewsPhotoFeatures
Twitter: @TravelFeatures