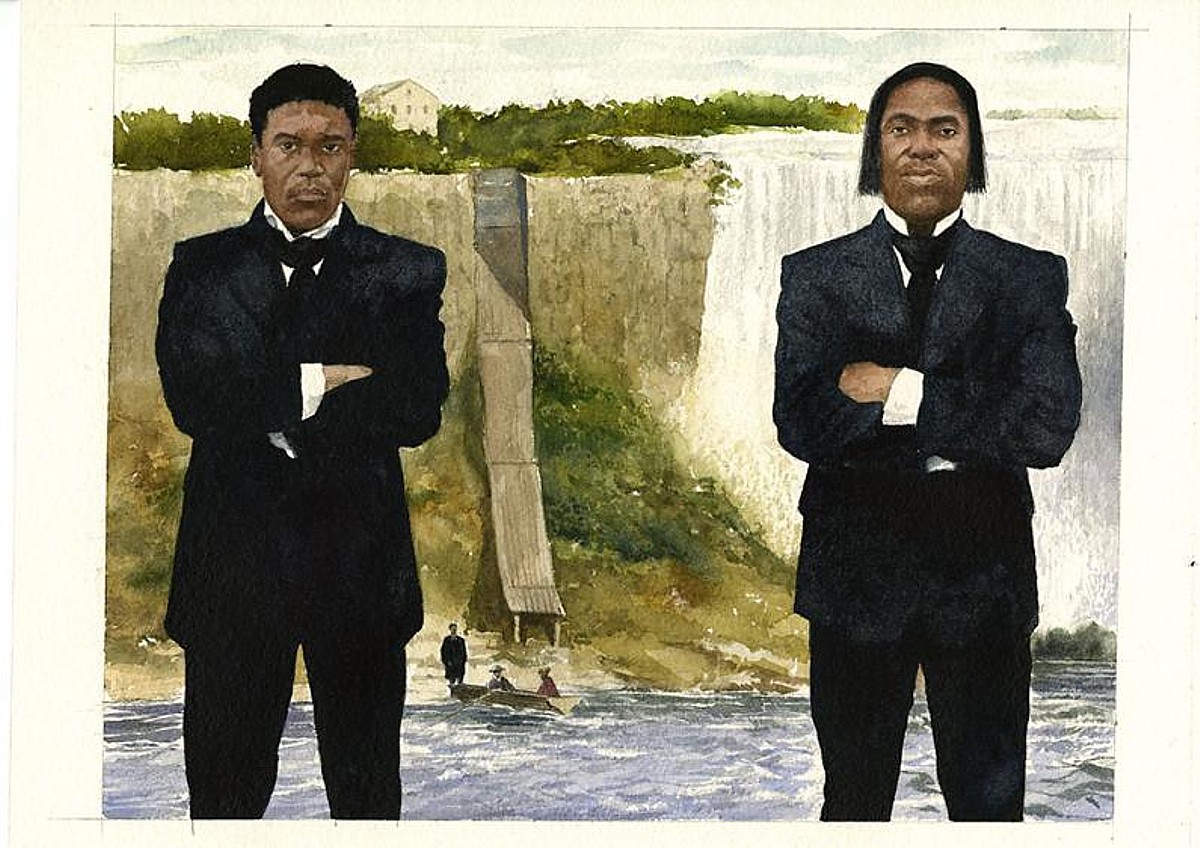 Niagara Falls, NY – The much-anticipated Niagara Falls Underground Railroad Heritage Center, an experiential museum that reveals authentic stories of Underground Railroad freedom seekers and abolitionists in Niagara Falls, has just opened, May 4. A project of the Niagara Falls Underground Railroad Heritage Commission in cooperation with the Niagara Falls National Heritage Area, a program of the National Park Service, the Heritage Center inspires visitors to recognize modern injustices that stem from slavery and to take action toward an equitable society. It is located in the former 1863 U.S. Custom House attached to the new Niagara Falls Amtrak Station.
"As the first new cultural attraction in the City of Niagara Falls in over 35 years, opening the Underground Railroad Heritage Center is an incredibly significant event, both to the people of Niagara Falls, and throughout the world," said Bill Bradberry, President and Chair, Niagara Falls Underground Railroad Heritage Commission
The Heritage Center's permanent exhibition, One More River to Cross, features the rich stories of the Underground Railroad in Niagara Falls, the crucial role played by its location and geography, and the actions of its residents – particularly its African American residents. The Heritage Center's immersive exhibits and cutting-edge interpretation affirmatively align with the principles of the International Coalition of Sites of Conscience, whose mission is to connect the past to modern social justice issues – "to turn memory to action."
Through painstaking research, the exhibition presents engaging digital media, graphics, scenic built environments and facilitated dialogic programming as part of the visitor experience. Scenic exhibit components include a recreation of the Cataract House – a premier international hotel that employed an entirely African American wait staff, who helped uncounted numbers of freedom seekers to freedom in Canada, just across the Niagara River. Also included is a recreation of the International Suspension Bridge, built in 1848, and rebuilt in 1855 to incorporate rail traffic, where Harriet Tubman and other freedom seekers crossed the imaginary line from slavery to freedom. Stories are brought to life with powerful images by award winning illustrator and fine artist E.B. Lewis and voice-overs by Emmy Award winning actor Keith David.
"From the very beginning, the objective for the Heritage Center was to create an immersive experience that brings to life the stories of ordinary individuals who fought for freedom," said Ally Spongr, Director and Curator, Niagara Falls Underground Railroad Heritage Center.
The new Heritage Center focuses on stories of courageous self-emancipation by freedom seekers. Throughout the exhibition visitors experience these stories and hear from individuals past and present with the hope that these stories and connections will allow for deeper engagement, consideration of new or different perspectives, and motivation to action.
"The Niagara Falls Underground Railroad Heritage Center will not only shine a light on the significant role Niagara played at this critical time in our nation's history but the stories of the brave men and women whose contributions to this movement we must never forget. I want to commend the Heritage Commission for their painstaking efforts to bring this educational and interactive experience to life for generations to come," said Niagara Falls Mayor Paul Dyster.
This project is led by the Niagara Falls Underground Railroad Heritage Commission, chaired by Bill Bradberry, directed and curated by Ally Spongr, and based on research by lead historian Dr. Judith Wellman. The Heritage Center's design-build teams include Studio Tectonic of Boulder, Colorado, Richard Lewis Media Group of Boston, Massachusetts, and Universal Services Associates, Inc., of Philadelphia, Pennsylvania.
Niagara Falls Underground Railroad Heritage Commission, 825 Depot Avenue W., Niagara Falls, NY 14305, niagarafallsundergroundrailroad.org.
For more travel features, visit:
goingplacesnearandfar.wordpress.com
www.huffingtonpost.com/author/karen-rubin
travelwritersmagazine.com/TravelFeaturesSyndicate/
goingplacesfarandnear.tumblr.com/
instagram.com/krubin0830/
instagram.com/famtravltr/
'Like' us on facebook.com/NewsPhotoFeatures
Twitter: @TravelFeatures