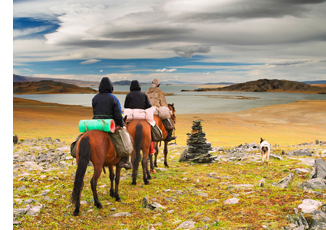 CORNER BROOK, NL, CANADA – Wild Women Expeditions, already offering more active travel departures for women only, including the most women-only adventures on horseback, than any other tour company in the world, is featuring five departures for a horseback adventure into Mongolia in 2018.
The Orkhon Valley Horseback Adventure, a 14-day itinerary into Mongolia is priced at $2,295 per person; however, because the program is so popular, only June 3-16 and Aug. 12-25 departures still have space available.
"Wild Women Expeditions is all about women and wilderness and wild. Our horseback riding program in Mongolia, where we ride 12km to 40km daily for up to six hours, encapsulates our vision that women can move from their own comfort zones, take risks and begin to direct themselves in new and liberated ways – in just a few days," said Jennifer Haddow, Owner of Wild Women Expeditions. "Our Mongolia programs, in addition to making this country accessible, are affordable in an expensive country that many women only dream of visiting – until now."
In the 12th and 13th centuries, Genghis Kahn reigned supreme here, gathering horses and men sufficient to create the Mongol empire that extended far beyond the borders of present-day Mongolia. A violent world was punctuated by the silence and peace of Tibetan temples, a dichotomy still to be sensed while visiting national parks and settling into yurts in the Orkhon Valley, the summer camp of nomads and today a UNESCO World Heritage Site. A homestay family shares the life of nomadic breeders: milking the animals, preparing dairy products, cutting wood, playing with children and living in yurts. As most honored guests, visitors assist in preparing a Mongolian barbecue that features a goat or sheep slaughtered for the occasion.
As landscapes shift from forests to grassy plains to desert and sand dunes, riders explore assorted ecologies of the lush Orkhon Valley, mountains, steppes and waterfalls, as well as the mini Gobi Desert.
"Here where wild meets wild, you feel the contradictions of this place taking root within you. It brings to life the quiet, contemplative space in your heart – the glorious scenery, and sacred temples inviting you to seek inward. But what you find inside isn't still, but rather vibrant and loud. As you cross large swaths of black lava, you feel your own inner rumblings, as alive as the volcanic earth upon which you ride. Someone has come upon their trusty steed to save you. And it is you," added Haddow.
In advance of venturing on horseback into the wilderness, guests spend arrival day and evening in Ulaanbaatar, the capital, visiting the country's most important museum and listening to khoomi (also known as Tuvan throat singing), a vocal technique that elevates the human voice to an other-worldly instrument unique to this region.
For horse lovers, Mongolia is a dream, noted Haddow. "We visit Khustai National Park, where conservation efforts include the reintegration of the Przewalski's horse, Takhi (spirit or spiritual in Mongolian), a symbol of Mongolian national heritage and considered the world's only genuine wild horse. These beasts also protect the forest steppe ecosystem. In 1945 there were only 12 breeding takhi in the world."
Wild Women Expeditions tours also offers a window into "some inspiring community development initiatives, such as visiting the Mongolian Quilting Centre. This is a non-profit association, whose purpose is to give unemployed and poor women, originally taken away from prostitution, and instead learn sewing skills to generate income for their families," she said.
Another Wild Women Expeditions trip in Mongolia, Marvels of Mongolia, offers 14 days at $2,895 per person, mixing trekking with camel and horseback riding across grasslands and villages that may well owe their existence to the comings and goings of the fearless Genghis Kahn as he carved out what we know today as the Silk Road.
Wild Women Expeditions also hosts horseback riding trips in…
Iceland — Golden Circle Riding Adventure, nine days at $3,295 per person; Women & Girls Golden Circle Riding Adventure, seven days at $1,995 per person; Hekla Volcano Riding Adventure, nine days at $3,295 per person
British Columbia —  Chilcotin Cowgirl Riding Adventure, eight days at $3,495CAD per person
Argentina – Patagonia Pack Horse Adventure, 11 days at $3,395 per person
Chile – Torres del Paine Multisport Adventure, 10 days at $4,795 per person
Ireland – Connemara Riding Adventure, seven days at $3,295 per person.
Founded in 1991, Wild Women Expeditions is one of the world's largest women-only travel companies. Its initial focus was on canoeing on remote Ontario waters. Through an unwavering focus on Canada, one of the wildest, most pristine countries in the world, Wild Women Expeditions became Canadian experts in a pioneering niche that introduced small groups of women into wilderness settings. Even though the company now hosts guests all over the world, it retains a national focus with more trips and more women-only, backcountry camping adventures in Canada than any other women's travel company.
Facebook                  https://www.facebook.com/WildWomenExpeditions/
Twitter                       https://twitter.com/wild_women
Instagram                  https://www.instagram.com/wildwomenexpeditions/
For more travel features, visit:
www.huffingtonpost.com/author/karen-rubin
goingplacesnearandfar.wordpress.com
travelwritersmagazine.com/TravelFeaturesSyndicate/
goingplacesfarandnear.tumblr.com/
instagram.com/krubin0830/
instagram.com/famtravltr/
'Like' us on facebook.com/NewsPhotoFeatures
Twitter: @TravelFeatures