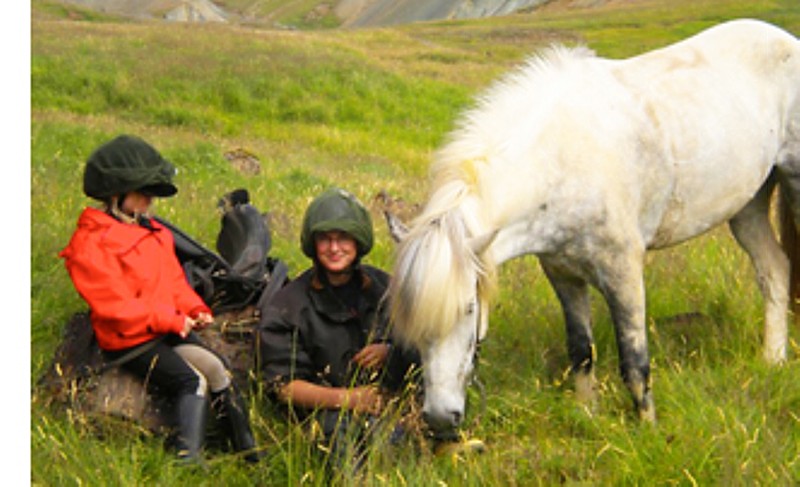 CORNER BROOK, NL, CANADA – With Mother's Day in mind, horses and canoes can help strengthen bonds between mothers and daughters, believes the pioneer of women-only travel.
Wild Women Expeditions' (https://wildwomenexpeditions.com/) globe-spanning roster of women-only itineraries also beckons adventurous mothers to join their daughters on journeys into the wilderness that can re-cement relationships. One adventure just for moms and girls ages 10 to 16 is on horseback in Iceland. The other for moms and daughters ages 8 to 13 is closer to home in canoes on a lake in Canada.
In Iceland the 7-day Women & Girls Gold Circle Riding Adventure is offered July 19-25, 2018, at $2,295 per person inclusive of five days of horseback riding (horses and appropriate gear included), services of female professional horse guides, six nights mountain hut and guest house accommodation, homemade meals, park and other entry fees and transfer from Reykjavik, the gateway city. Guests should bring some experience riding English-saddle style before mounting their small Icelandic horses for riding lessons and before jaunts of up to six miles a day past the volcanos, geysers, waterfalls, mountains and lakes of southern Iceland. The riding strategy is to trot or tölt whenever the terrain allows since this pace is the perfect balance of speed and rider comfort. (The tölt is an extremely smooth, four beat gait, much like a running walk or rack, and it offers a virtually bounce-free ride at speeds of up to 32 kph.) For trip details see: https://wildwomenexpeditions.com/trips/women-girls-golden-circle-riding-adventure/
A four- day Women and Girls Canoe Trip in Ontario's Algonquin Provincial Park departs Aug. 2-5, 2018. The per person rate of $795 includes group camping and paddling equipment and gear, all meals, shuttle from lodge to canoe put-in, professional female guides, a night at Northern Edge Algonquin Nature Retreat, sauna and shower at trip's end. The park, synonymous with backcountry canoe tripping, offers over 2,000km of canoe trails through a 7,630 square kilometer area of wilderness. In addition to 2.5 hours daily of paddling, guests learn such tripping skills as how to pack and set up camp, read maps, tie knots, start a fire, and spot signs of wildlife. This adventure also includes one night at Northern Edge Algonquin, an off-grid ecolodge offering exceptional cuisine and comfy accommodations. For trip details see https://wildwomenexpeditions.com/trips/women-and-girls-algonquin-canoe/
When it comes to older mothers and their grown-up daughters, the benefits of traveling together in the wilderness are often transformational, said Jennifer Haddow, company visionary and owner of the company that pioneered women-only travel.
"At a certain point we daughters may feel we have nothing in common with our parents anymore. Adventure travel is a great way for us to redefine our relationship with our mother," she said. Wild Women Expeditions empowers daughters to help older mothers get a new and healthier lease on life. To accomplish this Haddow suggested a six-day Earth, Air, Fire, Water and Spirit Retreat in British Columbia's West Kootenays.
"This retreat is all about savoring the beauty of the land that surrounds us, each other's company and our own inner wilderness," Haddow explained. "We offer a space to do that creatively, allowing you to indulge in what it is that you need: restoration, physical activity or stillness, self-expression or exploration, connecting with other spirited women, learning new skills, pursuing an old or new passion."
Local organic cuisine, kayaking and hiking outings, plus restorative yoga and creative movement sessions are the planned elements of this guided journey to awaken the inner wild woman through sacred ceremony, meditation and nature awareness activities.
This retreat is offered in 2018 as follows: July 3-8, July 27-Aug. 1 and Aug. 29-Sept. 3. The per person rate is $1,695 CAD. See: https://wildwomenexpeditions.com/trips/wild-women-in-the-west-kootneys-retreat/
For details, availability and reservations for any of Wild Women Expeditions' programs call 1 (888) 993-1222, email [email protected] or visit online at https://wildwomenexpeditions.com/.
For more travel features, visit:
www.huffingtonpost.com/author/karen-rubin
goingplacesnearandfar.wordpress.com
travelwritersmagazine.com/TravelFeaturesSyndicate/
goingplacesfarandnear.tumblr.com/
instagram.com/krubin0830/
instagram.com/famtravltr/
'Like' us on facebook.com/NewsPhotoFeatures
Twitter: @TravelFeatures