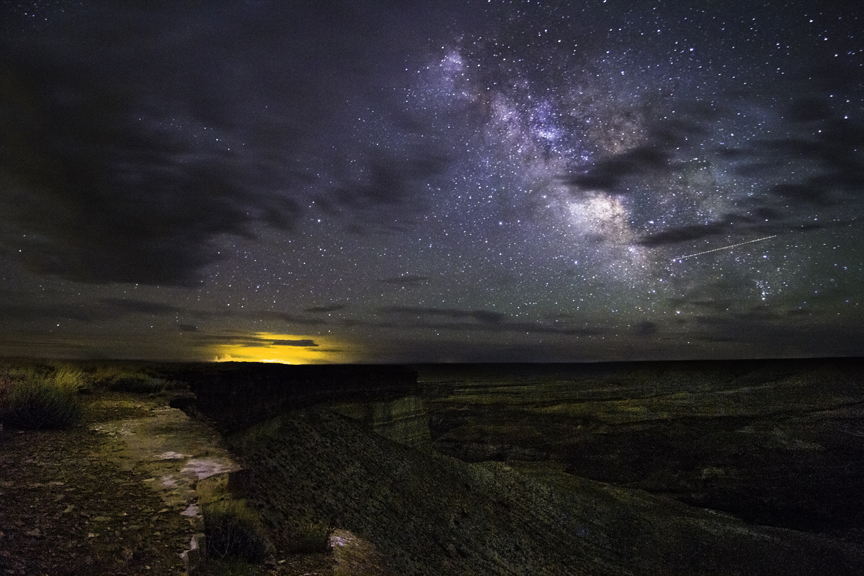 Veteran adventure travel company, Holiday River Expeditions clusters spokes with stars and river canyons with constellations in a new "Dark Sky Stargazing" trip series for 2016, in cooperation with Salt Lake City's Clark Planetarium.
The Dark Sky Stargazing series includes both mountain biking and whitewater rafting programs with a night-time focus expected to include Saturn, the Milky Way, Whirlpool and Sombrero galaxies, Hercules Globular Cluster, iridium flares and Earth-born satellites.
"Each night on these bike and river trips we will attempt to find and identify stars, constellations, planets, galaxies, nebulas, clusters and satellites. More importantly, we'll use those objects to talk about the structure of our galaxy, the origin and future of the universe, our place in the cosmos," says Tom Beckett, board chair of Clark Planetarium and part-time guide for Holiday River Expeditions. "Much of Earth is losing its dark night skies to light pollution and many Americans never have a chance to see the Milky Way. However, the rivers we run, and the trails we bike are all desolate and have some of the darkest night skies on the planet."
The series begins in early May and runs through early October. Each trip takes place during the "New Moon" phase for the darkest sky. Three of four trips are in Canyonlands National Park designated as a gold-tier "dark sky" park. A Clark Planetarium representative will accompany each trip. Guests camp under the stars. Trail and river-side meals have garnered rave reviews.
The new trip series includes:
White Rim Trail Mountain Biking in Canyonlands National Park explores Canyonlands NP, recently certified as a "Dark Sky Park" by the International Dark Sky Association.  Luminaries to be revealed include the Milky Way and the Andromeda Galaxy, among others. While looking up, guests will stand 1,000 feet above the confluence of the Green and Colorado rivers. The group meets up at Holiday River Expeditions headquarters in Green River, UT.  A two-hour van ride to the head of the Shafer Trail marks the start of the trip. After that it's pedal power on some of the most technically challenging mountain bike trails in the country. A telescope accompanies the guests. Scheduled trips are May 7-9 and Oct. 1-4 and the per person rate is from $750.
Green River through Lodore Canyon in Dinosaur National Monument is a July 5-8 river rafting departure through a protected region recognized by the National Park Service as a "Sanctuary of Natural Darkness." This trip connects to ghosts of river-runners and canyon dwellers of the past while escaping into deep-red cliffs and exhilarating whitewater. With binoculars and the naked eye guests explore the Milky Way, see the Andromeda Galaxy, watch satellites and meteors, and learn the constellations. The per person rate is from $935.
Colorado River through Cataract Canyon in Canyonlands National Park is an Aug. 1-6 departure cradled in Canyonlands National Park. Again the Andromeda Galaxy, satellites and meteors take center stage at night. Days are spent luxuriating in the sunshine, exploring ancient side-canyons (many with rock art and ruins) and facing some of the biggest whitewater in North America. The per person rate is from $1,175.
"It's a natural partnership," says Beckett. "Clark Planetarium's mission is to teach science and astronomy. Holiday's mission is to take people into the wilderness and teach them about the natural world.  Working together, Holiday and Clark can offer multi-night star parties in the wilderness, where the night skies are darkest and the daytime scenery is simply out of this world."
Clark Planetarium, in Salt Lake City, is one of the world's leading centers for space and science education.  Clark Planetarium's mission is to create and present stimulating educational programs that effectively share astronomy and space exploration information with Salt Lake County residents, Utah students, educators and families, and visitors from around the country and the world. For more information visit www.clarkplanetarium.org
Holiday River Expeditions (http://www.bikeraft.com/) began in 1966, when Dee Holladay and his wife Sue took the plunge to become river outfitters. Due to its respect for the lands, rivers, guests and employees, the family-owned-and-operated company has grown exponentially. Each of its guides is professionally trained in first aid and river safety, and with 50 years of experience, the company provides guests the opportunity to explore the nation's wild lands safely and securely. Holiday River Expeditions has a commitment to protect the environment through education and conservation, and as such, uses oar-powered and paddle rafts exclusively.
For more information, availability, reservations or the 2016 catalog,  call 800-624-6323, Email: [email protected] or log onto: http://www.bikeraft.com/.
For more travel features, visit:
www.examiner.com/eclectic-travel-in-national/karen-rubin
www.examiner.com/international-travel-in-national/karen-rubin
goingplacesfarandnear.com
goingplacesnearandfar.wordpress.com
moralcompasstravel.info
travelwritersmagazine.com/TravelFeaturesSyndicate/
'Like' us on facebook.com/NewsPhotoFeatures
Twitter: @TravelFeatures