America's "Highest Railroad" (14,115 FEET)

The "Grandest Railway" to Grand Canyon and the "French Fry Express" (an environmentally sensitive 100-year-old steam engine still chugging) 
        A 150-Year-Old Narrow Gauge Railroad (small tracks and trains) that many some say is the "Holy Grail" of RR preservation
There are places in America where you can travel on a historic steam train, its engine running at speed (go fast), where you can climb America's only accessible 14,115-foot mountain (higher than Machu Picchu), ride on a 150-year-old railroad lost in time and coming back to life in the beautiful valleys of central Pennsylvania. This is where open windows, swaying cars, sounds, smells and movement are as fun as the rides found at Coney Island. Here's a ticket to ride this summer on four of the most interesting, unique, and even if one has small trains and tracks (but offers a mighty experience) called a narrow gauge.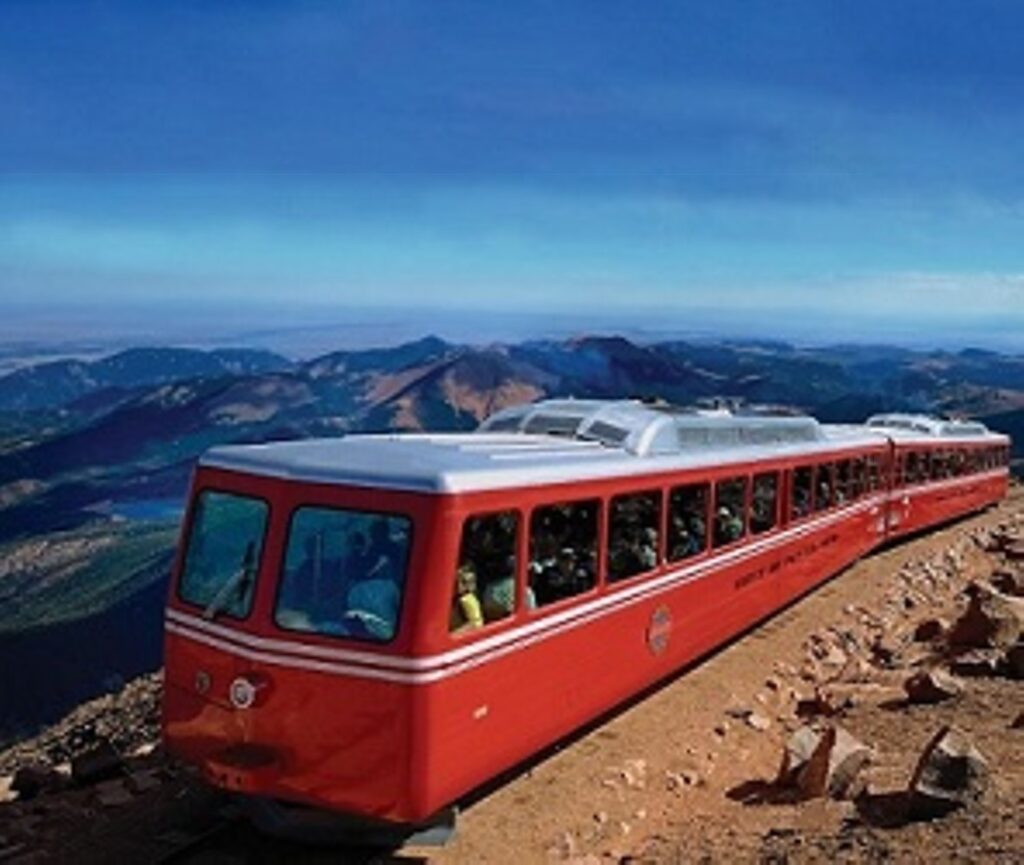 A Pikes Peak Cog Railway train approaching the summit at 14,115 feet in Colorado
 
THE BROADMOOR MANITOU & PIKES PEAK COG RAILWAY
(Manitou, CO to the summit at Pikes Peak – 14,115 feet) 
Climb every mountain.  Well, there is only one 14-thousand-foot mountain in the US that you don't have to climb. You can take the train. A unique train – a cog.  At The Broadmoor Manitou & Pikes Peak Cog Railway, America's highest railway reaches a height of 14,115 feet. This is where the words to the song "American The Beautiful" were composed. Completely rebuilt, it's back and better than ever climbing' up America's Mountain. This iconic railway is one of only two cog railways in the U.S. 
 
Originally built in 1891 and owned and operated by The Broadmoor since 1925, this historic railway is the highest railroad in America, the highest cog railway in the world, one of Colorado's top attractions, and one of the nation's most unique experiences.
 
The Railway runs every day.  For information and reservations, hop onboard at www.cograilway.com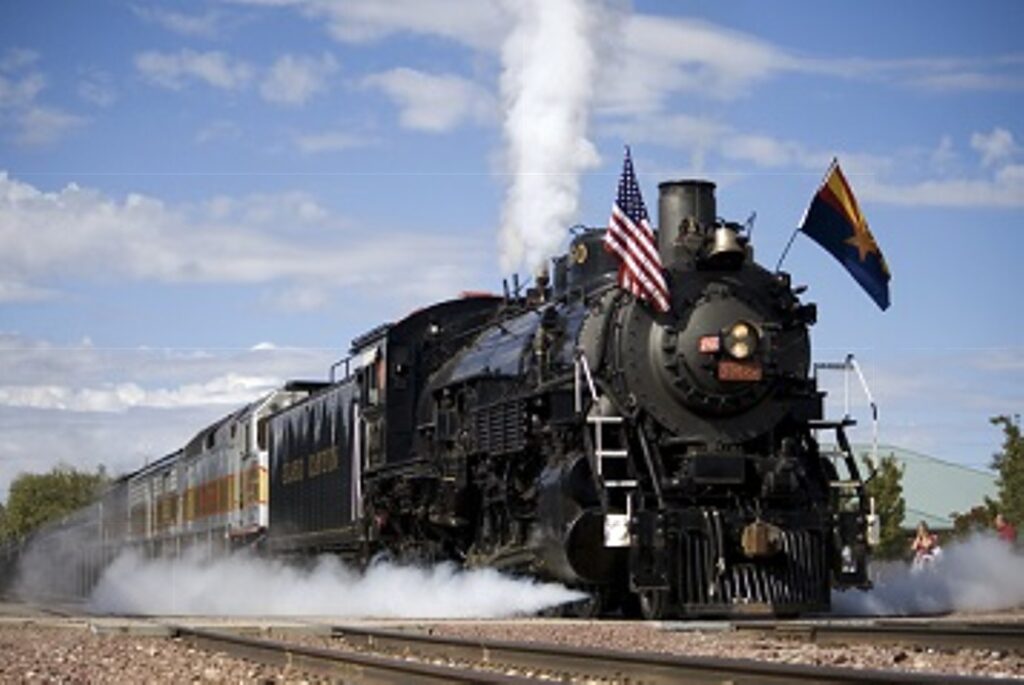 4960 pulls a train on Grand Canyon Railway
THE GRAND CANYON RAILWAY
(Williams, AZ on Rt. 66 to steps from South Rim, Grand Canyon)
Grand Canyon Railway has been taking people to the South Rim of the Grand Canyon since 1901 when it was built by the legendary Atkinson, Topeka and Santa Fe (ATSF).  Grand Canyon Railway runs daily from Williams, AZ on historic Rt. 66 to within steps of the Grand Canyon South Rim and El Tovar.  The pristine train, comprised of railcars from the 1930s, 1940s and 1950s, including luxury dome cars and an open platform observation car, as well as vintage coaches with opening windows, departs at 9:30 a.m. and returns at 5:45 p.m. with a 2.5-hour layover at South Rim of Grand Canyon.  The train rolls directly into Grand Canyon National Park daily, taking an estimated 70,000 cars off the road each year.
 
During most of the summer and into early fall, the Railway pulls the train once a month with a massive 100-year-old steam engine built in 1923 that runs on waste vegetable oil. There is no extra charge. It is believed that Grand Canyon Railway is the last standard gauge passenger railroad in the US where steam engines are still scheduled to pull revenue trains.
 
Save 30% on train tickets when you book in conjunction with any 1 or 2-night stay at The Grand Canyon Railway Hotel. 
Visit www.thetrain.com or call 1-800-THE-TRAIN (1-800-843-8724) for updated and current information on both the hotel and the train. It is now also possible to charter an entire luxury private railroad car or even an entire private train complete with chefs, bartenders, entertainers, and staff.  These are ideal for "milestone" moments such as graduations, family reunions, anniversaries, weddings, birthdays. For charters call 928-635-5700 or visit www.thetrain.com/charters.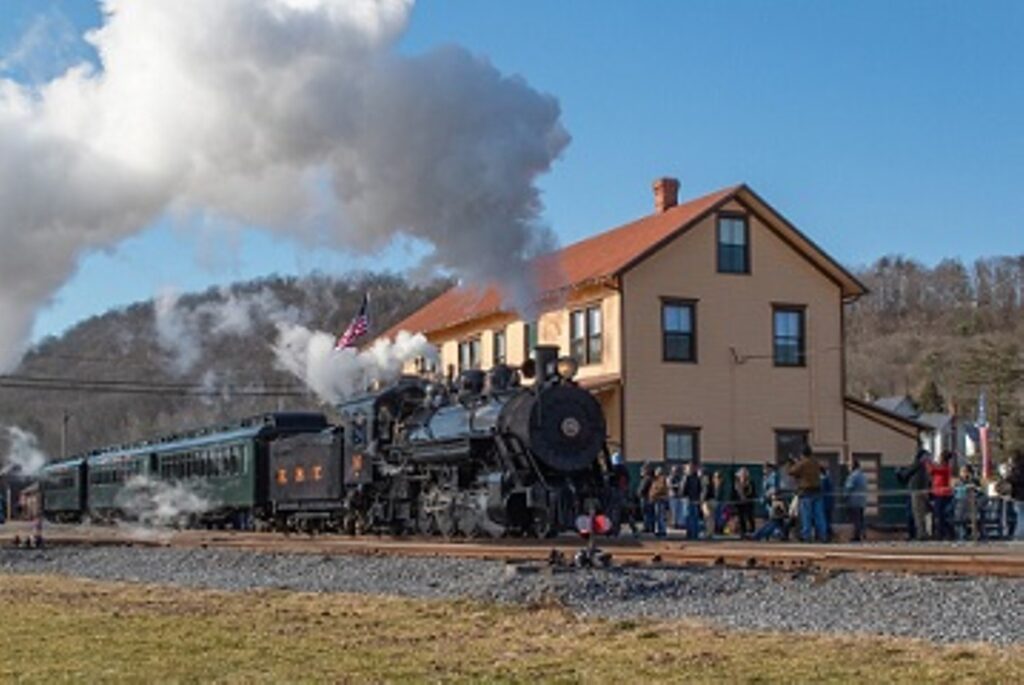 Newly restored locomotive, No. 16, pulls into the historic Orbisonia Station
 
The East Broad Top Railroad (Orbisonia, Central Pennsylvania)
A 150-year old, and the only narrow-gauge railway East of the Mississippi, is an American treasure.
This is one of the true treasures of American railroading. And while you can simply enjoy a scenic train ride, it is far more of an experience…allowing visitors to immerse themselves in a National Historic Landmark that is almost completely frozen in time.

The railroad is considered by the Smithsonian to be one of the best-preserved examples of 19th century American narrow gauge railroads (the rails less than 4 feet apart so the trains, and everything is smaller than "standard" railroads) and industrial complexes in the country. 

The East Broad Top Railroad (EBT) located in Orbisonia, PA is nestled in the rolling hills and farmlands in the central part of the state. The EBT will start running again in May, with a recently restored steam engine that sat dormant for nearly 70 years, pulling one-hour train rides with space available in comfortable enclosed passenger cars, open air cars, or even a vintage caboose. Trains run on a nine-mile round-trip ride from the historic station in Orbisonia to a picturesque picnic grove and back through a classically beautiful Pennsylvania valley, nearly untouched by the rushing, modern and worried world. 

Prices begin at $20 for adults and $18 for children. Guided tours of the railroad's remarkably intact late 19th/early 20th century machine shop complex are also available every day that trains operate. Reservations are strongly suggested as the renaissance of this railroad is drawing national and international attention. For information and reservations visit www.eastbroadtop.com or call 814-447-3285.

For more travel features, visit:
Going Places @ theisland360.com
goingplacesnearandfar.wordpress.com
www.huffingtonpost.com/author/karen-rubin
travelwritersmagazine.com/TravelFeaturesSyndicate/
goingplacesfarandnear.tumblr.com/
instagram.com/going_places_far_and_near/
instagram.com/bigbackpacktraveler/
'Like' us on facebook.com/KarenBRubin
Twitter: @TravelFeatures