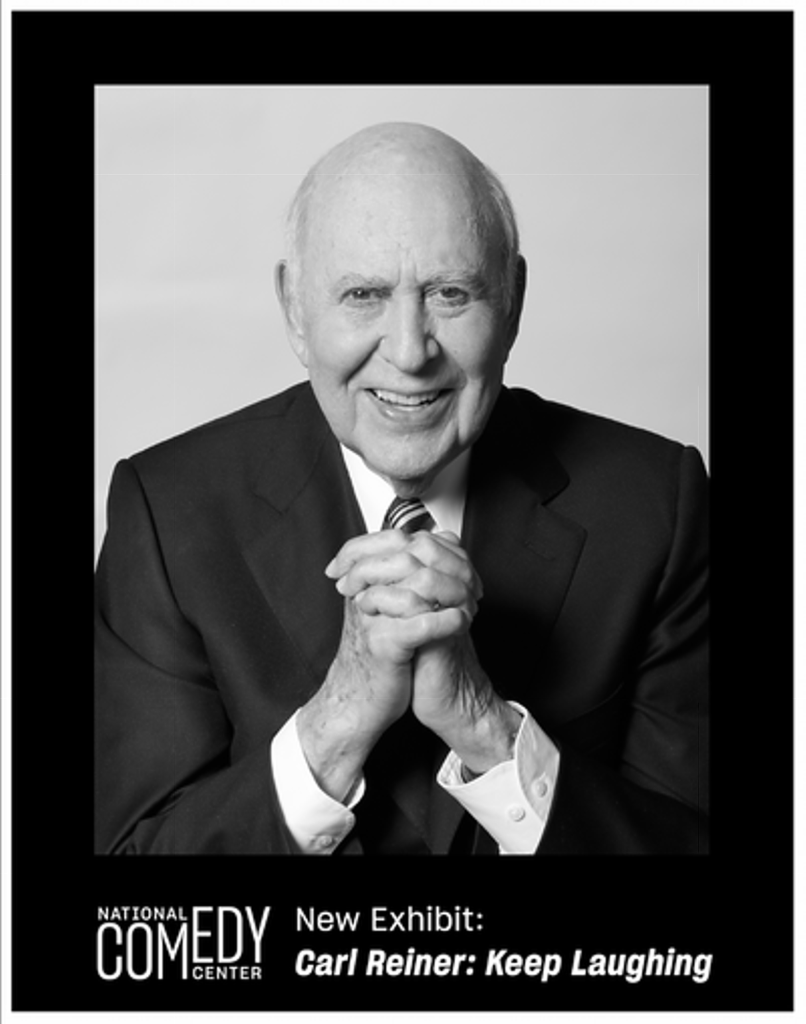 Jamestown, NY – As the world remembers the late comedy legend Carl Reiner on his 100th birthday this Sunday, March 20, the National Comedy Center – the United States' official cultural institution dedicated to the art form of comedy, and the home of Reiner's career archive — continues digitizing and preserving rare documents, scripts and artifacts spanning Reiner's extraordinary career in preparation for its new, multi-media exhibit: Carl Reiner: Keep Laughing, debuting on July 1, 2022. 
The National Comedy Center is the United States' official cultural institution and museum dedicated to presenting the vital story of comedy and preserving its heritage for future generations, as formally designated by the U.S. Congress. Based on the vision of Jamestown native Lucille Ball for her hometown to become a destination for comedy, the non-profit National Comedy Center, which opened in 2018, showcases comedy's great minds and unique voices in ways that engage, inspire, educate and entertain. The Comedy Center's mission is to provide education on the comedic arts in the form of commentary and contextualization of its bodies of work across all eras and genres of the art form. The museum complex offers an unprecedented, immersive visitor experience using state-of-the-art technology, interactivity and personalization.
The new exhibit will showcase hundreds of never-before-seen archival materials spanning Reiner's remarkable seven decades as a writer, director, producer, author, and performer. Visitors will explore interactive stations that feature rare audiovisual clips, creative papers, photographs, and dimensional artifacts that intimately chronicle a lifetime of creative output: from Reiner's early years as a performer on Sid Caesar's legendary Your Show of Shows to his creation of the seminal The Dick Van Dyke Show, from his collaboration with Mel Brooks on the Grammy-winning 2000 Year Old Man to his acclaimed cinematic partnership with Steve Martin (The Jerk, All of Me and more), and across his far-reaching contributions to the comedic art form. The exhibit will run throughout 2022 and beyond.
On the occasion of Reiner's 100th birthday, the National Comedy Center released images of select artifacts and documents which will be on display in the exhibit, including Reiner's typewriter case and original, typed manuscript for the first episode of Head of the Family – which would become the legendary The Dick Van Dyke Show; rare photos of Reiner with Mel Brooks, with Sid Caesar and Imogene Coca, and with Dick Van Dyke and Mary Tyler Moore; the cowboy hat that Reiner wore in the final episode of The Dick Van Dyke Show; and a manila envelope with Reiner's New Rochelle, NY address on Bonnie Meadow Road (just one number off from Rob Petrie's address in The Dick Van Dyke Show) in which he kept early short stories, and more.
Reiner, who was a founding Advisory Board member of the National Comedy Center, will also be celebrated with a special event, Carl Reiner at 100 – Celebrating a Comedy Legacy, on July 27, 2022, as the National Comedy Center partners with nearby, world-renowned Chautauqua Institution for an evening program featuring those who knew them best – including children Annie, Lucas and Rob Reiner, and best friend Mel Brooks – joining together for a one-of-a-kind evening of laughter as they reflect on Reiner's life, career and legacy. The presentation will feature in-person and video appearances by special guests as well as rare footage from the National Comedy Center's new exhibit.
With a multi-faceted career spanning television, film, stage, record albums, books and even social media, Carl Reiner, who passed away in June of 2020, was a twelve-time Emmy® award-winner, a Grammy® award-winner and a recipient of The Kennedy Center's Mark Twain Prize for American Humor,
Reiner was an early advocate and an instrumental supporter for the National Comedy Center's vision to celebrate comedy as an art form. In 2021, the National Comedy Center formally named its ongoing work to preserve comedy's heritage in honor of Reiner. The Carl Reiner Department of Archives and Preservation serves as the central hub for all archival and preservation work within the Comedy Center, as it continues its mission to present the history of comedy and preserve comedy's heritage for future generations.
The Carl Reiner Department of Archives and Preservation is an incubator for the study and dissemination of comedy history, and a resource for educating artists, students, scholars and the public about comedy's great minds and unique voices. The Department leads research, conservation and exhibition activities throughout the organization, including the acquisition of artifacts, documents and audiovisual materials that chronicle the story of comedy across all genres and eras of the art form.
Reiner's career archive includes thousands of pages of creative papers and business correspondence; unpublished comedy material; rare photographs, film footage and audio recordings from his personal and professional life; and industry awards, including his Emmys and Mark Twain Prize. The comprehensive collection includes early drafts and final scripts written by Reiner throughout his career with his handwritten annotations – from the earliest material from his Army days and "Your Show of Shows" sketches to all 158 "Dick Van Dyke Show" scripts, and his film screenplays. Also included are the chairs and TV trays used for years by Reiner and his best friend and frequent collaborator ­­– comedy legend Mel Brooks ­– as they would spend evenings together eating dinner and watching television.
The National Comedy Center has collaborated with dozens of artists and estates to preserve materials that represent comedy's significant artistic, social, and political contributions to American culture including collections illustrating the careers of legendary artists like George Carlin, Lucille Ball, Lenny Bruce, The Smothers Brothers, and the development of groundbreaking creative work such as sketch comedy series In Living Color, Saturday Night Live and more.
The National Comedy Center's Advisory Board includes the recent addition of Tiffany Haddish – filling the seat held by the late Carl Reiner – along with Jim Gaffigan, Lewis Black, W. Kamau Bell, Paula Poundstone, Pixar's Pete Docter, Paul Feig, Kelly Carlin, and more.
Within the Comedy Center's museum galleries, more than 50 interactive exhibits and immersive experiences employ cutting-edge technology to present the story of comedy from its origins to the present day – using archival documents, artifacts, and media as their core.
The museum's educational programming on the art form has featured George Lopez, Margaret Cho, Norman Lear, Tiffany Haddish, Debra Messing, Rain Pryor (daughter of Richard Pryor), Jay Leno, Kenan Thompson, Gabriel Iglesias, Ben Stiller, John Cleese, Jimmy Fallon, Lin-Manuel Miranda, "Weird Al" Yankovic, and many more.
Plan your visit to the National Comedy Center in Jamestown, NY at ComedyCenter.org. Tickets for the special event on July 27 can be purchased now by calling 716-357-6250 or online at tickets.chq.org starting May 3rd.
The National Comedy Center is a 501(c)(3) non-profit cultural institution whose mission is funded by philanthropic support. Donations and grants support the museum and its work to present the vital story of comedy and preserve its heritage for future generations. Visit Comedycenter.org for details.
For more travel features, visit:
goingplacesnearandfar.wordpress.com
Going Places @ theisland360.com
www.huffingtonpost.com/author/karen-rubin
travelwritersmagazine.com/TravelFeaturesSyndicate/
goingplacesfarandnear.tumblr.com/
instagram.com/going_places_far_and_near/
'Like' us on facebook.com/NewsPhotoFeatures
Twitter: @TravelFeatures