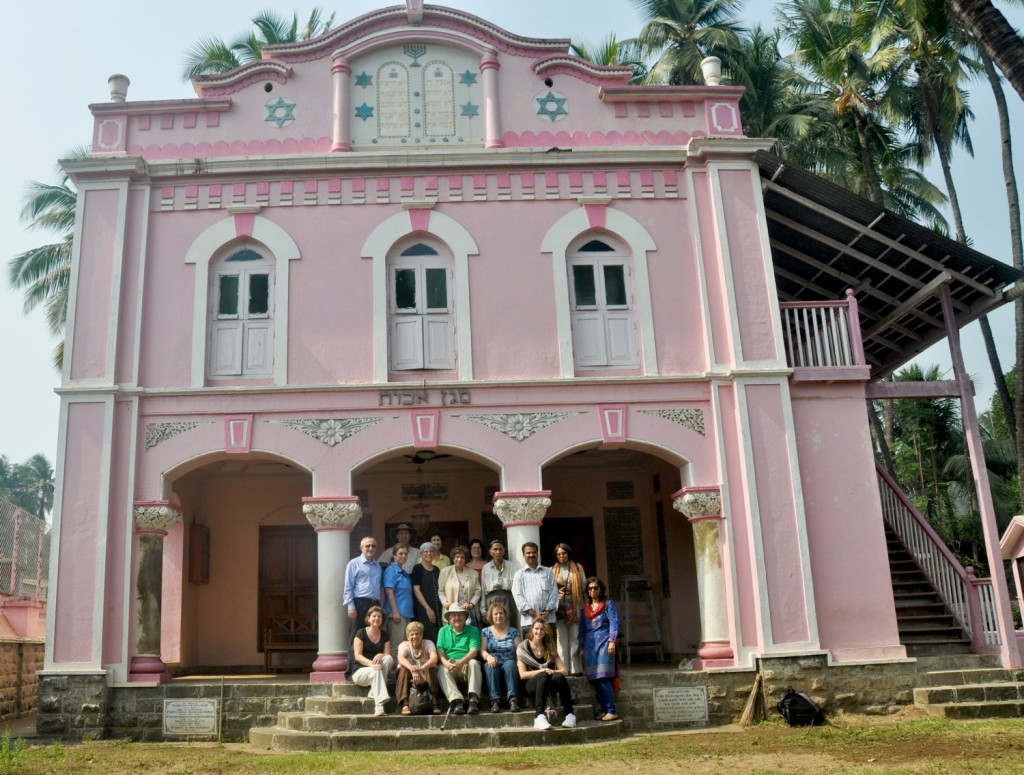 Coming upon a pastel pink synagogue with hot pink trim is only one of the surprises travelers will uncover on Burkat Global's 3,000 Years of Jewish India tour.  In Southern India you'll walk in the footsteps of the Jews who arrived as spice traders 3,000 years ago and those who settled there.2,000 years ago after the destruction of the second temple.
The journey begins in Mumbai (aka Bombay), India's  most sophisticated city, where you'll shop in ancient bazaars and visit colonial relics.  You'll also tour breathtaking synagogues and historic sites,  take a private boat across Mumbai harbor  to visit age-old synagogues and oil pressers on the Konkan Coast, and take another private boat to Elephanta Island to explore  early Hindu caves.
A short flight takes the group to Cochin (aka Kochi) and the backwaters of Kerala, "the Venice of the East,"  for Ayurveda massage, yoga, or just relaxing. You'll enjoy a Kathakali performance and traditional Kerala home-style meals.   There's also a lazy afternoon on board a luxury houseboat, dining and taking pictures of villagers fishing, palm-fringed paddy fields and brightly-painted houses and churches.
In the city of Cochin you'll have a cooking lesson and visit  a "secret" synagogue;  tour ancient Jew Town's spice markets, antiques shops, Jewish cemetery and India's oldest synagogue; view contemporary art on a special tour of the Kochi-Muziris Biennale; and see the Dutch Palace, Vasco da Gama's church and more. In Muziris, where Jewish traders settled even before Cochin, you can work with archaeologists digging up the past, and swim in the Arabian Sea.  You'll see recently-restored synagogues and an ancient Jewish cemetery in a town where Jews, Hindus, Muslims and Christians  have lived peacefully  for millennia.
There are about 5,000 Jews left in India, Howard Burkat tells me. "Because no one really knows the exact number, sometimes the number is thought to be as many as 7,500. There were substantially fewer than 100,000 before Israel became a state. Again, an exact and reliable number is very hard to come by. The vast majority of Indian Jews left the country to settle in Israel  in the years immediately after that country's gaining independence in 1948.
The synagogues that remain are in many cases still used as places of worship. They were built in the 17th-19th centuries and most have been used by the community ever since. However, some are in excellent condition. Some need sprucing up. And some are in terrible shape waiting to be restored.
Recently the government of the southern state of Kerala, where the synagogues around Cochin are located, has  restored a number of synagogues beautifully, he says. "In fact Dr. Shalva Weil of the Hebrew University of Jerusalem, who is the scholar in residence on our tour and travels with us, was heavily involved in a number of these restorations."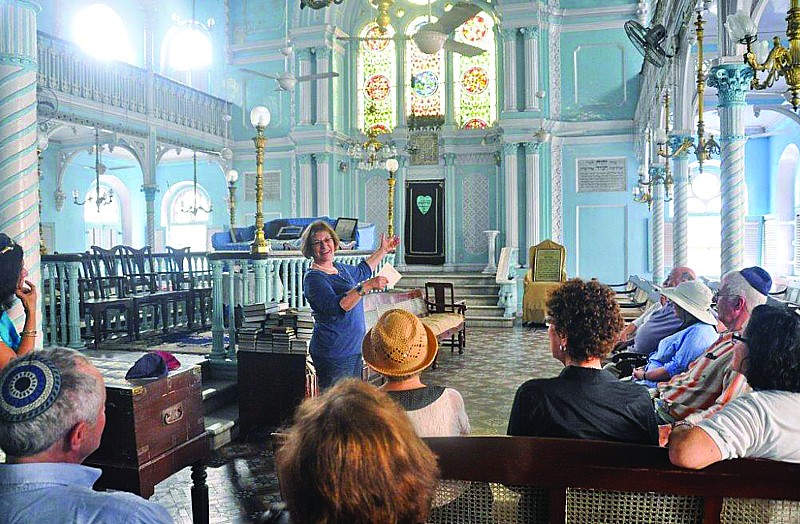 In Mumbai on the holidays a few hundred people might attend services; out on the Konkan coast in the country outside Mumbai, fewer than a dozen people might worship. In still other synagogues, no one attends – they are museums maintained by government entities.
There is an old, beautiful synagogue, nearly 300 years old, hidden deep in the marketplace in Cochin. It is not visible from the street. You must be led to it through a large pet store and garden center whose Jewish owner will take you through his stores and into the synagogue to tell you its history.
"There are no regular services now, the last rabbi returned to Israel more than two years ago,  but on our tour, Sabbath worship will be arranged," Burkat says., "Travelers sit under chandeliers ordered from Europe in the 1700s, and walk on tile floors from China, each one different from the next, that have been in place for hundreds of years."
Dr. Shalva Weil of The Hebrew University, considered the world's leading expert on Jewish India, will be the scholar in residence, traveling with and teaching the group.
Along the way there are delicious meals of Indian food—not hot unless you like it hot—and special Jewish Indian Shabbat dinners.  (Note that tour meals are not kosher, but are  vegetarian and fish.)   Hotels, all green award winners, include the legendary 5-star Taj Mahal Palace in Mumbai, Kerala's lakeside Coconut Lagoon Resort, which Condé Nast Traveler has called one of the world's best getaways, and the Brunton Boatyard, which combines 19th-century atmosphere with 21st-century luxury on an historic stretch of Cochin's celebrated harbor.
There are also opportunities to meet local people. "In Mumbai and Cochin we arrange dinners with local Jewish community leaders. Our ground operator and guides are members of the Bene Israel community in Mumbai – they are leading our group into their own community."
"3000 Years of Jewish India" makes three stops. In Mumbai and Cochin the group travels to numerous Jewish and non-Jewish sites. "Doctor Shalva Weil explains and lectures on the Jewish sites each day when we are visiting them. We also spend four days at the Coconut Lagoon resort, one of the most luxurious in India. This is a wonderful indulgence stop. There is a chance to learn about the literary heritage of Kerala and also see its famous Kathakali dances. There may be a lecture by Dr, Weill, but there is not Jewish heritage component here as there is in Cochin and Mumbai.
The tour is geared organized by the Burkat family and designed for families.
The small-group, land-only tour costs $7,995 per person, double occupancy, and includes almost everything: accommodation in luxury hotels, all intra-India transportation and transfers, daily breakfast, 21 lunches and dinners, bottled water,  sightseeing with entrance fees, the services of expert Indian Jewish guides, taxes and gratuities.  There is one departure: January 26, 2015; the tour is limited to 20 people.  International air fare is not included.
For more information about the "3,000 Years of Jewish India" tour, visit www.burkatglobal.com.  For reservations, call 914-231-9023.
For more travel features, visit:
www.examiner.com/eclectic-travel-in-national/karen-rubin
www.examiner.com/international-travel-in-national/karen-rubin
travelwritersmagazine.com/TravelFeaturesSyndicate
moralcompasstravel.info
'Like' us on facebook.com/NewsPhotoFeatures
Twitter: @TravelFeatures