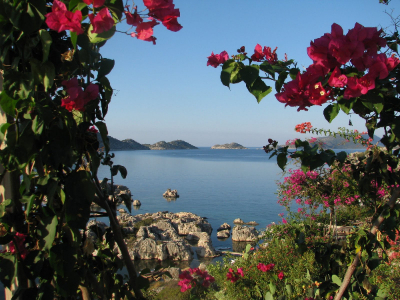 Monmouth, UK –Peter Sommer Travels is preparing to explore some of Turkey's most spectacular coastline in an expedition that combines walking ancient trails along the Lycian Way with cruising aboard a traditional Turkish yacht.
Designed for travelers with a passion for history, scenery, archaeology and the outdoors, the eight-day itinerary Walking & Cruising Western Lycia offers a chance to explore remote sites, ancient ruins and secluded bays along Turkey's stunning south coast.
An initial departure, from April 28 to May 5, 2015, will be hosted by archaeologist Dr Richard Bayliss, who has excavated and surveyed ancient sites across Turkey.  A second departure, from October 10 to 17, 2015, will be hosted by Toronto-born archaeologist and documentary producer Peter Sommer, who in 1994 walked more than 2000 miles across Turkey, retracing the route of Alexander the Great.
They will each lead groups of no more than 14 people along some of the best sections of the Lycian Way, an acclaimed walking trail that links coastal paths, Roman roads and hilltop goat tracks.
Walkers will take a leisurely pace averaging 8-10 km a day, in between swimming, relaxing and cruising aboard a traditional wooden gulet where they will sleep and dine.
Highlights include walking Roman roads and the route of a 2000-year-old Roman aquaduct, exploring remote archaeological sites like the ancient hill town of Sidyma, and discovering Kekova, one of the most romantic and picturesque areas on the Turkish coast.
The itinerary is one of 30 different tours and gulet cruises in the Peter Sommer Travels 2015 program, offering unforgettable journeys in Turkey, Greece and Italy.
Each tour is hosted by an expert guide from fields including archaeology, ancient history, the arts, the classics and cuisine. They provide a rich insight into the history of past empires and civilisations, while also offering a chance to enjoy the magnificent culture, scenery, food and wine of each region.
Walking & Cruising Western Lycia is priced from £1995* per person (approximately $US 3,030/$CA 3,660) for the April departure, or from £2175* (approximately $US 3,300/$CA 3,990) for the October departure.
Prices include transport, accommodation, most meals, crew and guide services, and all entrance fees and tips on excursions. Airfare is excluded.
For full details and bookings, contact Peter Sommer Travels at 1-855-443-3027 (in the US and Canada), email [email protected] or visit www.petersommer.com.
For more travel features, visit:
www.examiner.com/eclectic-travel-in-national/karen-rubin
www.examiner.com/international-travel-in-national/karen-rubin
travelwritersmagazine.com/TravelFeaturesSyndicate
goingplacesnearandfar.wordpress.com
'Like' us on facebook.com/NewsPhotoFeatures
Twitter: @TravelFeatures
New: Moral Compass: Great Places to Go Where the Going Does Good
moralcompasstravel.info
Check out our newest travel site for special deals, insiders' tips at tidbitts.com: www.tidbitts.com/karen-rubin/where-in-the-world