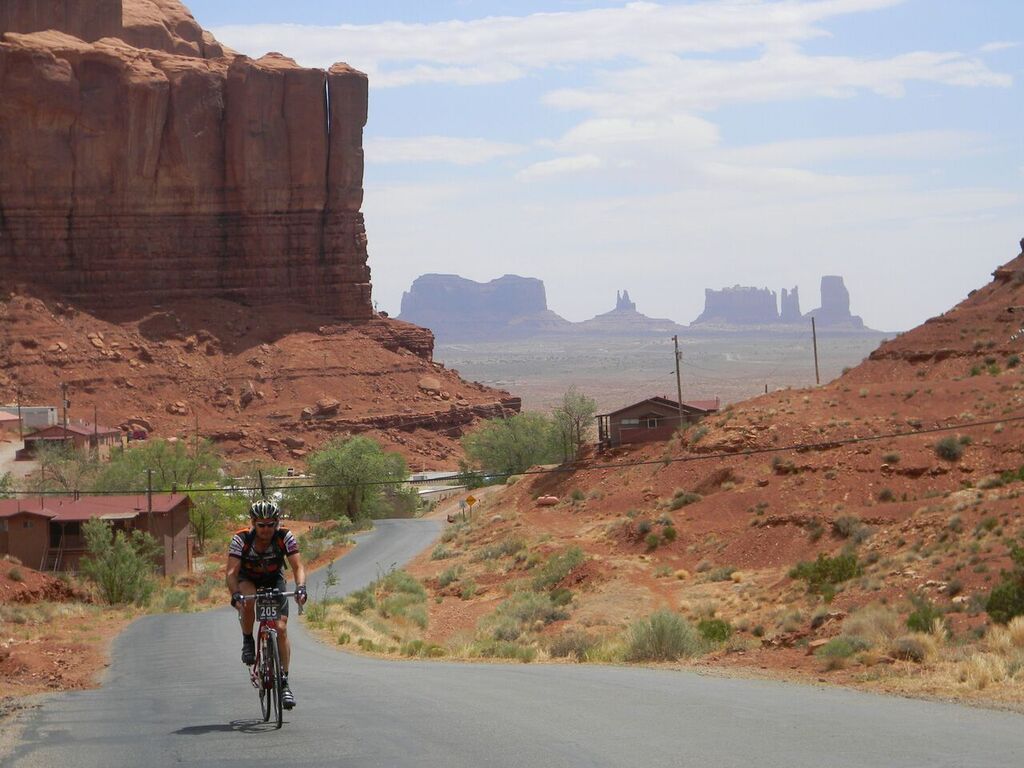 TORONTO – Pedal from Canada's Arctic Coast over the Rocky Mountains and across the Southwest U.S., down the Baja California Peninsula and deep into Mexico, then through six Central American countries to the Panama Canal on a new route for TDA Global Cycling's North American Epic tour in 2019. Covering 8,750 miles in 5 1/2 months, the North American Epic truly is TDA's most epic bicycle expedition. The full tour begins July 4 and ends Dec. 15, 2019, starting at $24,900 per person based on double occupancy, with shorter sections available from $1,900 for nine days.
Starting from Tuktoyaktuk on Canada's Arctic Coast, riders will depart along the first all-season road out of the community, traveling through tundra and historic gold rush towns, down the Alaska Highway and over the famed Icefields Parkway. Across the U.S. border, they'll climb the Continental Divide in Glacier National Park, then continue past Yellowstone to the red rock arches, canyonlands, buttes and mesas of the desert Southwest. After entering Mexico, riders will find sunny seaside towns in Baja California, ferry across the Sea of Cortez and turn inland, then pass highlands and heritage sites from Mexico City to Oaxaca and Chiapas. Finally, riders will take in views of volcanoes and Pacific surf through six Central American countries, before crossing the Panama Canal as they arrive in cosmopolitan Panama City.
Along the way, the North American Epic will also present riders a variety of cultures to experience, from Inuit communities in the Arctic to indigenous hospitality in Chiapas, and the possibility of wildlife to watch, from moose, bison and bears in the Rockies to crocodiles and snakes in the Costa Rican rainforest.
TDA Global Cycling was established in 2002 after company Founder and Director Henry Gold managed a nongovernmental organization in Africa in the 1980s. Gold envisioned providing inexpensive, rugged mountain bikes as a solution to local transportation needs, funding them through a cycling race. In 2003, the first four-month Tour d'Afrique set a Guinness World Record for the fastest human-powered crossing of Africa. At the same time, the TDA Foundation was set up to give back to communities and raise awareness of bicycles as a means of transportation. TDA Global Cycling now offers 16 long-distance cycling expeditions in over 80 countries on six continents, and it has donated more than 2,300 bicycles in Africa and India through the TDA Foundation and local partners. TDA's tours are staff- and vehicle-supported, and participants cover 60-70 miles a day. Tours range in length from 10 days to multi-month transcontinental expeditions. In 2015, TDA Global Cycling was chosen best adventure travel company in the world by the Independent Travel Awards.
For more information, visit http://tdaglobalcycling.com/ or call 416-364-8255.
For more travel features, visit:
goingplacesfarandnear.com
www.huffingtonpost.com/author/karen-rubin
goingplacesnearandfar.wordpress.com
moralcompasstravel.info
travelwritersmagazine.com/TravelFeaturesSyndicate/
goingplacesfarandnear.tumblr.com/
'Like' us on facebook.com/NewsPhotoFeatures