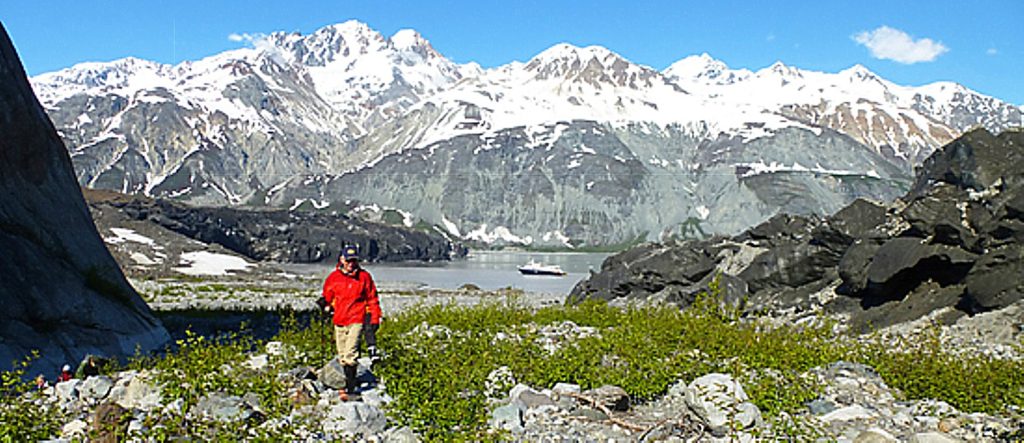 TRUCKEE, CA – AdventureSmith Explorations, a leader in small ship cruises and wilderness expeditions, makes it easy to explore the northernmost reaches of North America by land and by sea, promising opportunities for epic wildlife encounters, unforgettable landscapes and fascinating cultural and historical learning experiences via trips in Canada, Alaska and their greater Arctic regions.
 
"North America offers 9.54 million square miles of diversity, and its northernmost territories showcase some of the most remote and pristine landscapes on Earth," said Todd Smith, founder of AdventureSmith Explorations. "We pride ourselves in introducing our passengers to regions along the Pacific and Arctic oceans. Our fleet of small ships and wilderness lodges access hard-to-reach and often remote regions where guests can step back millennia into a natural world."
As COVID-19 restrictions begin to be lifted, travel to such remote places on small-ships scrupulously sanitized, will be an option.
"This crisis will end someday. When is anyone's guess. But life will go on and people will seek travel again. Destinations that offer seclusion, distance from urban areas, few people and abundant nature will be more in demand than ever. This is exactly what this is all about. Planting seeds for the future which we all hope is still a reality for summer and fall travel," the company says.
"AdventureSmith is closely monitoring the unique situations and status reports from all of their travel destinations, suppliers and partners – on a daily basis. They only will recommend travel when they, health organizations and experts deem it safe to do so.  In the meantime they are being as understanding and flexible as possible with trip deposits, final payments, cancellations and postponements.  Their goal is to give the consumer peace of mind that their travel investment won't be lost for any related COVID-19 reason."
These are AdventureSmith Explorations' top picks of North America by Land and Sea scheduled for the upcoming 2020 and 2021 seasons. Each itinerary allows guests to embark and disembark in North America.

By Land

Classic Polar Bear Adventure spends six to seven days based in historic Churchill, Canada, near the world's greatest concentration of polar bears. While the bears await the freeze of Hudson Bay and the start of seal hunting season, up to 16 guests on each departure are safely and comfortably positioned to observe these creatures from inside a Polar Rover, the world's premier tundra vehicle (built for 35 passengers). This adventure begins with a charter flight from Winnipeg, the gateway airport, to Churchill. Departures are several times weekly throughout October and November 2020.

Camp Denali & North Face Lodge Adventure offers the flexibility of spending from six to 10 days exploring one of the world's greatest wilderness regions. Denali National Park is six million acres inhabited by grizzly bears, moose, caribou and wolves. Naturalist guides lead day hikes with time left over for paddling, picking blueberries and biking. Guests have the option to stay at two different remote lodges on this exciting land tour from early June through mid-September 2020.

Arctic Watch epitomizes "getting away from it all" over 10 days in the Canadian Arctic 500 miles north of the Arctic Circle. Activities emanate from the Arctic Watch Wilderness Lodge and a world-class beluga whale observation site on Somerset Island in Nunavut, Canada. Guests participate in Arctic safaris with possibilities of spotting polar bears; they may also fish, paddleboard, fat bike, ride ATVs searching for musk ox and ring seals, and they can kayak with opportunities to see beluga (white) whales. Five itineraries are planned in July/August 2020 and four in July/August 2021.

By Sea

Many inquiries that come into the AdventureSmith office are from potential clients who have never experienced a small ship cruise. To answer questions on why small ship cruising may be the best option for certain travelers, the staff prepared a Small Ship vs Big Ship blog. Some of these points found in the blog are clearly highlighted when looking through the following itineraries AdventureSmith showcases that embark from some of the highest-latitude North American shores.

The Northwest Passage follows the fabled sea route connecting the Atlantic and Pacific oceans. Adventures are for nine to 17 days. Accommodation is aboard the 200-passenger, purpose-built polar ship, Ultramarine, debuting this season. In 2021 the program will include a weather-dependent, small-group, 10- to 15-minute helicopter flightseeing excursion, as well as a helicopter transfer to a landing site. (The rate includes roundtrip charter flights between Toronto and Resolute Bay in Nunavut, Canada.)

Sea Wolf Glacier Bay Adventure is for only 12 guests who appreciate that the Sea Wolf small ship is locally owned and staffed by local pros, the best resource when it comes to insider experiences. Guests transfer from Juneau to Gustavus, Alaska, for embarkation. New bookings on departures for May 16, May 30, June 13 or July 4, 2020, come with a per person savings of $300. There are frequent departures from May through August 2020.

Alaska's Glaciers & Whales is an eight-day immersion through the Inside Passage aboard the 84-guest Safari Endeavour expedition ship, complete with a hot tub, premium spirits, wine and beer. This is a well-rounded cruise with a strong focus on glaciers and icescapes, with ample dollops of culture and wildlife. Departures are from May through August 2020.

Across the Bering Sea transports guests from Nome or Seward, Alaska, over 13 or 22 days into or near the Arctic Circle. The 102-guest National Geographic Orion offers luxurious onboard amenities that welcome passengers home after they explore on the 13-day program a remote Siberian coastline and venture past the Arctic Circle. Farther on the Wrangel Island Reserve (a federally protected nature sanctuary administered by Russia's Ministry of Natural Resources and Environment) is home to the highest density of ancestral polar bear dens, the world's largest population of Pacific walrus and a variety of plant life. A 22-day alternative cultural- and wildlife-focused itinerary sails through Alaska's Katmai coast then along the coast of Russia through Kamchatka. Six departures are scheduled from June through August 2020 and five from June through August 2021.

For details on all of AdventureSmith Explorations' small ship cruises, itineraries, availability and for 2020-2021 reservations, call 866-575-2875 toll-free or visit the company website.

Founded in 2003, AdventureSmith Explorations is based in Truckee, CA, near the northern shore of Lake Tahoe. A recognized leader in small ship cruising, in 2012 owner Todd Smith first joined the ranks of Condé Nast Traveler's prestigious world's Top Travel Specialists list as the leading expert on small ship expeditions, a distinction that he still enjoys to this day.
AdventureSmith offers thoughts and policies on their website. See:
Follow AdventureSmith Explorations:
Facebook
Twitter
Instagram
YouTube
Pinterest
For more travel features, visit:
goingplacesnearandfar.wordpress.com
www.huffingtonpost.com/author/karen-rubin
travelwritersmagazine.com/TravelFeaturesSyndicate/
goingplacesfarandnear.tumblr.com/
instagram.com/going_places_far_and_near/
'Like' us on facebook.com/NewsPhotoFeatures
Twitter: @TravelFeatures