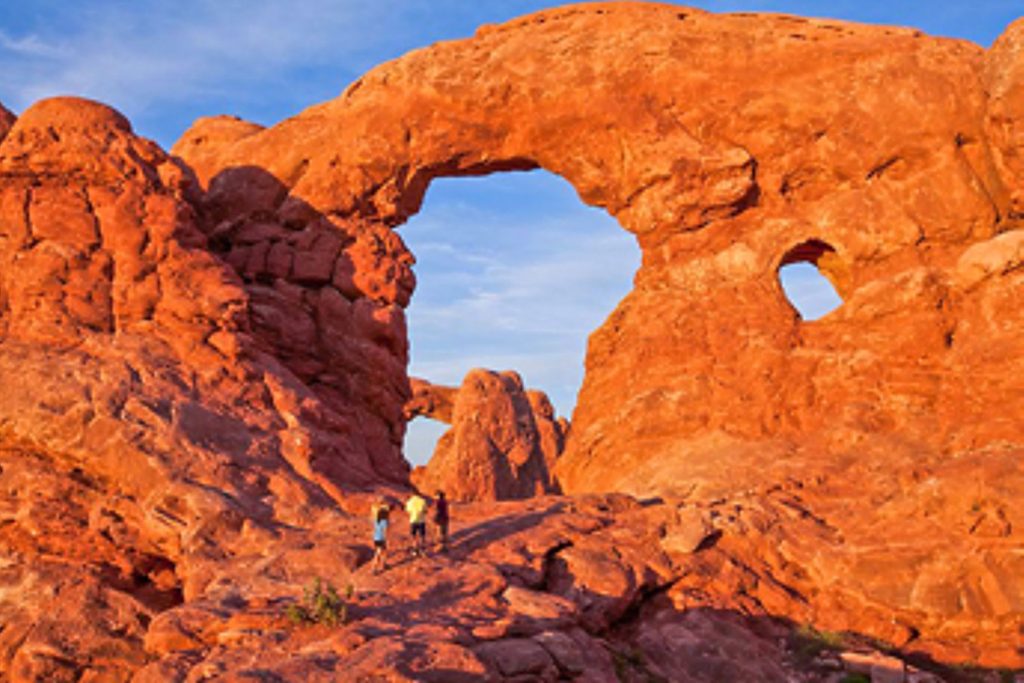 MOAB, UT – The hiss of deflating rafts will soon mingle with sighs of relief this fall in Moab, Utah, America's red rock playground.
 
Why sighs of relief?

Because this recreational community that is vested in sharing outdoor recreation with people from around the world is so far emerging from pandemic 2020 intact and highly functioning.
 
"We (the community) were closed as of March 17 and into the start of our busiest time of year. But we're bouncing back, slowly at the beginning, but now visitation has started to pick up," reports Elaine Gizler, Moab Area Travel Council Executive Director. "We had a decent summer." In early fall the Council began a marketing campaign to woo potential drive-market visitors from a 600-mile radius in Colorado and Utah. 
 
Brandon, Lake, CMO of the Moab Adventure Center, notes that their experience earlier this year mirrors that of the greater Moab community. Activities were shuttered for most of the spring and only resumed once safety protocols were in place in May. But despite a foreshortened season, this company reports a robust outcome. After re-opening its doors early summer, Moab Adventure Center has served over 20,000 avid adventurers on day trips and overnights.
 
"We feel so fortunate that our proactive plans, combined with the community efforts throughout Moab have allowed so many people to come and experience the breathtaking backcountry of south central Utah," mentions Lake. "This summer has been extraordinary. I have never seen people so excited so share outdoor adventures. I believe it has been a healing process for many."
 
Going forward into the fall, Moab Adventure Center's staff is poised to offer small group, guided explorations of Arches National Park and surrounding areas through 2020 and beyond. Effective COVID protocols that have been in place since the spring will continue into the future as needed. While many will squeeze in one more float on the Colorado River before rafting trips wrap up at the end of October, the following adventures continue on through November and some even into December (weather pending).
 
Arches National Park offers the benefits of comfortable temperatures and often fewer crowds in the later months of fall. Tours run year-round. Other popular autumn tours that can be mixed and matched through November include: 
Tried-and-true practices that were instituted for guests and staff when COVID 19 first hit will continue throughout the fall and beyond as needed. These measures include smaller groups, taking temperatures, conducting a questionnaire about health symptoms, requiring that guests and staff wear masks while in an enclosed vehicle and requesting that everyone social distance, among others. See: https://www.moabadventurecenter.com/covid-19

For information and reservations call 435-259-7019 or 866-904-1163 or visit: https://www.moabadventurecenter.com/.

Moab Adventure Center is at the epicenter of nature-themed adventure, promising activities that include rafting, jet boating, stand up paddle boarding, hiking, mountain biking and hot air ballooning. Hummer safaris, rock climbing, canyoneering and horseback riding are popular. Many of these activities are conducted with guides, an arrangement that helps preclude the kind of damage to the land that can happen when uneducated visitors venture into areas where they shouldn't be. Guides help people understand where they can move through back country with the least impact possible.

Moab Adventure Center is a division of Western River Expeditions (http://www.westernriver.com/) an adventure travel company headquartered in Salt Lake City, with operations and offices in Moab and Fredonia, AZ. The company is the largest single tour provider in Moab, Utah. The Moab Adventure Center is located at 225 South Main St., Moab, UT 84532. The center also has a 2,000-square-foot retail space selling adventure related gear, clothing, maps and souvenirs.
For more travel features, visit:
goingplacesnearandfar.wordpress.com
www.huffingtonpost.com/author/karen-rubin
travelwritersmagazine.com/TravelFeaturesSyndicate/
goingplacesfarandnear.tumblr.com/
instagram.com/going_places_far_and_near/
'Like' us on facebook.com/NewsPhotoFeatures
Twitter: @TravelFeatures