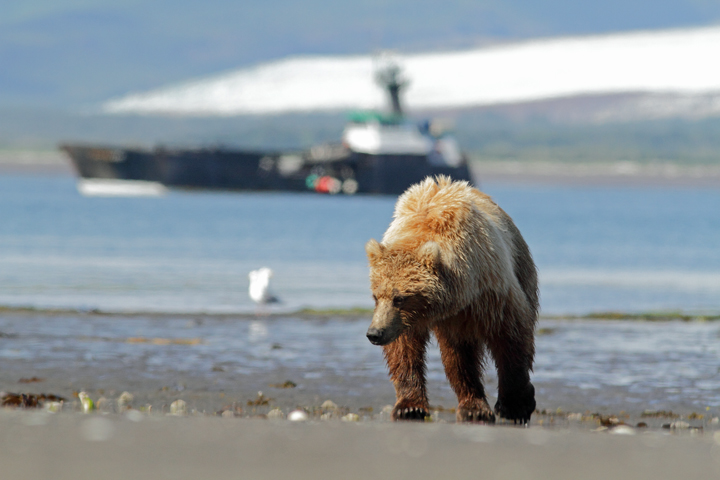 BOULDER, CO, — Natural Habitat Adventures has just announced its exclusive charter of a legendary vessel in it has rechristened the M/VNatural Habitat Ursus, to take guests as close as possible in safety to the largest coastal grizzlies in the world, in Alaska.
The new adventure, Alaska's Coastal Grizzlies: Kodiak to Katmai, will accommodate just eight guests at a time aboard the Ursus.
Two versions of the trip are scheduled weekly from mid June through mid September 2015: Alaska's Coastal Grizzlies: Kodiak to Katmai (seven days) and Alaska's Coastal Grizzlies: Kodiak to Katmai Photo Tour (eight days). The rate is from $7,995 per person, double occupancy. Photo-focused departures are led by a naturalist guide who is also a professional photographer.
M/V Natural Habitat Ursus (Latin for 'bear') has been recently refurbished to provide comfortable accommodations. It was originally built in 1984 as a crab fishing boat called Time Bandit, which plied the stormy waters of the Bering Sea and gained fame in the Discovery Channel TV series "The Deadliest Catch." Its shallow draft allows cruising near the shoreline, where guests can watch bears forage in meadows and dig clams on the tide flats in remote Katmai National Park on the Alaska Peninsula.
The route is flexible in order to follow the bears while aboard this classic 73-foot-long wooden vessel. The Ursus accommodates a maximum of eight travelers in four guest cabins with upper/lower bunks. It carries a full complement of state-of-the-art navigation and safety equipment. The ship's interior is intimate and simply appointed, with ample space for meals and activities. Guests share two toilets and two showers. A well-lit galley and dining area provide for convivial conversation over gourmet meals prepared each day by the onboard chef. Fresh Alaskan seafood, including halibut, salmon and crab, highlight the menu.
"With Ursus providing our offshore expedition base, we are able to visit some of the planet's most pristine wilderness in Katmai National Park without leaving an impact. Shore excursions, which get us even closer to the bears, take place via Zodiac rafts carried on board," explained Ben Bressler, founder and president of Natural Habitat Adventures.
Nature puts on few displays as arresting as Alaskan brown bears feeding on summer's bounty. These bears – the largest coastal grizzlies in the world – gorge on spawning salmon as the fish swim up the rivers that pour onto these wild beaches. "Nothing can prepare you for the drama of an actual encounter with these magnificent beasts, just yards away," says Bressler. Since these bears live in protected habitat and have never had negative experiences with humans, they are nonchalant to the group's presence and are safely approachable at close range.
The adventure begins on Kodiak Island where guests are introduced to Alaska Native and Russian cultures. A local boat excursion follows rocky shorelines for sightings of sea lions, otters, puffins, bald eagles and occasionally whales. A floatplane on Day 3 flies guests to Kukak Bay to meet the M/V Natural Habitat Ursus, which immediately begins cruising slowly along the coast toward Hallo Bay to spot the first bears. Days 4 through 6 unveil the drama of multiple encounters with North America's largest land predators (an adult male can weigh 900 pounds).
Guests take a skiff to shore to explore on foot, guided by a highly experienced Expedition Leader. It's not uncommon to find massive grizzlies in great numbers; previous trips have seen as many as 30 to 40 of them at once. And far from dozing lethargically, these bears put on quite a show in their efforts to fill up on enough protein-rich food to prepare them for a long winter in hibernation. Depending on the time of the visit, bears may be mating or cubs gallivanting. On Day 7 guests depart from Kodiak.
NHA Expedition Leader Brad Josephs leads the Kodiak to Katmai Photography Tour (10 dates have been scheduled for 2015). A noted bear expert and Alaska resident (when he is not guiding bear adventures around the world from China to Churchill), he is one of Alaska's premier naturalist guides, as well as a superlative professional wildlife photographer who is gifted at sharing photography tips and guidance with his guests.
M/V Natural Habitat Ursus was built in 1984 and transitioned for research use by the National Park Service in 1989, conducting scientific study and monitoring. It has since been converted and comfortably appointed for custom marine charter use. In addition to Nat Hab's grizzly adventures, the ship has outfitted two international filmmaking projects, the 2012 BBC/Discovery Channel documentary Great Bear Stakeout, and an NHK (Japanese public television) program on orcas hunting gray whales and humpbacks.
Natural Habitat Adventures is a world leader in responsible adventure travel and nature-based ecotourism. Since its founding in 1985, the company has offered eco-conscious expeditions and wildlife-focused small-group tours to the planet's most remarkable nature destinations. Inspired and created from years of scouring the planet for the singular and extraordinary, Nat Hab's itineraries are artfully crafted experiences that are far from "typical." Trips are guided by professional naturalist Expedition Leaders, and Nat Hab enjoys a longstanding reputation for hiring some of the world's best guides. Conservation is at the forefront of everything NHA does, and its philosophy is simple: tourism must work with and benefit local communities, which will in turn find value in protecting natural resources and wildlife. NHA is proud to be the travel partner of World Wildlife Fund, sharing a mutual commitment to travel as a means of helping to protect the world's wondrous natural places.
For trip information, descriptive itineraries, date availability and reservations, call 800.543.8917 or visit http://www.nathab.com/. Click HERE to order a copy of the 2015 catalog.
For more travel features, visit:
www.examiner.com/eclectic-travel-in-national/karen-rubin
www.examiner.com/international-travel-in-national/karen-rubin
travelwritersmagazine.com/TravelFeaturesSyndicate
goingplacesnearandfar.wordpress.com
moralcompasstravel.info
'Like' us on facebook.com/NewsPhotoFeatures
Twitter: @TravelFeatures
Check out our newest travel site for special deals, insiders' tips at tidbitts.com: www.tidbitts.com/karen-rubin/where-in-the-world