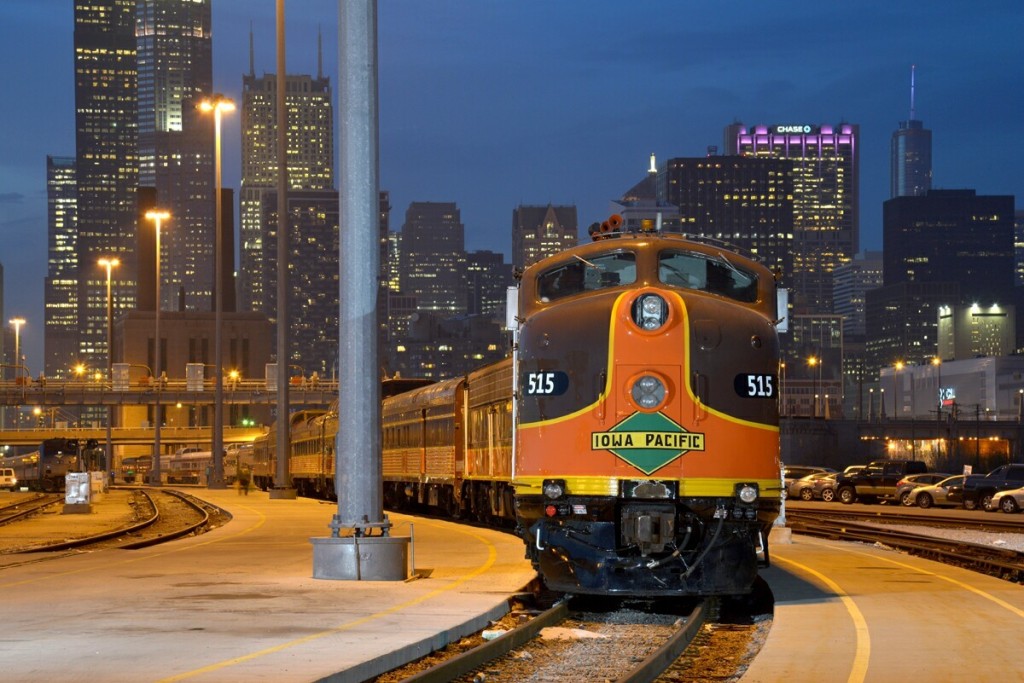 CHICAGO – Pullman Rail Journeys is bringing back the era of grand rail journeys with an exclusive one-time holiday itinerary from Chicago to the "Sunshine State" for a New Year's celebration.
Traveling in first-class rail style, the special trip will depart Chicago's famed Union Station in meticulously restored Pullman cars the evening of Dec. 27, arriving at its southernmost stop of Miami the evening of Dec. 29. The return journey departs for Chicago from South Florida beginning the morning of Jan. 2, 2015. Riding the legendary Capitol Limited to Washington, D.C.and Silver Meteor along the East Coast routes, historic menus will be served with renowned Pullman service for a timeless rail travel experience.
"We continue to see great demand for our regular service between Chicago and New Orleans and 2014 has been a banner year for nostalgic train travel," shares Edwin E. Ellis, president of Pullman Rail Journeys and its parent company Iowa Pacific Holdings. "What better way to ring in 2015 than with an epic train trip to escape the cold paired with iconic Florida hotels."
Luxury hotel packages at Disney's Grand Floridian Resort in Orlando, the Chesterfield Palm Beach and The Biltmore Hotel in Miami are available as well as a rail-only option.
Onboard Accommodations
All interiors are fully restored in the original Pullman style. The basic streamlined room accommodations feature one large picture window with exterior views out one side of the train. The open sections have a large picture window with the advantage of being able to look across the aisle out the other side of the train.
Standard cars are configured with open sections, compartments and drawing rooms with double windows. Bedrooms have a single window with a view out one side of the train. Pullman accommodations feature premium white linens and each bed has custom recreated Pullman blankets and blue-stripe towels.
Dining and Entertainment
Meals are served in the Lounge and Dining Cars with the option for room service included in fare. Signature dishes include Railroad French Toast, Fresh Greens with Illinois Central Dressing or Pullman Vinaigrette, Roast Beef Tenderloin with Madeira Demi-Glace and a Fresh Strawberry Parfait. A full range of soft drinks, coffee, local Chicago and New Orleans beers as well as a selection of red, white and sparkling wines and premium spirits are included in the fare.
Guests socialize with fellow passengers in the Club, Observation and Dining Cars, enjoying onboard entertainment on select departures. A current selection of newspapers, magazines and board games are available in the Pullman Library in the Lounge Car as well as DVDs and a collection of classic books.
Following his passion of reviving the elegance and refinement of rail travel, Edwin E. Ellis resurrected the classic rail brand in 2012 after rescuing and refurbishing a collection of Pullman cars dating back as far as 1917.  Renowned for its stylish Art-Deco design, plush accommodations and superb service from attentive porters and stewards, each car has been carefully restored to its original splendor with modern enhancements to offer the public an authentic heritage travel experience-one that their parents or grandparents would have enjoyed.
Hotel Packages
Once in Florida, passengers can take advantage of a hotel package:
Grand Floridian (Orlando): Package begins at $4,198 per person, based on double occupancy and includes three-day Park Hopper pass, Grand Floridian Garden View Room, three meals and two snacks per person per night and a Magic Your Way Platinum Package including unlimited use of select recreation including golf, Cirque du Soleil LaNouba admission, fireworks cruise and reserved seating at Disney's Hollywood Studios ® Fantasmic, a select spa treatment as well as round-trip transfers between the train station to the hotel.
Chesterfield (Palm Beach): Package begins at $2,497 per person, based on double occupancy and includes New Year Champagne and Dreams Package with a five-course New Year's Eve Gala dinner for two in the Leopard Lounge, champagne toast at midnight and New Year's Eve Day brunch. Daily breakfast and round-trip town car transfer between the hotel and train station are included.
The Biltmore (Coral Gables): Package begins at $2,737 per person, based on double occupancy and includes the New Year's Gala and dinner along with daily breakfast and round-trip sedan transfers between the hotel and train station.
A round-trip rail-only package begins at $2,408 per person, based on double occupancy.
Chicago-based Pullman Rail Journeys is an independently-owned operator of first-class passenger service. Featuring artfully restored vintage rail cars, Pullman's regular scheduled service operates between Chicago and New Orleans via the Illinois Central line. Parent company Iowa Pacific Holdings, LLC (IPH), is the owner of the largest number of original Pullman cars in the world, with approximately 70 cars in various stages of restoration and service. Pullman Rail Journeys seeks to provide the same authentic experience of the golden era of rail travel with their Art Deco design, luxury accommodations and superb service.
For more information on packages, visit www.TravelPullman.com/packages/fun-in-the-sun, call 888-978-5563 or a travel agent.
For more travel features, visit:
www.examiner.com/eclectic-travel-in-national/karen-rubin
www.examiner.com/international-travel-in-national/karen-rubin
travelwritersmagazine.com/TravelFeaturesSyndicate
goingplacesnearandfar.wordpress.com
'Like' us on facebook.com/NewsPhotoFeatures
Twitter: @TravelFeatures
New: Moral Compass: Great Places to Go Where the Going Does Good
moralcompasstravel.info
Check out our newest travel site for special deals, insiders' tips at tidbitts.com: www.tidbitts.com/karen-rubin/where-in-the-world