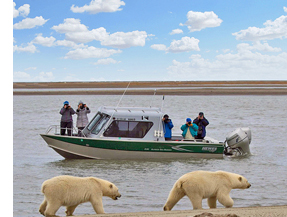 BOULDER, CO– Natural Habitat Adventures, the world's leader in sustainable travel and ecotourism since 1985, is introducing an exclusive new seven-day opportunity to photograph polar bears in the remote Arctic National Wildlife Refuge in northeast Alaska, where they roam the shoreline along the Beaufort Sea.
The expedition, Photographing Polar Bears in Alaska's High Arctic, debuts in August 2017 with three departures for eight guests each: Aug. 21-27, Aug. 24-30 and Aug. 27-Sept. 2. Similar dates are tentatively set for 2018. The per-person double rate from $10,895 includes private chartered roundtrip air from Fairbanks (gateway city) across the Arctic Circle to Kaktovik, flying over the vast Yukon River Valley and glaciated Brooks Range; six private 3-hour boat excursions (limited to just four passengers per vessel) to photograph polar bears and other Arctic wildlife at eye level; accommodations; all meals; and more.
Kaktovik, an Inupiat village of 250 people located on Barter Island in the Beaufort Sea on the edge of the coastal plain, is Alaska's premier location to view polar bears. Sightings have been increasing in the region over the past few years as bears spend more time on land due to waning sea ice. Nat Hab has operated popular polar bear adventures in Churchill, Manitoba, since the 1980s; this new trip is the company's first polar-bear-focused trip in Alaska.
The expedition, which takes place at 70 degrees north latitude, is also Nat Hab's most northerly adventure. Guests fly over the Arctic Circle before landing on Alaska's North Slope on the edge of the Beaufort Sea. This immersion in the far north provides an unusual chance to witness the impacts of climate change while learning about changing polar bear behavior and how local people face challenges to their age-old subsistence lifestyle.

Guests travel with a Nat Hab Expedition Leader who is an Arctic naturalist and polar bear expert as well an accomplished wildlife photographer offering guidance for all ability levels. Boats are skippered by local resident guides who are intimately familiar with polar bears and their behavior, ensuring a thorough interpretive experience.
The itinerary, exclusive to Nat Hab and its conservation partner World Wildlife Fund, also includes a full day of exploration in Fairbanks, including a visit to the University of Alaska's Museum of the North and the university's Large Animal Research Station.
"No other major travel company offers an all-encompassing Alaska polar bear experience like this one, with such an immersive focus," explains Ben Bressler, Nat Hab founder and president. "Along with multiple extended excursions to view and photograph the bears, we include all the elements to safely and comfortably get you there and home—including internal chartered flights. Once you arrive in Fairbanks, we've got your every need covered."
For information on all of Nat Hab's trips, descriptive itineraries, date availability and reservations, call 800.543.8917 or visit http://www.nathab.com/. Click HERE to order a copy of the 2017 catalog.
Natural Habitat Adventures is a world leader in responsible adventure travel and nature-based ecotourism. Since its founding in 1985, the company has offered eco-conscious expeditions and wildlife-focused small-group tours to the planet's most remarkable nature destinations. Inspired and created from years of scouring the planet for the singular and extraordinary, Nat Hab's itineraries are artfully crafted experiences that are far from "typical." Trips are guided by professional naturalist Expedition Leaders, and Nat Hab enjoys a longstanding reputation for hiring some of the world's best guides. Conservation is at the forefront of everything NHA does, and its philosophy is simple: tourism must work with and benefit local communities, which will in turn find value in protecting natural resources and wildlife. NHA is the travel partner of World Wildlife Fund, sharing a mutual commitment to travel as a means of helping to protect the world's wondrous natural places. Nat Hab has donated more than $2 million to WWF and will continue to donate 1 percent of gross sales plus $100,000 annual through 2018 in support of WWF's mission.
Follow Natural Habitat Adventures:
Facebook:     https://www.facebook.com/NaturalHabitatAdventures
Google+:        https://plus.google.com/+Nathab/
Twitter:           https://twitter.com/nathab
YouTube:       https://www.youtube.com/user/NaturalHabitatAdv
Pinterest:       http://www.pinterest.com/nathabpinterest/
Instagram:     http://instagram.com/naturalhabitatadventures
For more travel features, visit:
www.huffingtonpost.com/author/karen-rubin
goingplacesnearandfar.wordpress.com
travelwritersmagazine.com/TravelFeaturesSyndicate/
goingplacesfarandnear.tumblr.com/
instagram.com/krubin0830/
'Like' us on facebook.com/NewsPhotoFeatures
Twitter: @TravelFeatures