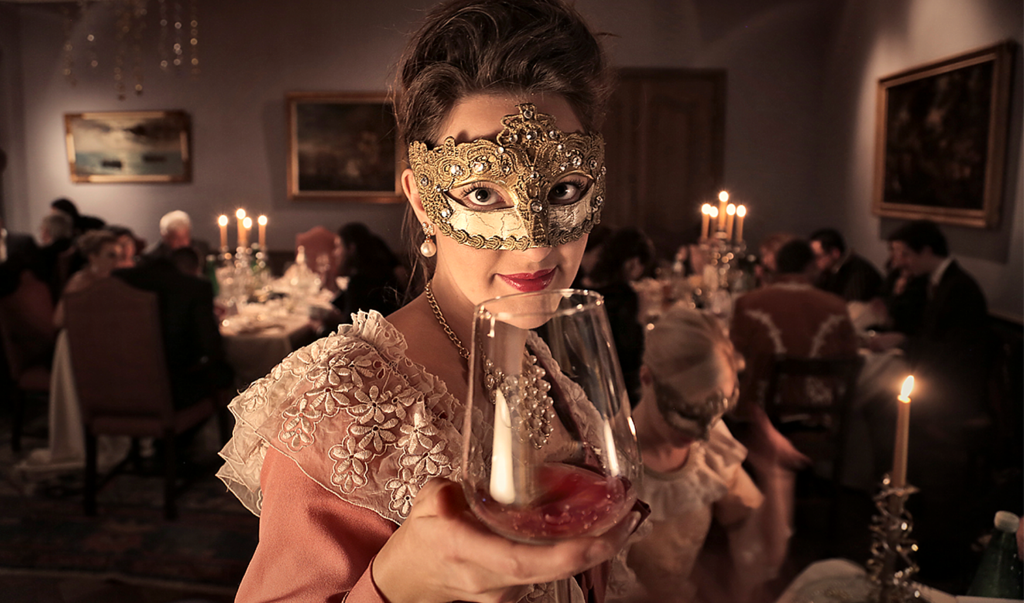 The rustle of silks and feathers under muted conversation was probably the last thing heard by the tragically and unexpectedly deceased at the Billionaires' Club Annual Masquerade Ball. With a mystery under each feathery façade, unmasking the killer may be quite a challenge. It's up to you to determine which partygoer is guilty, bring this crime to justice and save the party.
The Boars Head Resort, Charlottesville, VA, is hosting a "Midnight at the Masquerade" Murder Mystery Dinner on Sunday, Jan. 15, 2023.
Attend this unique masquerade ball and murder mystery dinner and help get this soiree back on track by trading clues with other guests, gathering information and solving the crime before the masked menace gets away!
The evening begins at 5:30 pm with bar service, dinner starts at 6 pm and the "show" starts at 7 pm. (Recommended for guests 18 or older.)
The event ticket is $90 (plus service fee) for public tickets. A Murder Mystery overnight package available that includes tickets, the buffet and luxurious accommodations.
Dinner Attire: Come as you are but if you are feeling more festive and want to dress for the part don your evening wear, ball gowns, Venetian masks, suits and tuxes for this high-class night of masks and murder. 
To book, https://boarsheadresort.ticketspice.com/murder-mystery-dinner-2023.
Boars Head Resort, 200 Ednam Drive, Charlottesville, VA 22903, 844-611-8066, 434-296-2181, boarsheadresort.com, https://www.boarsheadresort.com/MURDER
A member of Historic Hotels of America, historichotels.org.
For more travel features, visit:
Going Places @ theisland360.com
goingplacesnearandfar.wordpress.com
www.huffingtonpost.com/author/karen-rubin
travelwritersmagazine.com/TravelFeaturesSyndicate/
goingplacesfarandnear.tumblr.com/
instagram.com/going_places_far_and_near/
instagram.com/bigbackpacktraveler/
'Like' us on facebook.com/NewsPhotoFeatures
Twitter: @TravelFeatures