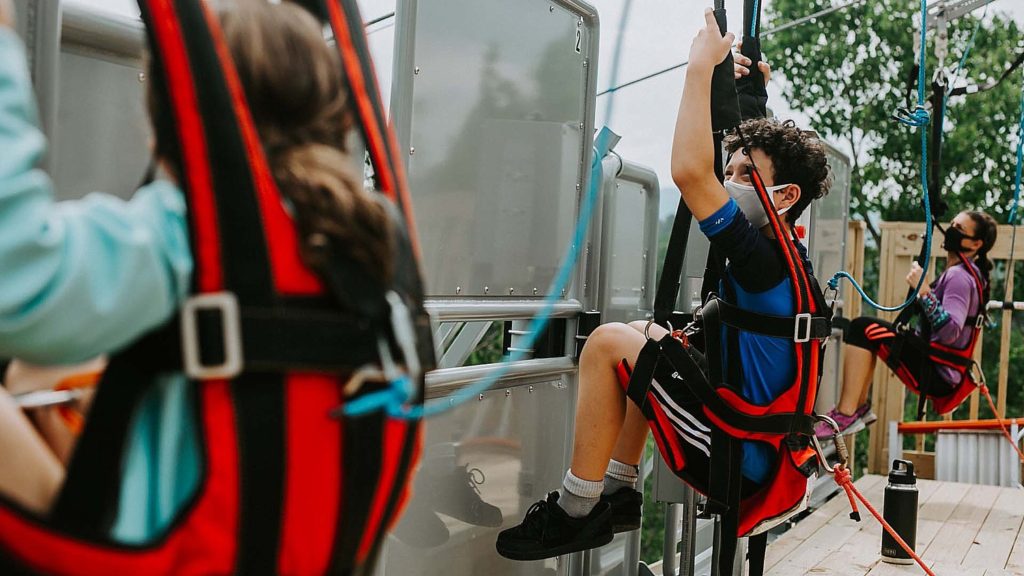 New York State has another new attraction: the Sky Flyer Zipline at the Lake Placid Olympic Ski Jumping Complex. The Zipline is the latest year-round attraction at the Olympic Complex and, along with the recently completed Skyride Gondola, the venue now offers a variety of ways to soar and explore the stunning beauty of the Adirondacks. The Sky Flyer Zipline is open Wednesday to Sunday for summer operations through Mid-October, and will operate on weekends for the remainder of fall.
The Sky Flyer Zipline is an exciting and thrilling attraction for visitors of all ages. Guests experience the ride from a seated position as they fly from the 70-foot tower located next to the take off ramp. Soaring parallel to the Olympic landing hill at a 30-degree decline, riders experience the excitement of an Olympic Ski Jumper. The 700-foot descent gracefully ends near the base lodge on the landing deck.
"The Sky Flyer Zipline is our latest and most exciting addition to the Lake Placid Olympic Jumping Complex, and is part of our ongoing effort to modernize the entire complex, not just for the athletes it serves in the wintertime but for the thousands of families in New York and across the northeast who come to Lake Placid for summer fun," Governor Andrew Cuomo said. "Our efforts are transforming the complex into a year-round provider of excitement and entertainment, which will attract more summer visitors and provide a boost to local businesses."

The SkyRide Gondola takes visitors up the hillside to the world renowned Olympic Jumping Towers. From there, guests can take the glass enclosed elevator to the top of the 120-meter tower to enjoy panoramic views from the observatory room. There is also an exterior viewing deck that overlooks the entire landing hill and gives an amazing perspective to what athletes face just before releasing. The Gondola is open daily for the remainder of the summer season.
The Olympic Ski Jumping Complex facility is operating on reduced capacity and follows all NY State protocols, including requiring face coverings for all guests, limited occupancy within each Gondola cabin and reduced indoor seating availability. Masks are required at all venues.
ORDA President & CEO, Mike Pratt said,"The transformation of the Olympic Jumping Complex into a year-round destination is something we are very proud of. Besides hosting international competition and training, our guests will now be able to feel the same exhilaration as our athletes."
For more information about the Sky Flyer Zipline and the Lake Placid Olympic sites, visit https://lakeplacidolympicsites.com/todo/sky-flyer-zipline/.
For more travel features, visit:
goingplacesnearandfar.wordpress.com
www.huffingtonpost.com/author/karen-rubin
travelwritersmagazine.com/TravelFeaturesSyndicate/
goingplacesfarandnear.tumblr.com/
instagram.com/going_places_far_and_near/
'Like' us on facebook.com/NewsPhotoFeatures
Twitter: @TravelFeatures