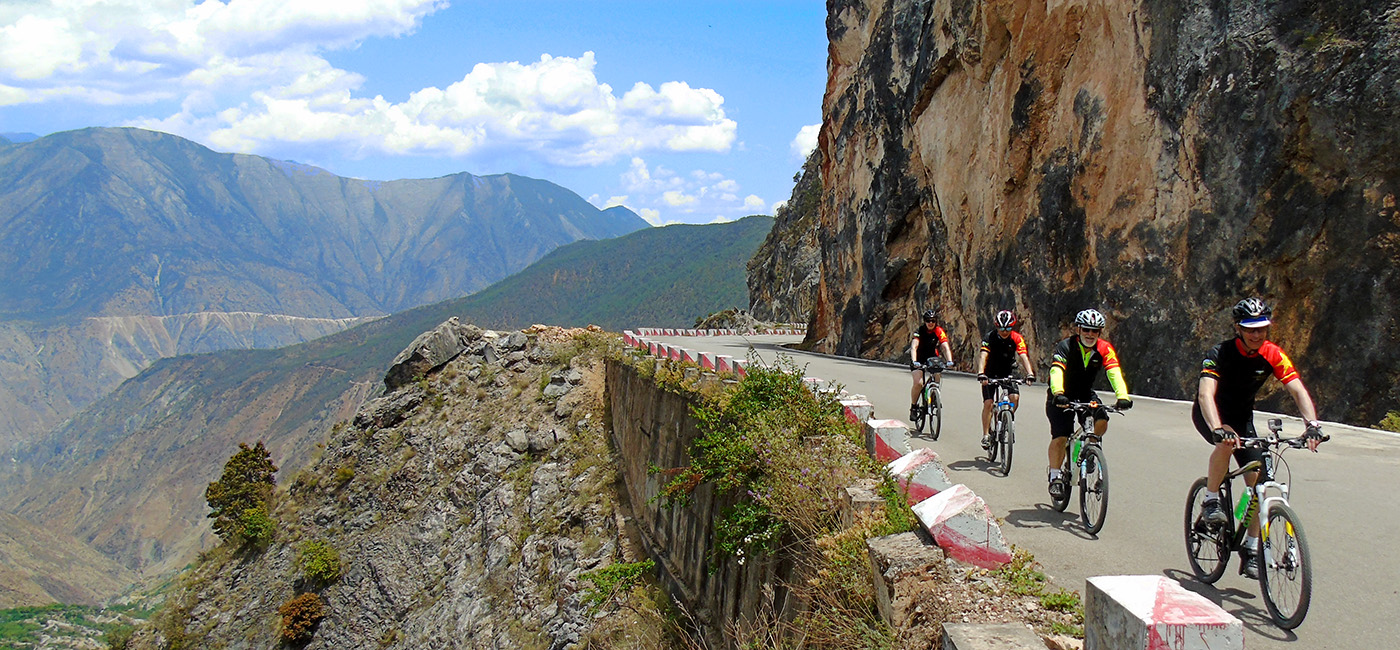 (Bangkok, Thailand) — Grasshopper Adventures unveiling a new 14-day bike tour exploring the Yunnan Province of China. Intrepid riders will cycle through the ancient towns of the Tea Horse Trail, a network of paths winding through the mountains, from mystical Shangri-La to the breathtaking Tiger Leaping Gorge to Lijiang. The tour covers 510 km by bike, starts at $4,900 USD, and is scheduled for June 10-23, 2019.
"Our guests will ride through one of the highest gorges in the world, carved out over millennia by the Yangtze River and surrounded by the dramatic Jade Dragon and Haba Snow Mountains," said Grasshopper Adventures President Adam Platt-Hepworth. "Along the way, they'll visit ancient villages with captivating rituals and traditions seemingly unchanged by the test of time."
The two-week adventure begins in the foothills bordering Tibet, with the dramatic backdrop of Yunnan Province. This is a land of mysticism, spirituality and jaw-dropping landscapes where ancient cultures meet the modern world.  Guests will ride from China's alpine utopia of Shangri-La through the stunning landscape of Tiger Leaping Gorge, to the ancient Bai Kingdom city of Dali. The majority of the riding is on small roads through villages with minimal traffic.
Tour Highlights:
Visiting the world's largest prayer wheel and the stunning Songzanlin Monastery
Exploring the mythical utopia of Shangri-La
Riding through Tiger Leaping Gorge
Discovering the ancient Bai Kingdom city of Dali
Exploring the picturesque backstreets of Lijiang
Touring Jian Chuan with its quaint canals and bridge
Cycling to the historic town of Shaxi
For more info, visit https://www.grasshopperadventures.com/en/scheduled-tours/spiritual-shangri-la.html.
Grasshopper Adventures is a cycling and active travel specialist, headquartered in Bangkok. They host more than 25,000 travelers of all ages and abilities, on tours ranging from one day to two weeks in Japan, Sri Lanka, Cambodia, Laos, Vietnam, Cambodia, Thailand, China, Uzbekistan, Taiwan, Bhutan & Myanmar. https://www.grasshopperadventures.com
For more travel features, visit:
goingplacesnearandfar.wordpress.com
www.huffingtonpost.com/author/karen-rubin
travelwritersmagazine.com/TravelFeaturesSyndicate/
goingplacesfarandnear.tumblr.com/
instagram.com/krubin0830/
instagram.com/famtravltr/
'Like' us on facebook.com/NewsPhotoFeatures
Twitter: @TravelFeatures