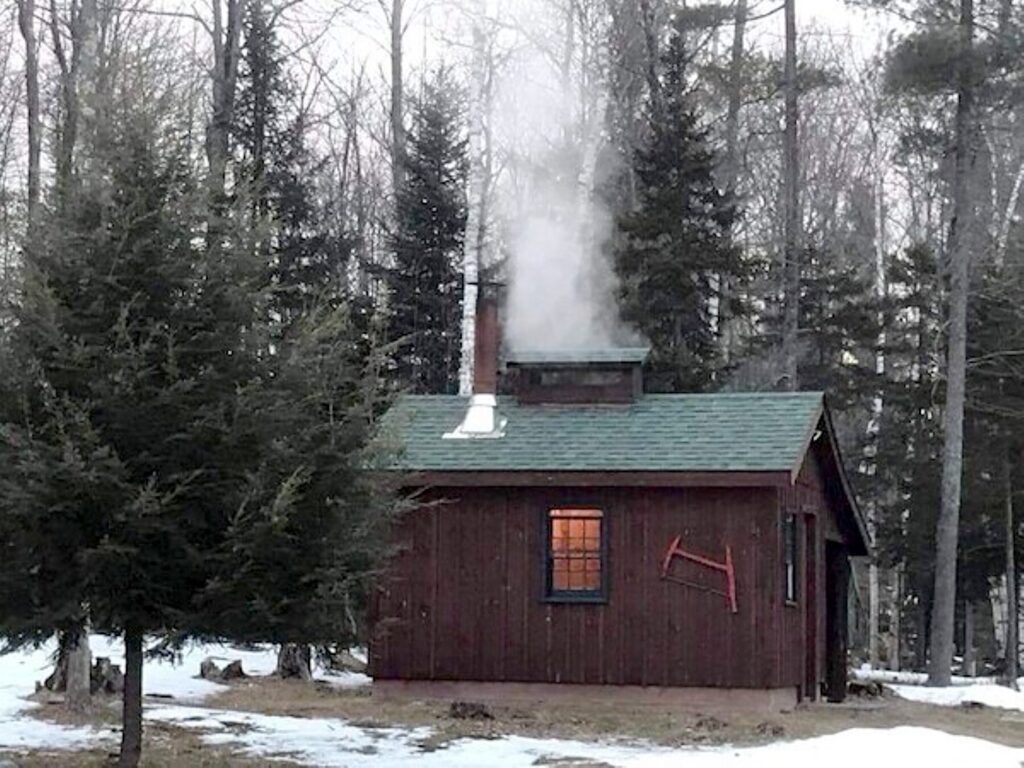 A sweet secret is out in the Adirondack region of upstate New York, as regional maple syrup producers begin their annual sap collection and maple syrup production activity. New York State is the second-largest producer of maple syrup in the United States and the third largest in the world, producing more than 820,000 gallons of syrup each year. Much of that production takes place within the Adirondack region of upstate New York in small "sugar shacks" and large commercial facilities.
Sugar maple trees are tapped from February through early April to harvest syrup, and the familiar sight of metal buckets, or "sap buckets", can be seen in maple groves and areas across the region. As a result, there are hundreds of types of syrups, foods, beverages, candies, cocktails and experiences that showcase local Adirondacks maple. And once you are in the Adirondacks can learn all about the difference between maple sugar candy, maple sugar blocks, granulated maple sugar, maple butter and maple extract.
Maple Weekends
Throughout the month of March each year, and, in particular, during the weekends of March 18-19 and 25-26, maple farms across the state open their doors to the public to provide a chance to taste pure maple syrup, right from the source, and experience the unique family tradition of making maple syrup in New York State. Producers, including many of those that are NYS Grown & Certified, offer tours and pancake breakfasts, sell maple products, and demonstrate the syrup-making process, which includes the traditional system of hanging buckets on trees or more modern methods of production using vacuum systems to increase the yield of sap per tree. Maple Weekends in 2023 will take place at nearly 150 maple sugarmakers' farms, boosting agri-tourism across New York State. A searchable list of Maple Weekend events is available at https://mapleweekend.nysmaple.com/.
More than 80 maple producers participate in NYS Grown & Certified, which verifies New York's agricultural producers and growers who adhere to food safety and environmental sustainability standards. Find a current list of maple producers who are a part of the NYS Grown & Certified program at https://certified.ny.gov/wheretobuy.
Maple Promotions
New York's Taste NY Markets across the state are highlighting unique local maple products and producers during the month of March. Several markets are offering specials, including 10% off all maple items at the Finger Lakes Welcome Center, special product sampling at the Capital Region Welcome Center and Western New York Welcome Center, and more. Find a list of markets near you at taste.ny.gov. New Yorkers can also shop for New York State maple from the comfort of home on ShopTasteNY.com, which will be offering specials and free shipping on maple products throughout the month. Additionally, Taste NY Markets will be celebrating 'Maple Madness' during the weekend of March 25-26. Stay tuned on social media for more information about special sampling and giveaway promotions that weekend.
Tasting and Feeling is Believing…Beyond Syrup!
Maple syrup traditionally accompanies a variety of breakfast foods but, in the Adirondacks, it is also used to flavor candy, foods, beverages and cocktails. And, there are numerous tours and hands-on experiences that showcase this Adirondack pantry staple. Some locally produced products and include:
Maple is used for a variety of products that can be purchased throughout the Adirondacks, at main street shops and local farmers markets including: cotton candy, hard candies, maple butter, donuts, infused syrups, sauces and jellies.
Maple beer: Craft beers featuring local maple are found across the Adirondacks. Big Slide Brewery's maple bourbon imperial stout is hyper-local, aged in a barrel previously used for locally produced maple syrup.
Many Adirondack-region restaurants have "maple glazed" items on the menu: salmon, pork, chicken, vegetables and more. Chef Mike Rush at Campfire Grill in Saranac Lake is renowned for obtaining kegs of maple syrup for use throughout the year.
While dining out, keep an eye out for barbeque sauces, as many restaurants incorporate maple syrup into their homemade sauce.
Maple isn't just for tasting. For example, the Mirror Lake Inn in Lake Placid offers the Adirondack Maple Sugar Body Scrub, a maple-based spa treatment that exfoliates and rejuvenates the skin.
Maple Mania: Local Activities and Production
Looking to explore lots of maple? Especially during harvesting season, maple is everywhere:
The Adirondacks Regional Office of Sustainable Tourism, based in Lake Placid, offers a Maple Wayfinder Trail that lists local producers and points of interest.
The Adirondack Harvest website lists local producers and distributors, along with maple-themed events throughout the region.
Visitors can purchase locally produced maple syrup and products at roadside stands, at retail locations throughout the Adirondacks and at the production facilities themselves as many have retail shops adjacent to their collection and evaporation sites.
Sip Your Syrup: Margarita Recipe
Local bartenders often create delicious cocktails with maple, including this recipe for a maple margarita created by Carolyn Sicher, co-owner of the Deer's Head Inn, Elizabethtown, NY.
Rub a freshly cut lime wedge around the rim of the glass and coat the rim by placing it upside down in a dish of tajin spice blend. Fill the glass with fresh ice.
Mix the following ingredients together in a shaker with ice cubes and strain into the glass: 1.5 oz good quality tequila, .5 oz mandarin liqueur, .5 oz fresh lime juice, .5 oz fresh lemon juice, .5 oz maple lemonade (traditional lemonade with some maple as extra sweetener) and add a tablespoon of local maple syrup.
Drizzle the top with about a tablespoon of pure Adirondack maple syrup. Garnish with lime.
Behind the Maple Magic: How It Works
Maple syrup is typically produced from February through early April in the Northeast. Sugar maple trees move sugary water (sap) through their trunks in late winter and sap can be collected through holes in the trees when there are cold nights and warm days; below 32°F at night and above 40°F during the day. This watery sap is then boiled until it becomes thick.
Small backyard, local producers simply collect sap from trees in their backyard in metal buckets and boil it over wood-fired stoves to produce syrup for friends and family. Commercial producers have thousands of acres of trees along with miles of gravity-fed rubber tubes that collect the sap, producing thousands of gallons of syrup for sale throughout the region and across the country. Boiling sap and allowing the excess water to evaporate is the most important part of the production process, as the quality of the syrup is determined by the amount of sugar in the final product. After boiling, the syrup is filtered, assigned a grade, and packaged.
The Cornell Maple Program conducts research and uses its outdoor laboratory – the 200-acre Uihlien Maple Research Forest in Lake Placid (one of only three research forests in the nation) – to learn about maple production, forest management and production techniques. It partners with food scientists and culinary experts to develop new products, offer classes, share research findings with maple producers and scientists throughout the state.
According to Adam Wild, director of the Uihlien Maple Research Forest, maple syrup production has always been a part of life in the Adirondacks. "The heavily forested Adirondack region, with its large percentage of maple trees combined with the ideal Adirondack climate of long cold winters punctuated with gradual warming at the end of the winter season make this area one of the best in the entire nation for maple syrup production." he said.
Maple syrup production in the Adirondacks is a time-honored tradition, as old as the maple trees themselves. The research, consumer interest and local production ensure that upstate New York remains one of the largest producers of maple syrup and all its affiliated products.
Where to stay? High Peaks Resort's Spring Sale includes a $25 dining credit at Dancing Bears Restaurant, perfect for some maple pancakes!
Go to www.adirondacksusa.com to find out more about visiting the Adirondacks in winter, spring, summer and fall. The destination is just a few hours' drive from the New York metro area and Boston, and within a day's drive for 25% of the entire North American population.
The Regional Office of Sustainable Tourism (ROOST) in the Adirondacks region of New York is the destination marketing and management organization for Hamilton and Essex counties, along with the communities of Lake Placid, Tupper Lake and Saranac Lake.
For more travel features, visit:
Going Places @ theisland360.com
goingplacesnearandfar.wordpress.com
www.huffingtonpost.com/author/karen-rubin
travelwritersmagazine.com/TravelFeaturesSyndicate/
goingplacesfarandnear.tumblr.com/
instagram.com/going_places_far_and_near/
instagram.com/bigbackpacktraveler/
'Like' us on facebook.com/KarenBRubin
Twitter: @TravelFeatures