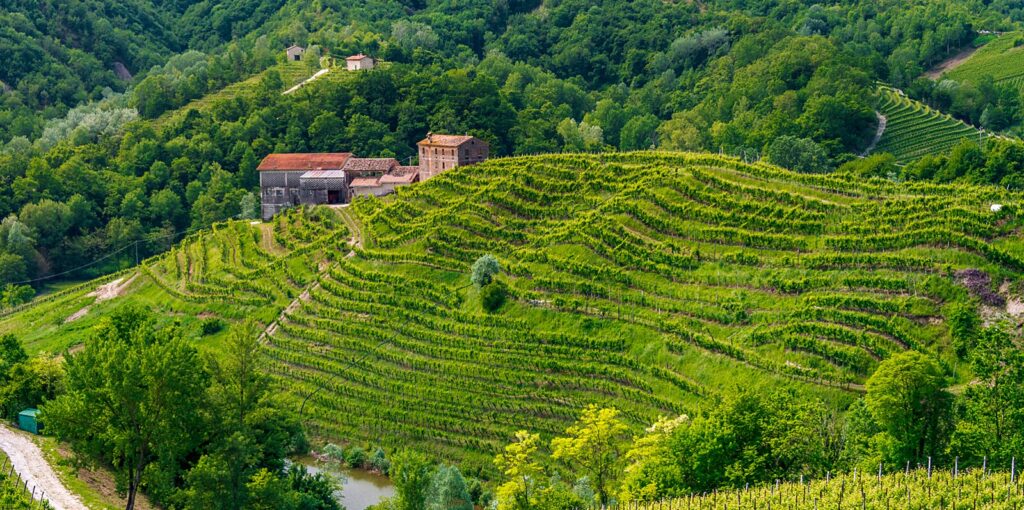 (Bridgewater, MA) — Tourissimo, a leader in active travel to Italy, is introducing a NEW 7-day "Grappa and Prosecco" cycling tour of the Conegliano-Valdobbiadene Superiore Prosecco wine making area of Italy. Guests will learn about the ancient origins of wine making and how the reputation and qualities of the wine have evolved throughout the centuries. The cycling is just as varied and dramatic as the Vento region's history, ranging from a challenging climb up Mount Grappa to the hilly terrain of Prosecco.
The tour includes multiple wine tastings, dining at a MICHELIN-starred restaurant, exploring UNESCO World Heritage Sites, overnighting at 4 and 5-star hotels, and cycling one of Italy's most beautiful regions. Prices start at $4,695 per person double. Venice is only one hour away and makes for a great add-on to the tour.
"For the Prosecco wine lover, this is an absolute dream vacation," said Tourissimo Co-Founder and Managing Director, Beppe Salerno. "The tour is rich in history, and the scenery is nothing short of spectacular with panoramic vistas and patchwork landscape of steep terraced hills, woodlands, and meadows. The cycling is absolutely amazing, and the food, wine, and accommodations are as good as it gets."
The Prosecco area is wedged between mountains and the plain before the Adriatic Sea. It is extremely hilly, with grapes growing at 150 to 1,600 ft above sea level. A route between the towns of Conegliano and Valdobbiadene has been named the Strada del Prosecco ("Prosecco Wine Route"), and it's the perfect riding playground for wine lovers.
The landscape is characterized by 'hogback' hills, ciglioni – small plots of vines on narrow grassy terraces – forests, small villages and farmland. Since the 17th century, the use of ciglioni has created a particular chequerboard landscape consisting of rows of vines parallel and vertical to the slopes.
"One goal with this tour, in addition to cycling some of the most beautiful terrain in Italy, is to educate guests about why a Conegliano Valdobbiadene Prosecco Superiore DOCG is a superior product, why it is worth spending more for a quality sparkling wine," said Salerno. "Because DOCG producers—with the limited growing area, lower yields and extremely high cost of production—can not compete with DOC on price, more and more of them are seeking to explore the particularities of their diverse growing area and long viticultural tradition, and find new ways of expressing them in their wines."
Tour Highlights:
Walking the walls of medieval Cittadella
Exploring the hills of Prosecco, a UNESCO World Heritage Site
Having coffee in Piazza degli Scacchi in Marostica
Cycling along rolling roads surrounded by vineyards
Experiencing a Grappa tasting at a famous grappa produce
Soaking up the village of Asolo
Enjoying multiple wine tastings at Prosecco Superiore DOCG producers
Picnicing at mulino della Croda
Learning Monte Grappa WWI history and visiting the memorial-museum
What's Included:
Two professional tour guides throughout the program
All accommodations in 4-star hotels (one 5-star)
All breakfasts, all lunches, and all dinners
Wine and beer with meals, coffee, cappuccino, and gelato stops
Two wine tastings
Logistical support during the tour and luggage transfer
Guided tour of Bassano and grappa tasting
Shuttle at the beginning and at the end of the tour
Bianchi bike rental
GPS navigation and maps
For more information, visit https://www.tourissimo.travel/bike-tour-prosecco.
For more travel features, visit:
goingplacesnearandfar.wordpress.com
www.huffingtonpost.com/author/karen-rubin
travelwritersmagazine.com/TravelFeaturesSyndicate/
goingplacesfarandnear.tumblr.com/
instagram.com/going_places_far_and_near/
'Like' us on facebook.com/NewsPhotoFeatures
Twitter: @TravelFeatures