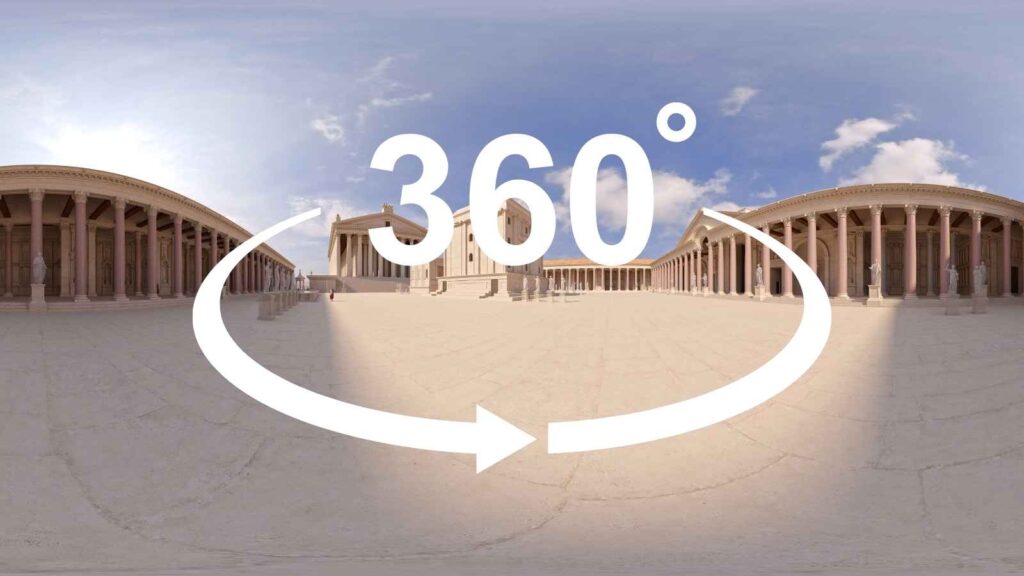 You thought Rome was amazing? Wait until you see Baalbek, a collection of ancient Roman sites and monuments in Lebanon that dates back thousands of years. But you don't need to get on a plane; a new travel experience just launched, enables you to witness the grandeur that makes these epic ruins one of the world's best bucket list journeys.
With "Baalbek Reborn," a new (and free) virtual reality experience, you can fly over this ancient city in Roman times. You'll get a rare bird's eye-view of this astonishing UNESCO World Heritage Site whose treasures have been compared to some of Rome's most impressive landmarks. Check out this video
And that's not all: You can even go back in time and see what it was like to stroll through these streets in the year 215, when the area was at the peak of its ancient development. You'll explore grand halls that have been in ruins for ages, see majestic spaces that are off-limits to visitors, and come to appreciate why Baalbek is considered one of the world's top historic destinations, right up there with places like Pompeii, Machu Picchu, and Petra.
The best part? "Baalbek Reborn" can be experienced on a number of platforms, including smartphones, desktop computers, and Oculus — all for free — thanks to the generosity of Bassam Alghanim. A passionate explorer, Alghanim has sponsored "Baalbek Reborn" in honor of his loving parents, Yusuf and Ilham Alghanim, who used to take him to this special place when he was a child.
This impressive virtual production is a collaboration between three partners: Flyover Zone Productions (which creates virtual tours of the world's most amazing cultural heritage sites), the German Archaeological Institute (which provided the scientific oversight and content), and the Ministry of Culture – Directorate General of Antiquities, Lebanon (which is responsible for the protection, promotion, and excavation activities in the country's national heritage sites).
There's also a giving back component. "Baalbeck Reborn" supports arcenciel, a Lebanese-based nonprofit which supports the country's most underprivileged and marginalized communities. On August 4, 2020 a blast in Beirut disrupted the lives of thousands of people and destroyed the face of the city. Immediate actions were launched to save the last historical houses in the city and thousands of homes. "Baalbeck Reborn" features a direct link to make a donation to support the restoration efforts which include vocational training led by heritage experts, to rebuild Beirut's lost traditional workmanship, to preserve the unique building's craftsmanship and the centuries of history they withhold. Visit flyoverzone.org to learn more.
"Baalbek Reborn" is free and is available on the Apple Store, Google Play, Steam store (PC, Mac, or HTC Vive – virtual reality headset), or the Oculus store (VR headset).
For more travel features, visit:
goingplacesnearandfar.wordpress.com
www.huffingtonpost.com/author/karen-rubin
travelwritersmagazine.com/TravelFeaturesSyndicate/
goingplacesfarandnear.tumblr.com/
instagram.com/going_places_far_and_near/
'Like' us on facebook.com/NewsPhotoFeatures
Twitter: @TravelFeatures