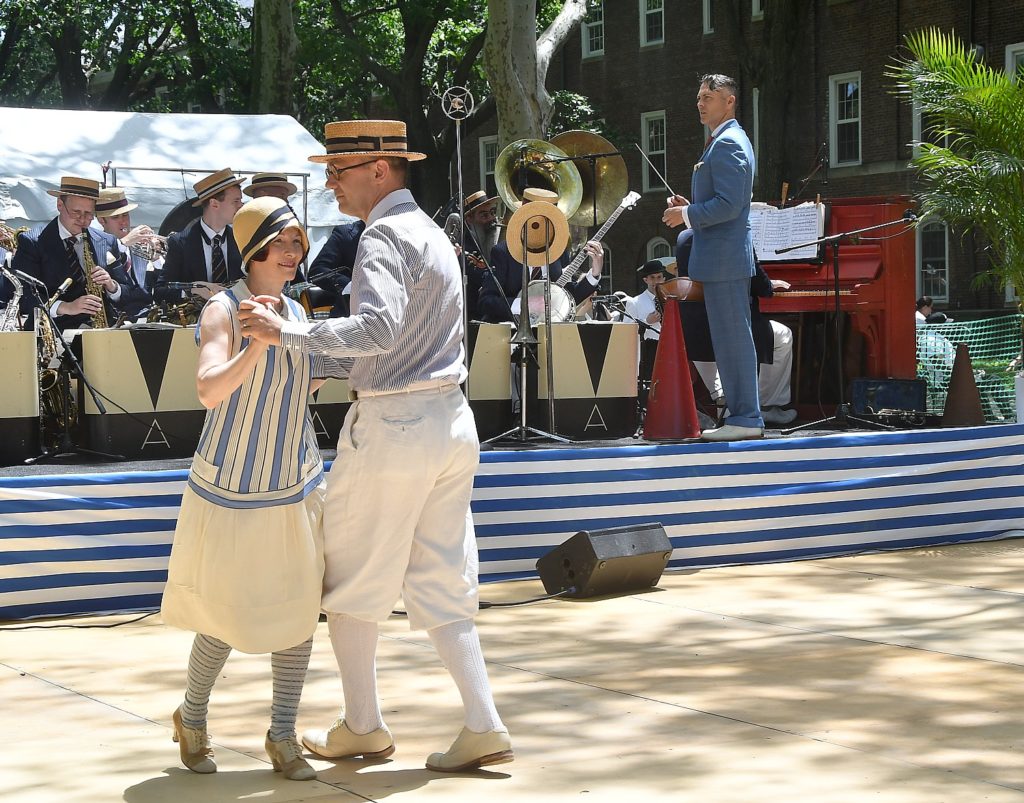 New York City's premier annual Jazz Age Lawn Party returns this summer, June 12-13 founded by Michael Arenella and featuring his Dreamland Orchestra and other entertainers, will have music, dancing, dance lessons and food. The first batch of tickets are now on sale.
Widely anticipated by flappers, sporting gents and tiny tots alike, the event has been revered year after year by a wide array of families, locals, and tourists. Jazz Age Lawn Party, now in its 15th year, is committed to hosting a fun and safe event with strict adherence to NYS COVID-19 protocols. This will include social distancing and wearing masks except when seated. Proof of a negative COVID-19 test or vaccination certificate may also be required. An updated protocol list will be announced prior to the event.
Governors Island becomes the backdrop for this cultural phenomenon. This trip through time begins with a breezy ride aboard a ferry boat with breathtaking views of Manhattan and Lady Liberty en route to NYC's hidden gem, Governors Island. Once ashore, a sprawling green awaits, nestled under a canopy of century-old trees, caressed by fresh sea air, surrounded by historic architecture—a dream where the clock stops, nestled right in the heart of New York Harbor.
Originating as a small gathering of friends longing for the simpler charms of a bygone era, the event has evolved into an international destination. The vibrant optimism and inventiveness of Jazz Age culture and its living legacy continue to resonate with generation after generation, and particularly as New York City, the state and the nation emerge from coronavirus isolation.
Due to current COVID-19 capacity restrictions, the event is currently scheduled to operate at limited capacity. As such, tickets will be released in small batches, on a first come first serve basis. More tickets may be released as restrictions allow. Those who aren't able to reserve in the first round will be automatically placed on a waiting list, and will be the first to be able to purchase as more are released.
Ticket holders from last year will be able to attend the festival with their unredeemed 2020 tickets, with no further action needed on their part. To purchase tickets, visit www.jazzagelawnparty2021.eventbrite.com.
PERFORMANCES, ACTIVITIES, & OFFERINGS
*MICHAEL ARENELLA AND HIS DREAMLAND ORCHESTRA is the world's premier Jazz Age dance orchestra, specializing in the Hot-Jazz of the 1920s. Conductor, composer, musician, and crooner Michael Arenella presents a personally transcribed, one-of-a-kind songbook for your listening and dancing pleasure www.meganwilsonpr.com ©MW Public Relations LLC. 2019 1
*GELBER & MANNING BAND – feuding vaudevillian lovebirds quarrel, coo and make beautiful music together
*QUEEN ESTHER – paying tribute to jazz royalty of yore *PETER MINTUN – world's greatest piano man
*VINTAGE PORTRAITS – You Ought To Be In Pictures, perched upon one of our Paper Moons
*1920s MOTORCAR EXHIBITION get up close and personal with flivvers and Tin Lizzies
* Refreshing summer cocktails including APEROL SPRITZ – the signature cocktail of the Jazz Age Lawn Party and well as retro cocktails featuring PROHIBITION DISTILLERY's infamous Bootlegger 21 vodka and gin, as well as Q SODA.
*VINTAGE CLOTHING VENDORS AND ARTISANS – a veritable village of timeless treasures and inspired creations to take home
*DREAMLAND GENERAL STORE – for your comfort and convenience offers picnic blankets, parasols, hand fans, assorted sundries
Refreshing summer cocktails will feature APEROL SPRITZ, the festival's signature cocktail, as well as Prohibition Distillery, makers of Bootlegger 21, the official gin and vodka of Jazz Age Lawn Party, crafted in Roscoe, NY. Ice cold Radeberger Pilsner and soft drinks will also be on hand.
For more information on the festival, visit http://jazzagelawnparty.com/.
See photos:
Roaring 20s Returns with Jazz Age Lawn Party on Governors Island
Gatsby-esque Jazz Age Lawn Party is Joyful Escape on Governors Island, New York City's Island Retreat
For more travel features, visit:
goingplacesnearandfar.wordpress.com
www.huffingtonpost.com/author/karen-rubin
travelwritersmagazine.com/TravelFeaturesSyndicate/
goingplacesfarandnear.tumblr.com/
instagram.com/going_places_far_and_near/
'Like' us on facebook.com/NewsPhotoFeatures
Twitter: @TravelFeatures